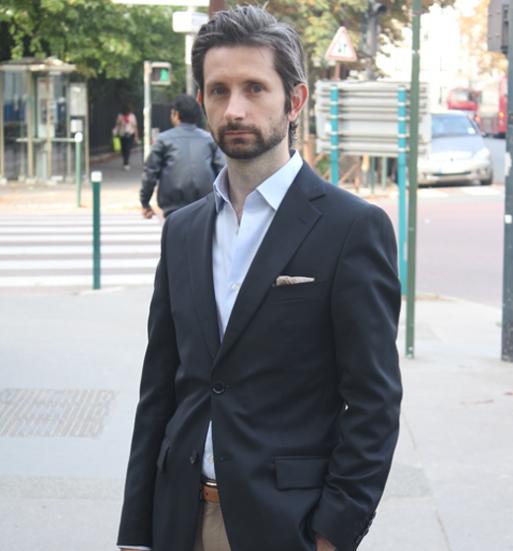 How Can You Evolve Your Style?
Pascal, a long-time reader, shares his own experience with us:
Note from Nicolas: after Fabrice's style transformation post (which was much appreciated) here's another good account that Pascal is about to tell us. Just like Fabrice, Pascal prefers an elegant style – relaxed, based on simple pieces, but all very well chosen.
Sartorial style is a vast subject, and very difficult to approach. It's easy to document, but it's more complex to put into practice. You can understand everything about male style and elegance in a few weeks, but it can take a whole lifetime to master it in practice.
Lack of education
Like most men, I started very late. When girls were starting to get interested in their appearance, we were more preoccupied with who was the best at football.
The place in which we grow up plays a big role; in essence, this is something that your parents give you. But when you grow up in a deprived area, appearance isn't a priority at all.
Having a roof over your head, food on the table, and clothes to protect you from the cold, are the priorities; clothes become something merely pragmatic.
Phase 1 – Suddenly becoming aware of men's style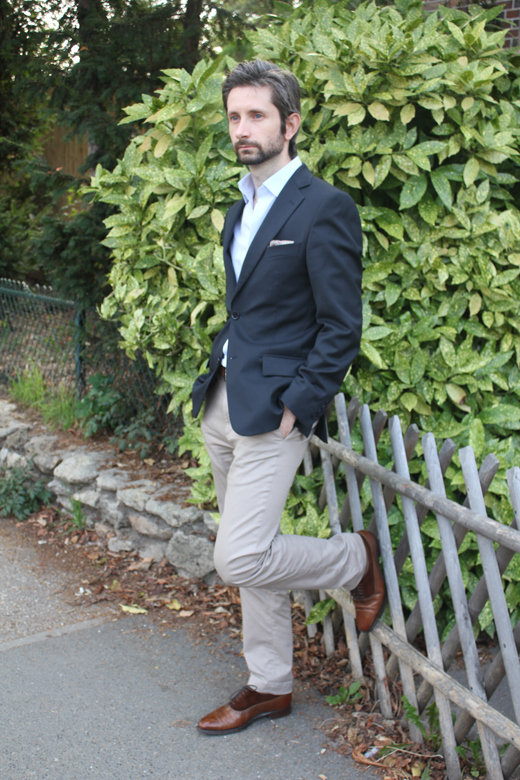 Jacket: Father&Sons, Shirt: Ugo Baldini, Trousers: Uniqlo, Shoes: Atlan (craftsman in Paris), Pocket Handkerchief: Kimono (a small French in Paris)
Note from Nicolas: There are many interesting points to this outfit. The first is that the outfit incorporates color and the items which are very simple and plain are paired with an attractive pair of leather shoes; this is why I'd encourage you to save a large part of your budget for your shoes. Furthermore, the combination of navy blue and beige works in all situations, even if the bottom is lighter than the top. In effect, its totally acceptable to wear chinos as part of a smart outfit.
However, despite the lack of interest for fashion in my family, I was always attracted to it. In fact, all forms of art interest me. Yet when you grow up in a dodgy apartment block in our beautiful Parisian suburbs, you don't always know what fashion really is. It was already tough enough being small and weedy. Even though I stayed the same on the outside, a change was developing slowly on the inside. All I needed now was for the penny to drop to release me.
The first revelation came when I hit 30. One day I said to myself, "Good grief! I'm 30 and I dress like a student! I'm a man now…dress like one!"
Since I'd been working for a reasonable amount of time by then, I had some extra cash to spend on clothes. So one day, I took the plunge. I bought my first true pair of leather shoes. I had been looking in shop windows for a long time; I would stop in front of the windows and look at the shoes. Then, one day, I jumped in and entered an entirely new world.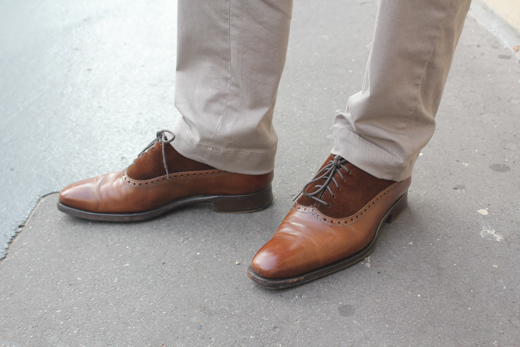 Leather shoes: Atlan 520 dollars
Note from Nicolas: good shoes change everything! I personally prefer shoes from the shop Aubercy.

And then I found the woman I would later marry. The marriage preparation was an equally eye-opening experience. When looking for a suit, I visited many shops, opening my eyes to an entirely new and fascinating world that I wanted to explore. So, now I had a beautiful pair of shoes and a suit for the wedding. From that point on, I could never wear that same clothes again. I needed to accept what came with that. In effect, I needed to learn!
Phase 2: Learning about male fashion
Sources of inspiration are numerous. But what I've always done, is follow film characters. I started looking for books dealing with the topic. Then I subscribed to some forums and read internet sites and other blogs. But in particular, I observed others! I especially looked at people with the same look as me.
Note by Nicolas : this is exactly what we teach you in the post "Science Of Style 2 : Modeling"
Finally, I did something that I had never dared to do before; I visited the shops! I spent a lot of time in shops looking at products, appreciating their material and trying on different cuts to see which ones suited me the best.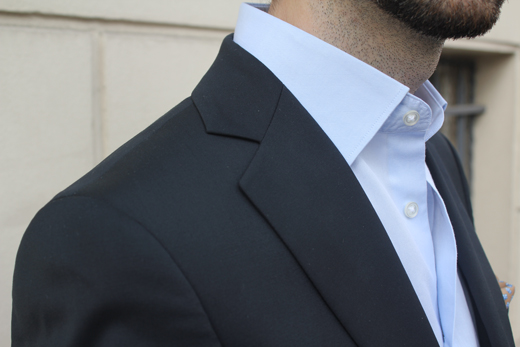 Note from Nicolas: simple and efficient. Look at the nice shoulder curve, the collar placed on the neck, and the clean cut lapels.
If you've got all of this, you can move onto the next step; putting it into practice. The goal is to build a basic wardrobe.
Film and series characters whose style I admire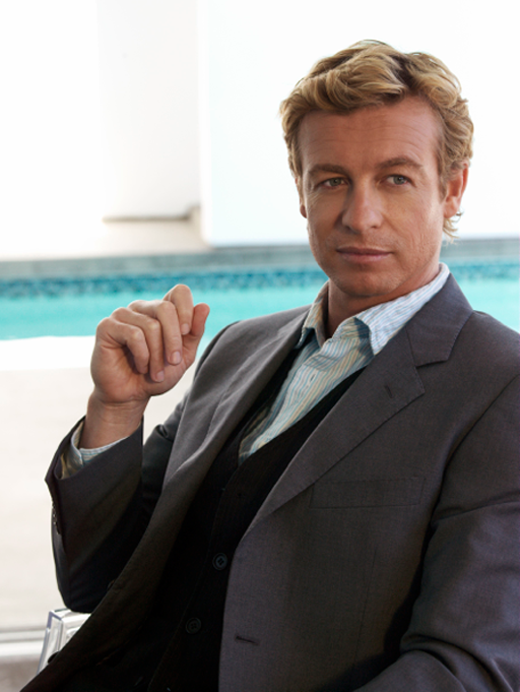 Simon Baker (The Mentalist)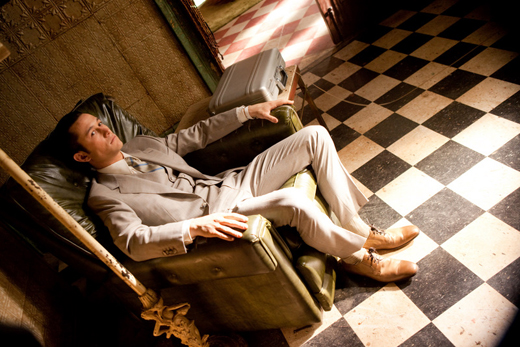 Joseph Gordon-Lewitt (Inception)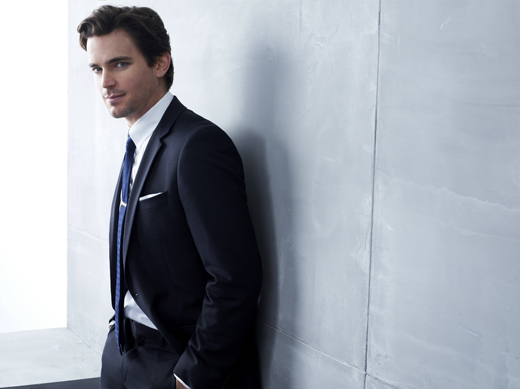 Nael Caffrey (Matthew Bomer, FBI, very special duo)
Phase 3: Evolution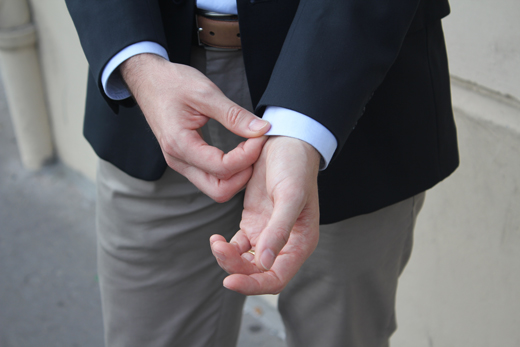 Naturally, my image didn't stay the same. When you are small and thin you wear clothes that are too big, making you immediately look like you've stolen an outfit from your father's closet. On the contrary, when you wear clothes which are your size, you become infinitely more attractive! The direct result is that your self-esteem goes up and so does your confidence. You are both comfortable and at ease with yourself, and your friends will notice this as well.
Another benefit which you probably don't expect is the positive impact it has at work. Clothes are like the wings of a big bird, or a knight's armor. Clothes make you stand out… transcend. They make you powerful.
At the risk of making enemies, you have to admit that bosses like winners rather than losers. When people tell you that how you dress doesn't matter, they are lying.  If 2 people have the same abilities, a boss will undoubtedly prefer the one with the better image. Personally, I've managed to stand out from the crowd thanks to my image.  My skills have done the rest. Quite frankly, my skills probably would never have been recognized without the image I present. So is appearance really not THAT important? I think not.
Note from Benoit: much research has shown that those who dress the best make the most money. This is due to the fact that their salary rise is influenced by their sophisticated image.
In essence, a boss is much more likely to increase the salary of someone who is very well dressed in comparison to someone who has a suit 3 sizes too large. (I'm not saying whether that's good or bad, I'm just saying that that's the case).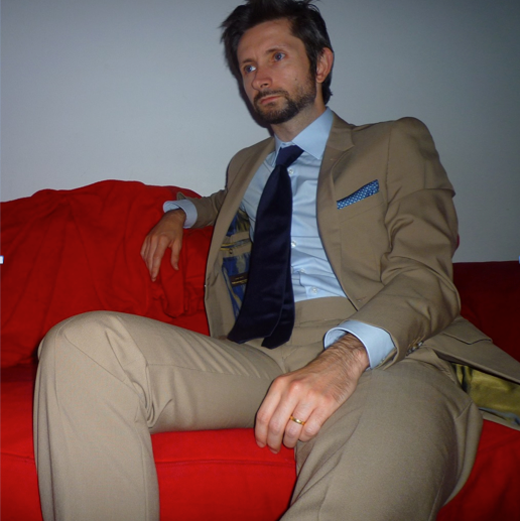 Your suit doesn't necessarily have to be grey, black, or blue. Suit: Handoms, Shirt: Ugo Baldini, Tie: Howards, Pocket Handkerchief: Kimono.
Note from Nicolas: another fantastic blue and beige combination.
The risk? Wanting to go a bit too far
The risk that you face when finally finding the world that interests you, is wanting to try everything, experience everything, and constantly learn more. In reality, you end up going a bit too far.
I wanted to do too much; too many accessories on the same outfit, too much color, too much sophistication. I wore outfits that were a bit too daring, and ending up copying outfits that I liked but didn't suit me.
Alan Fusser (one of the most important authors on classical men's fashion) said that the 3 most important parts of a piece of clothing are, in this order: the cut, the color, the material. So if you have to make a compromise, make it on the material not the cut, because it's the cut which defines how attractive you are and which makes you look your best. This is why you can create a base with simple garments, even mass produced ones (such as Uniqlo in my case).
Note from Nicolas: This is something we see regularly. You go from one extreme to the other, from someone who's always worn boring clothes which are far too big, to a style which is too intense and too colorful. This change is normal. But don't complain about the clothes you acquire during this period, they'll come in handy later on.
How to rectify the problem?
When I realized that I'd gone a bit too far, I needed to rectify the problem! I needed to get back to a style more natural, with clothes that suited me, and I felt good wearing. I chose clothes a bit more relaxed and I managed to find the right balance between elegance and a dressed down look. You don't find elegance merely through the clothes you choose, but also through how you wear them.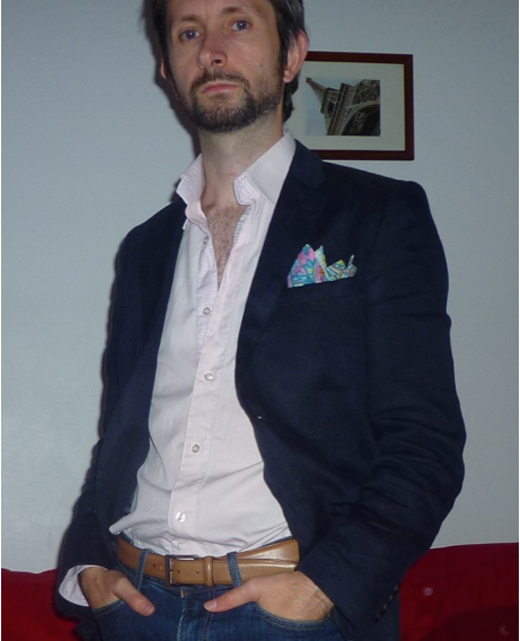 Shirt: Palenzo, Linen shirt and Jeans: Uniqlo, Pocket Handkerchief: Howards
Note from Nicolas: Don't be scared of pale pinks, they work better than you think, especially with an interesting navy blue.
And then?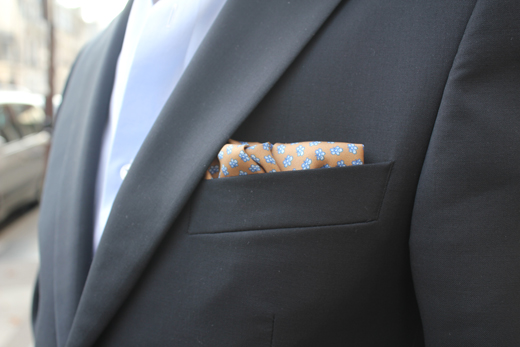 Pocket Handkerchief: Kimono
Okay, of course I still make mistakes.  I admit that gladly because it means I can continue to learn and improve. I remember all my good experiences and most importantly, I don't make mistakes twice. I'm going to build on my current style with sharper pieces. The most important thing is to experiment with styles, and above all have fun!
Note from Nicolas: you wouldn't think it, but Pascal raises a very important point; you should enjoy dressing well. I know many guys who dress merely out of necessity and obligation. It's a real shame because you'll miss out on so many things. And, I assure you, in terms of style, someone who dresses for the joy of it will look better than someone who doesn't.
And later on, I'll tell my children everything I know. But I'll let them grow up a bit first!