Frank & Oak is a brand that offers basics in good taste and at unbeatable prices thanks to a vertical integration that leaves the distributers on the sidelines.
Like Gustin, another vertically integrated brand, the huge advantage of Frank & Oak is their quality/price ratio.
In this test, the team gives you their opinion on a little range of items from the collection that we had the chance to try out.
The products I tested (ahem… that we tested)
For this test, I asked Frank & Oak for a blazer in 36r, a sweater size S and a shirt size S (there was XS and I should have gone for that, even if the size guide told me S was right for me).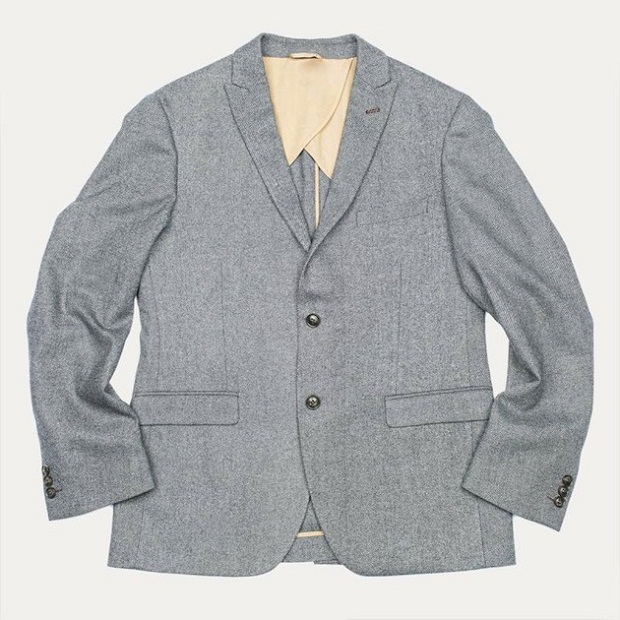 Frank & Oak blazer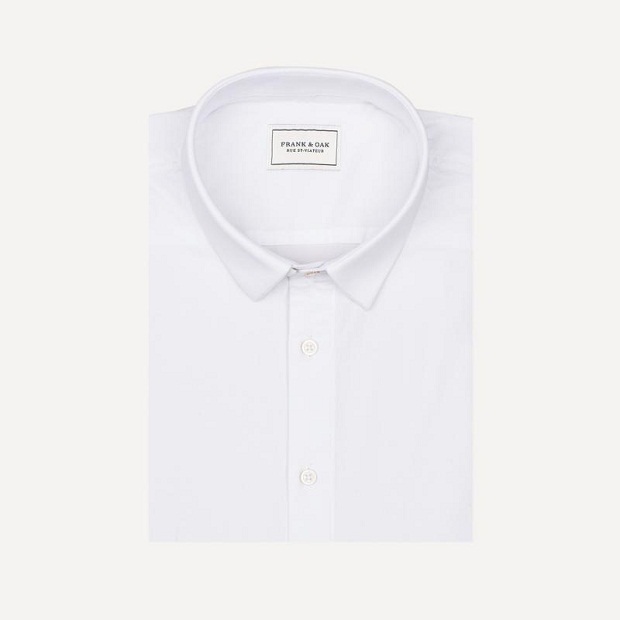 The quality/price ratio
This is the strong point of Frank & Oak, like every brand with a vertical integration approach that short-circuits the distributers, the consumer benefits from the absence of an intermediary in the food chain. This can be seen in the prices which are really low considering the decent finishes offered, and this is what I'm going to teach you to look out for. We're going to explain what we're talking about exactly at the end of the article, when I'll be looking at the business model.
But first of all, let's concentrate on the products.
The sizing
What size should I go for if I'm 6' and weigh 141 lbs (1m83 for 64kgs) ? In other words, I've got the typical physique of the tall, thin guy…
Most big ready-to-wear chains don't really suit me because I have to go for the smallest size, XS, but the sleeves are always too shorts.
And unfortunately, the sizing is the weak point of Frank & Oak. You'll soon understand. I did my best to follow the size guide on the website before buying and when the items arrived, they were all too big.
Why ? Because the smallest size simply is not small enough.
Result : I float around inside the shirt which is about two sizes too big and the jacket and sweater are a size too big, too.
If you're subscribed to the newsletter you already know of the article 'The bad fit disease', (one of our most important articles) and you know that the fit is a criterion that we're really stubborn about.
So for the photos, you'll not only see me but Florian and Luca too. Nevertheless, I wanted to keep the sweater because for me, the sizing is less important on this casual item (I'm not kidding myself, it's still too big, though).
The white shirt for $40
Luca (no S at the end) speaking…
What can we expect from a white shirt at 40 dollars? Well, the result's rather promising. I really like the work on the collar. Its narrow form and its invisible seams give it a modern and youthful touch that makes a change from the dull, insipid designs that can usually be found in this price range. The material is pretty decent and breathes quality. It's nothing like the low-range poplins found with cheap brands.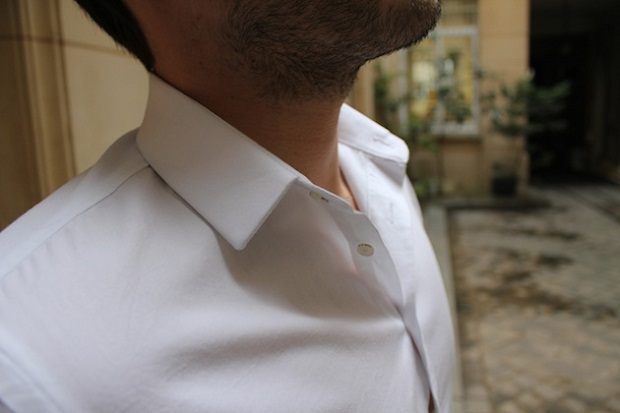 Invisible seams on the collar. In fact, the seam is only apparent on the other side.
The finishes are very standard due to the price. Don't expect hem gussets and seams with 7 stitches per millimeter, but don't forget this shirt's at 40 dollars! And for that price, there really are no bad surprises, everything's clean and sharp. I had the pleasure of noticing that the buttons are stitched in a cross, a little detail that guarantees a more solid shirt. Speaking of buttons, these are 'branded', meaning that the logo is subtly stamped on each of the buttons, in a really neat way. It's not a detail that hugely appeals to me, but I accept that it has been really well done here.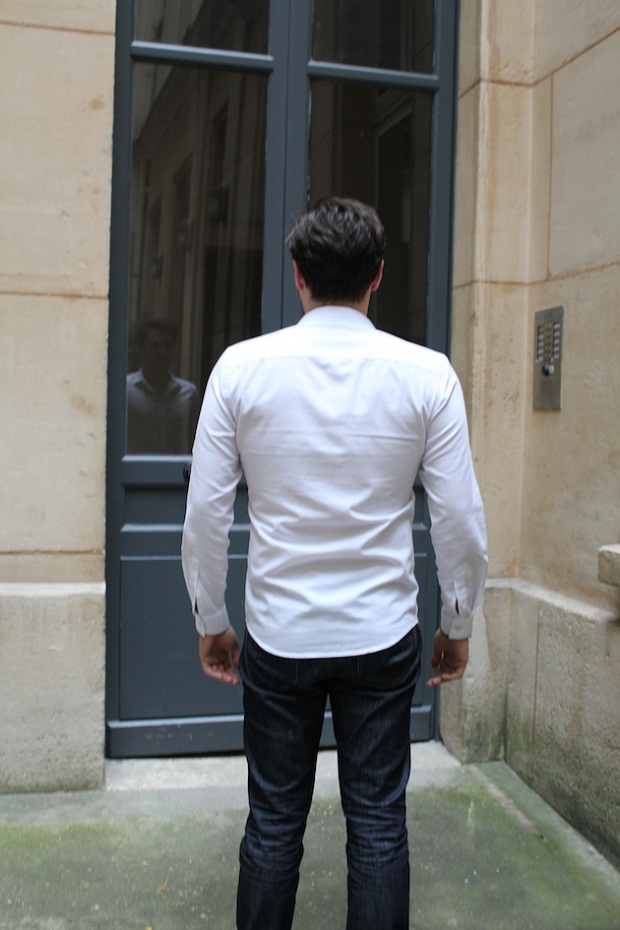 As for the cut, they have big sizes! I'm a good L and the size that fits me really well is… S! Yes, it it's a bit tight. Nonetheless I therefore advise you to be really on the ball when looking at the sizing guide on the website.
To sum up, this brand is very satisfactory if you're looking for basic and accessible shirts.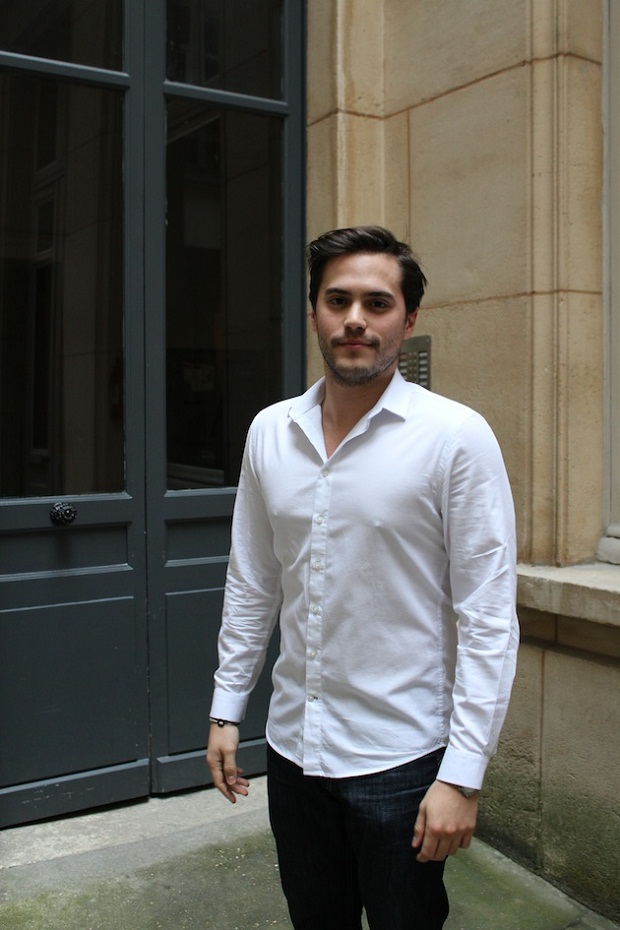 The jacket
Nicolas (no h in the middle) speaking (again)…
I chose this jacket because it is a good example of the basic grey jacket. It's the jacket that will suit everyone and will work with pretty much everything so that even the most reluctant among you could wear it without a problem!
What makes me say that ?
It is shorter than the standard suit jacket, this modern cut looks great on someone 20-years-old or older an fit won't make you look like you're dressed in your Sunday best.
It is in a grey that is neither too dark nor too light so it will go with everything.
The wool is a bit grainy thanks to a twill stitch that will guarantee a casual look
In my opinion, this jacket is probably one of the most stress-free in the world. No matter what outfit you go for, if you want a bit of a formal touch, put this in your shoulders and the job's a good one ! It will go very well with a T-shirt, a shirt or V-neck sweater, raw jeans or chinos, boots, derbys or discrete sneakers.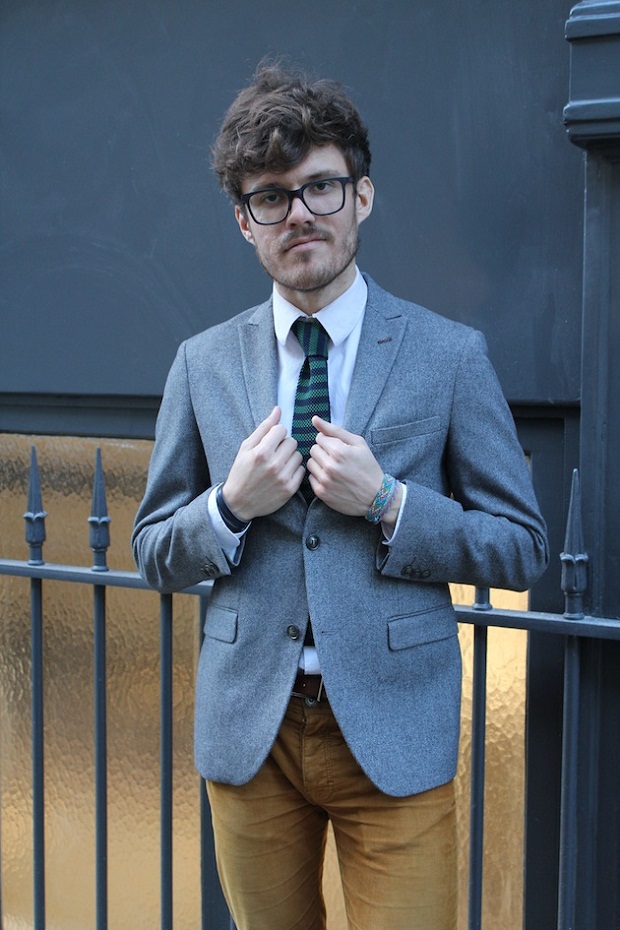 The tie is absolutely not obligatory with this jacket.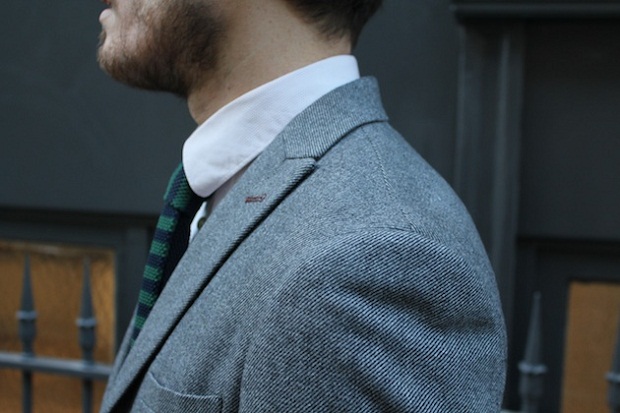 An example of a good fit on the shoulders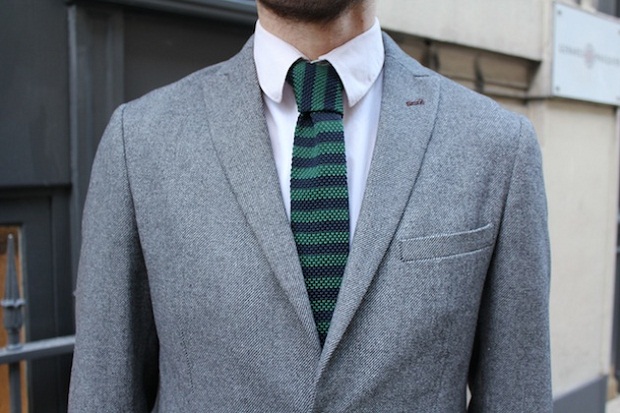 The interior isn't lined, a fairly rare finish for entry-level because it requires extremely clean seams on the inside of the jacket.
The sweatshirt
This sweater is part of the Basics line by Frank & Oak in which you'll find basic items…but there's more to it than that. If the T-shirts are in block colors, you'll find little extra details on the cardigans, the Polos and the sweaters that add an extra something while remaining very understated.
Is a sweater like that a real basic?
The cuffs and the collar are in a contrasting material, the material has a very slight patters of white and grey stripes in a herringbone pattern. We can't claim this is a good old mottled grey basic sweater. No, we're looking at basics with a twist, with that little extra something that we like so much.
When it comes to the style, for me, this is a success, the pattern is subtle and adds something interesting to an item that would otherwise have been too simple and boring.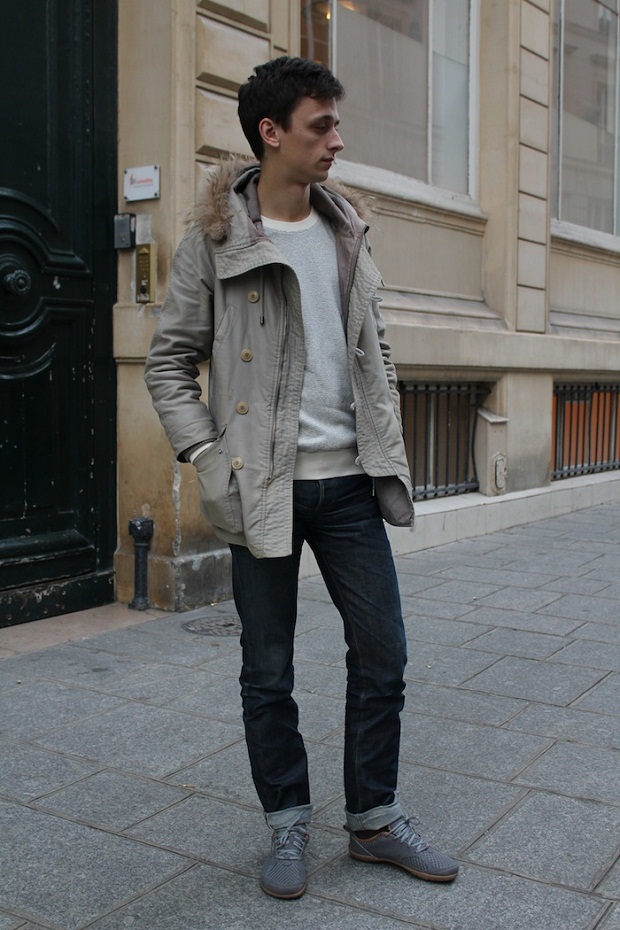 How can it be worn ? The sweater is a street and casual item. To be worn with a nice pair of raw jeans and sneakers.
However, given the colors used, this sweater can obviously be worn like a true basic item. No problem when it comes to integrating this item into any look you want. It will nicely calm down bright colors and bold pieces.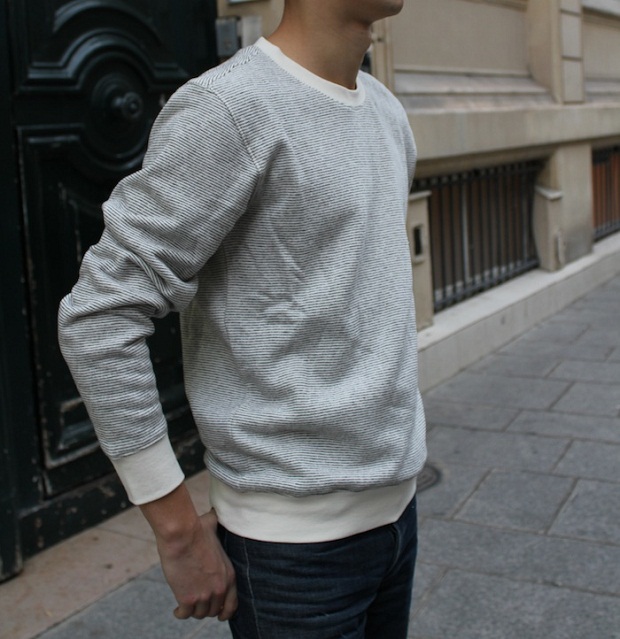 As you can see, Frank & Oak sizing doesn't really suit me on this item either, but it's the arms in particular that are far too big for me.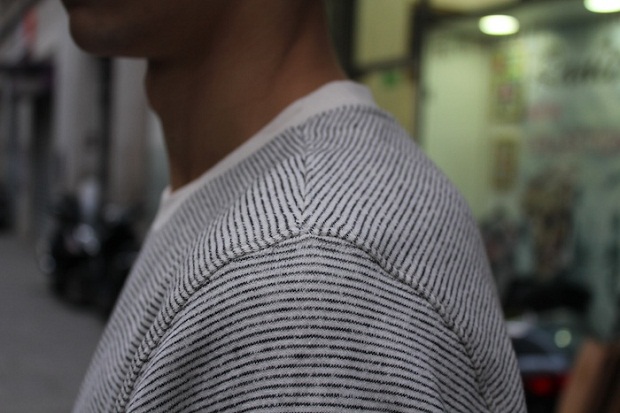 The shoulder seam is low, but in a street look that's no big issue.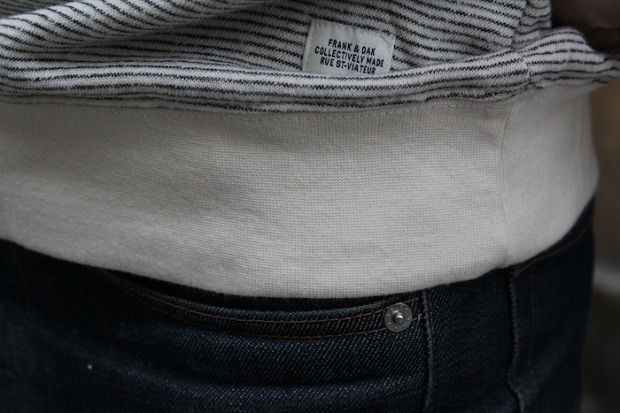 Here's a fun test you can do to test the quality of the edges : hold the elastic material between your fingers, stretch it and see if it easily springs back into shape. This sweater passes the test with flying colors so the material is of good quality.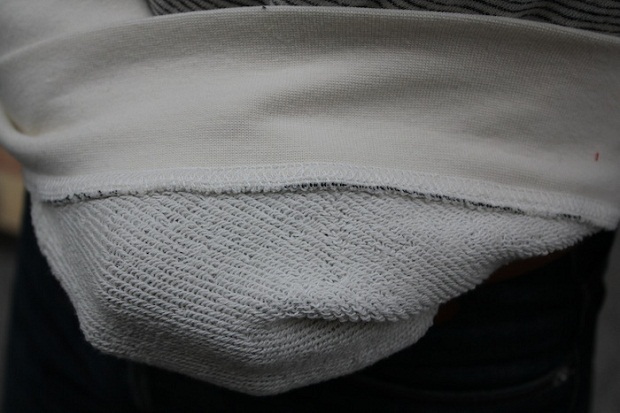 A really nice fleece with very regular hoops. The tighter they are, the more solid the fabric. Here, we can see the quality is pretty standard.
The style
No danger, it's basic.
Lots of nice basics at a good price. Blue, white, grey, denim and chambray shirts, even some with little checks in a Gingham style.
With this kind of product I find the style really good and easy to wear. On the other hand, when it comes to checked shirts, beware! For me, they take things a bit too far, like bright colors and huge checks…it's just too much.
The chinos seem pretty good to me.
The knitted items do, too. And they're probably the easiest items of a guy's wardrobe to buy online. The more structured an item is, the more crucial it is to try it on before you buy and knitted items are not structured (or very slightly structured) so they can easily adapt to your shape and size. However, be careful when it comes to Fair Isle patterns, though…I see that as a bit of a risk!
Nice winter jackets in really warm wool, once again I'm talking about the one-piece models and not the window-pane ones.
To sum up, Frank & Oak offers a plethora of basics. However, when you start looking at slightly bolder items, the designs are less of a success (but everyone has their own tastes!)
The business model
Vertical integration
Frank & Oak is a vertically integrated business. A brand that creates and distributes its own products. It is precisely this absence of distributers that allows them to reduce costs and offer the consumer a final product that is of decent quality and that comes with an excellent quality/price ratio. Each month, new items are designed and produced. We're not looking at seasons but rather at months, like with Zara or H&M.
Nevertheless, the factories are not F&O own factories and they are  Chinese, US or Canadian ones.
When I asked about it which products were made with I've got this cool answer from Alison Lochner :
It really depends – each product and collection is different. Our leather goods are generally handmade in Montreal from Italian leather, our shoes are handcrafted in Portugal, and many of the knit/woven products are made in some of the best facilities in China.
F&O claims to have an ethical production method when it comes to human environmental aspects and the founders are proud to have visited the factories of all of their suppliers.
Hunt Club
Frank & Oak offers a free try-on service at home. You can receive up to three items to try on at home and you'll only pay for those that you keep. The deliveries and returns are free.
This seems like a good idea but I've read lots of negative reviews. The system isn't totally clear on the conditions of the subscription in case of no action on your part.
Eshop normal
F&O also functions as a 'normal' eshop where you can look for items by category. Starting with the collection of the month and then what's left over from previous months.
There's a pretty large range of products and if you find your size, you'll be able to build a wardrobe full of basic, quality items for reasonable prices.
If you love a good read
This article on the business model of F&O really puts things in context because other brands have very similar approaches: TrunkClub, everlane, warby parker (for glasses), etc.
This more recent interview looks at the content-marketing with the two founders of F&O
Frank & Oak recently reached a million subscribers, 56% of which are clients and the boutiques are starting to bloom. It's what TechCrunch reveals in this November article. In other words : a giant of ready-to-wear has been born.
Among the 3 products we reviewed which one is the most appealing to you ?