[youtube=http://www.youtube.com/watch?v=nQbbx-87P8E&feature=related]
A great suit will feel like a suit of armor – it gives you a whole different level of swagger. Nothing makes me feel more like a confident man than when I'm in a killer suit. If I could, I'd wear a suit all day, everyday, whatever the occasion.
I'll be sharing my passion for suits through a series of article on suits. This particular article is going to take you through the basics of purchasing a suit. In the next few articles I'll talk about how to find a suit that fits your body type, talk about how to look for quality, and lots more.
So read on to make sure you know exactly what to look for to ensure that your next suit is one of the best of your life.
Step 1: Know Why You're Buying A Suit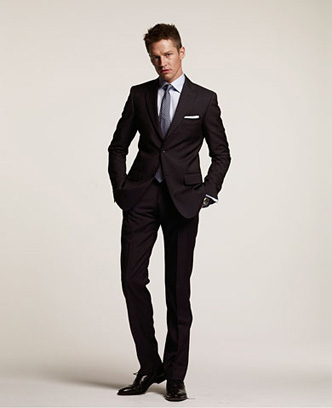 A suit is kind of a big purchase for a man, so this means you need to know as much as you can about choosing the right one before shopping. Otherwise, you may end up with a suit that won't look or feel right, and end up in your closet rack for decades without use. The first and foremost question you should ask before a purchase is:
What will be the main purpose of the suit?
If you're looking for something that you'll wear to the office often, then keep it dark and classic.
If you're looking for a suit to wear to key special occasions, then black or navy is a safe bet.
If you're looking for an interview suit, you want to be well dressed but not better dressed than the guy interviewing you, so don't break the bank on it.

Step 2: Deciding What You Want

Do you know if you want one button, two buttons, or three buttons? Do you want a peak lapel? Do you want side vents? What kind of fabric and color do you want?
Overwhelmed or confused? Don't worry, I'll guide you through the options.
a. Choose Your Fabric
If this is your first suit, then stick with a wool suit because it can be worn year-round. Cotton suits should only be worn in the spring, summer, and fall. There are even more choices out there like linen suits which are best for summer days or flannel to keep you warm during harsh winter chills. A wool suit will give you the most for your money, so start there.
As a rule, it's far better to have two great suits than five mediocre ones. Start with a rich midnight blue, a few shades darker than the average navy. This suit will transition beautifully from day to night, and can be worn with both black and dark-brown shoes.
If you have already own a navy suit, you can go for the next most versatile suit color – charcoal. Then move on to your light colors like light brown or khaki. But sometimes these colors won't compliment your skin tone, and so in that case go for light gray. This is what you can wear in the summertime to dress down a formal look.
A black suit seems like the logical first choice for a young man but it's actually the least versatile color. But there are times when only black will do, so you should have one nonetheless.
b. Choose The Number of Buttons
Three-button suits
The three-button suit was very popular in the 90's because the two-button used to be the conservative main stay, but the tables are turning again. If you're going to get a three button suit, instead of opting for one of those high-cut versions, look for one with a roll-over lapel—one in which you button the middle button, encouraging the soft lapel to roll over the top button. Taller men may prefer the three-button jacket, which will reach higher on the chest and could be more comfortable or flattering. (more tips like this in the next article)
Two-button suits
The two-button suit is what most guys should wear. Every fashion label imaginable is designing two-button suits, except they're making them more streamlined and modern, so you'll see a lot of these around. A man with a shorter torso will appreciate wearing a two-button jacket style. It lengthens your frame, and it has an undeniably classic appeal.
One-button suit
The one-button suit exists, but it's not for everyone. It's something you should buy only if you're in a creative job where the environment is less conservative. If you can pull it off, it's a sleek look.
c. Choose Your Lapel Type
Avoid narrow and extra wide and keep it somewhere in the middle. Also consider whether you prefer a notched lapel – which is customary – or a more dramatic peaked version.
Classic notched Lapel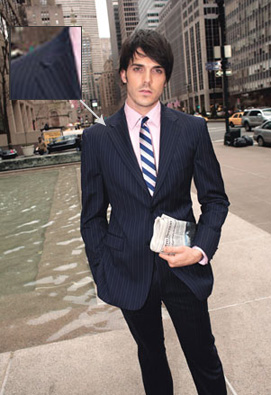 Classic and conservative, a notched lapel always looks sharp.
The Peak Lapel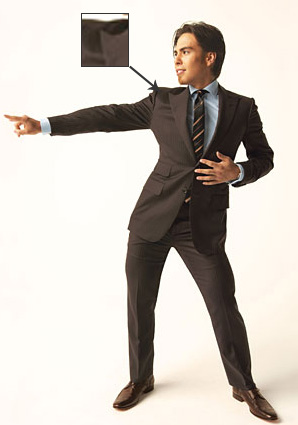 The peak lapel is a bit more daring and stylish.
d. Do You Want Single or Double-Breasted?
The single breasted suit should be your default choice for both work and play. The double-breasted version is a dashing, continental choice that's chic, but not for men on the shorter or heavier side as it adds fabric to your midsection.
If you're interested in the double-breasted jacket, make sure you have a single breasted one in your closet first.
e. Choose the Type of Jacket Vent
Double Vents (also known as side vents)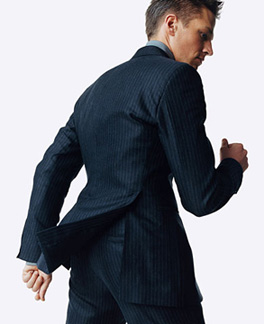 Double vents are more European and a bit more suave. They make it easier for you to reach into your pockets without having to fold your jacket up. But they're the most expensive to make, so they're less available than the center vent.
Center Vent
Is modern yet more traditional. You can't go wrong with a center vent.
No Vent
Ventless jackets are the cleanest and dressiest in appearance, but they aren't very convenient. The wearer needs to bundle them up to access his pockets.
f. Choose Pleats or No Pleats on Pants

Men's fashion is getting further and further away from pleats, but they still do come in a more subtle fashion than it used to. It can be flattering to heavier men who need some extra stretch but it's always flattering to go for flat-front if you can. Personally, I hate pleats and would love if I never saw them on a pair of pants again, but some men do prefer them. So to each his own.
g. Cuffs or No Cuffs?
Cuffs add weight to the bottom of your pants, helping it to hang properly. They're better for taller guys, but not for shorter guys because it shortens the silhouette of the legs.
Step 3: Know Your Exact Measurements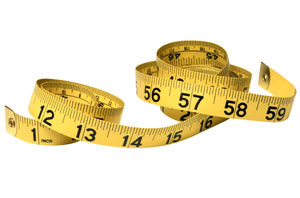 This seems obvious, but make sure you know your exact size, not just the general category of measurements in which you think you fall under. As a matter of fact, you should recheck your size each year. Even if you've bought a suit before, don't keep asking for the same size out of habit. As you gain or lose weight or grow older and gravity takes its toll, your suit size will change.
A suit jacket size is determined by measuring the thickest part of your chest in inches.
1. Begin by measuring just under your armpits and across the chest and over the shoulder blades. Just relax and don't flex. Make sure you keep the tape measure parallel to the floor when you do this. This will help assure you're measuring the thickest part of the chest area.
2. You should take an overarm measurement where you place the tape measure over the outside of your arms at your sides and across the thickest part of your chest. Once you have this measurement subtract 7 inches to receive a corresponding chest measurement. Then compare this measurement with the chest measurement and take the larger of the two.
3. Trouser sizes are determined by measuring the waist at the belt line. In most cases, the belt line will be found just on top of your hip bones.
Now that you have all your measurements, on to next step.
Step 4: Purchasing The Suit
If you're not used to buying suits, a good place to start looking is a department store, for example Barney's, Bloomingdales or Saks has a vast selection. Step into the store and take a look at the different styles and types of suits they have. See what grabs your attention. Look at prices. Ask for a salesman when you're good and ready.
Once you see something you like, grab it to take to the fitting room.
Checking The Fit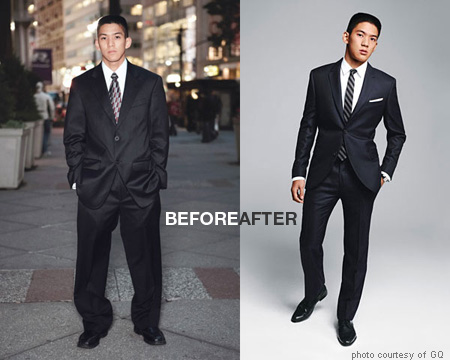 The shoulders of a jacket are crucial to a good fit. Check this area first to determine if the proper suit size has been chosen. (If you stand sideways against a wall and the shoulder pad touches the wall before your arm does, the suit is too big)
Very few men can buy a suit without having the collar raised, lowered, or shortened.  Look in a three-way mirror. The jacket collar should hug the back of neck with a half inch of shirt collar showing above it. If the shirt is hidden or there is a buckle of excess jacket fabric, try a different jacket (a tailor can also fix this)
The jacket should not be too long, for example not halfway down your thigh
For the right length: your jacket should be long enough to cover your buttocks. If you have very long legs, however, you may want to wear your jacket slightly longer than your buttocks to make your legs appear shorter and more balanced. If your legs are very short, you'll want to wear your jacket just above the bottom of your buttocks in order to give the illusion of longer legs.
The sleeves should end at the hinge of your wrist, but leave some room to allow a quarter inch of shirt cuff to show.
You should be able to easily button the jacket without it straining, but there shouldn't be too much space between the button and your chest — no more than a fist's worth.
Turn sides and look at the way the pants hang. Legs should fall straight and center evenly over each foot.
Pants should sit more at the hip almost like a pair of jeans, not at the navel
You shouldn't have to wear a belt (you don't really need one), and you shouldn't need suspenders to keep your pants up, it should sit naturally on your waist and stay there
If your waist in nine inches smaller than your jacket size, you'll need to have your suits custom-made or get a semi-custom suit. You cannot successfully alter pants with that much drop from shoulder to waist with just  a nip and tuck.
*Beware of the sales guy who may talk you into buying a suit a size too big because he will say, "Well you want to be comfortable…" or "this suit will last you for the rest of your life, you'll grow into it!" Uhhh… NO. If you can, take someone with you that you can trust (who's blunt and honest) to tell you if something looks horrible.
Step 5: Take It To The Tailor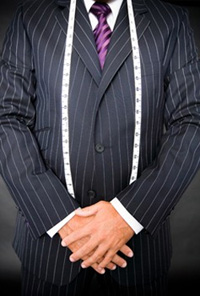 Your tailor will become your best friend. A good tailor can make small tweaks that will be the difference from you exuding style confidence and your outfit being lackluster.
After choosing a suit that's an exceptional fit, you may want to take it to a tailor for some final touches. You will always have more versatility with a suit that fits you well (a bit on the slim side) because it gives you the option to dress the jacket down with a pair of jeans.
If your pants are an inch or too wide or too tight, a tailor can usually fix them, but don't buy ones that are more than an inch too big or small (it will look bad even after alterations).
A tailor usually will need to alter the length of the sleeves. Insist that you'd like a quarter inch of shirt cuff to show. The sides of a jacket often need tapering so they contour to your torso. And check out the collar: Many times there is a roll in the back of the suit jacket, up near your neck. A good tailor can correct this.
They can also take your pants in at the thigh, or shorten the length.
After you have had it altered, don't forget to try it on again before leaving.
Your suit should be well fitted, but not like a straight jacket. Pretend like you're hailing a cab and see if it's comfortable to lift your arm. The last thing you want is your suit to burst at the seams while you're hailing a cab for you and your date.