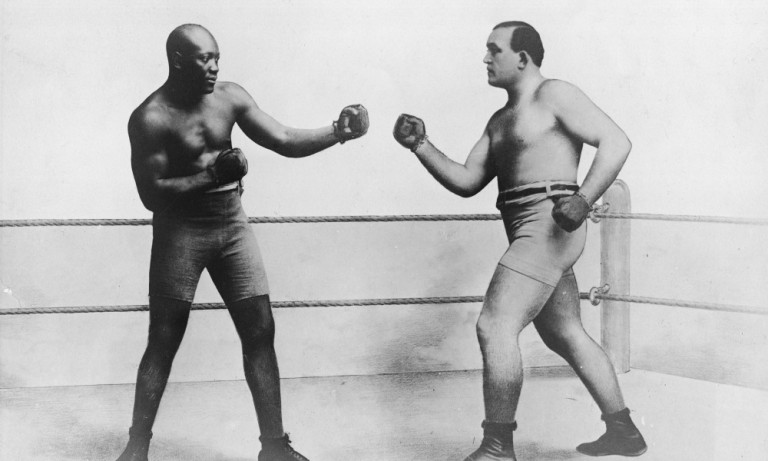 Fight of the Century – Cardigan vs. Sweater
Who Will Win?!
This is the fight that you've all been waiting for. A bout you will tell your grandchildren. Mothers, hide your daughters because this could get ugly. Wait, that can't be right. Certainly a matchup of fine gentlemen's wear will be an attractive affair, yes? Today's matchup features a long-standing rivalry between the sweater and its spinoff-but-trying-to-make-a-name-for-itself opponent the cardigan. Which one do you choose? And for what occasions? How do you layer them? We will list the characteristic of both and let you decide which one you prefer. It's time to settle the hate and determine which type of knitwear is considered superior, so let's get to it.
Ladies and gentlemen, you don't want to miss this one.
Cardigan
Collar:
Shawl or Plain Collar options. Shawl if you want to make a statement, plain if you want to keep things a bit more reserved. The latter is much more versatile as the shawl cardigan is used mostly in leisurely settings.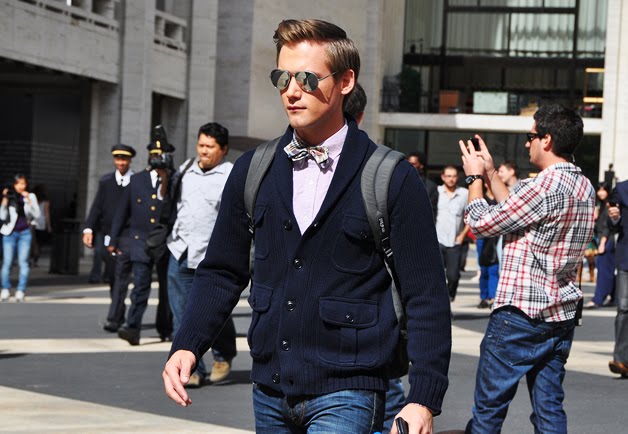 Material:
It is because of their usual thicker wool build that they are worn as a substitute for waistcoats in suits when the weather gets chillier. Coarser, thicker wool options are usually used during the colder months and lightweight merino wool for the spring and summer. Cashmere is a wonderful option as well, however the constant fiddling with your buttons can cause wear and tear down the middle of your cardigan.
Detailing:
Monochromatic cardigans are a safe bet as they are simple and don't ruffle any feathers. People may say if a cardigan is so plain looking, isn't it just a sweater with buttons? Depends on how you look at it, and more importantly how you style it. With the right shirt and tie, cardigans pack a punch that sweaters can't afford.
Buttons are usually plastic and occasionally wooden. For casual cardigans, pick contrast color buttons to really stand out and go same-color for dressier cardigans.
If a cardigan is to have patterns, they should be either very subtle (salt and pepper) or very bold (thick horizontal stripes). Why? A subtle pattern won't take away from the accompanying pieces you will be pairing with the cardigan, while bold patterns make the cardigan the star of the show. Don't get caught in no man's land or else people won't know what to look at.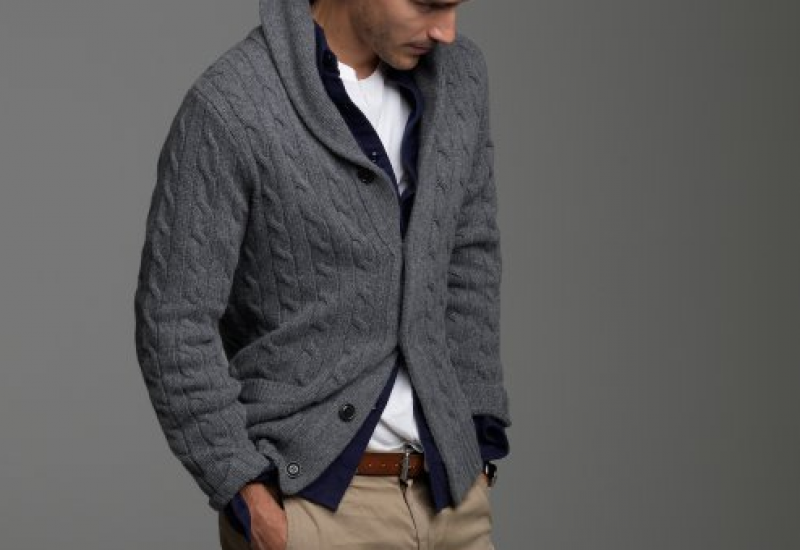 Best for:
Since it bears resemblance to a blazer due to its buttons and single-breasted design, a cardigan is considered a respectable dressed-down alternative to the business jacket. The buttons add a bit of formality so it may be best to stay away from jeans. Chinos just make the mark and should only be worn during warmer months. The foolproof choice would be a pair of slim dress pants (ideally a different color than the cardigan) and you're well on your way.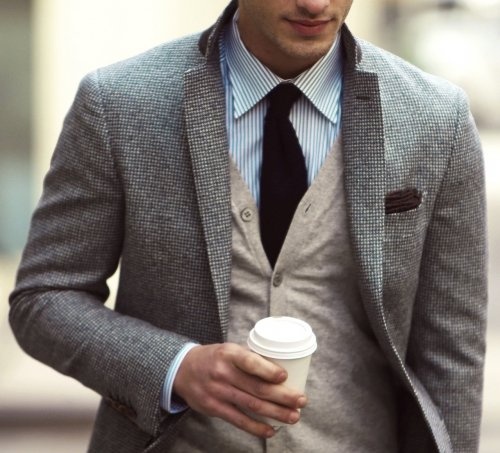 Sweater
Collar:
V-Neck, crewneck, and turtleneck options. The lowest point of the V should rest halfway up the sternum, enough to show the knot and the first few inches of a tie. The crewneck is a more casual option as it can be worn solo or with a buttoned up shirt. Turtlenecks are worn solo and require a fine wool to prevent you itching away at your neck like a drug addict.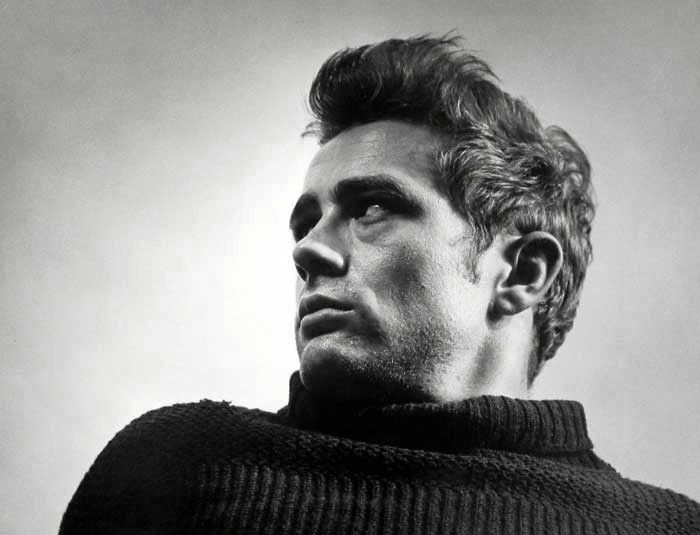 Material:
Thickness of the garment's build depends on the type of sweater. V-Necks are composed of a light wool, usually cashmere or merino, in order to shape the body's shoulders and torso well. Turtlenecks are usually composed of lightweight fabrics as well, save the odd thick sweater made to shield the neck during the colder months. Crewnecks are 50/50 due to their simplicity, designs span as far as the eye can see.
Detailing:
Ribbed cuffs keep the openings of the sweaters close to the body to maintain a clean look. This is especially important with V-Neck sweaters as they are commonly used as part of a more formal outfit.
Patterns on sweaters can range from simple to absolutely obscene. For example, cable knit originated with fishermen as a sign of good luck, popularized by ski instructors. Yeah, funny how things turn out. Then you have a complete portrait of a famous person sewn into the front torso of your garment, and somewhere in between those two, Christmas pattern sweaters fit in quite nicely.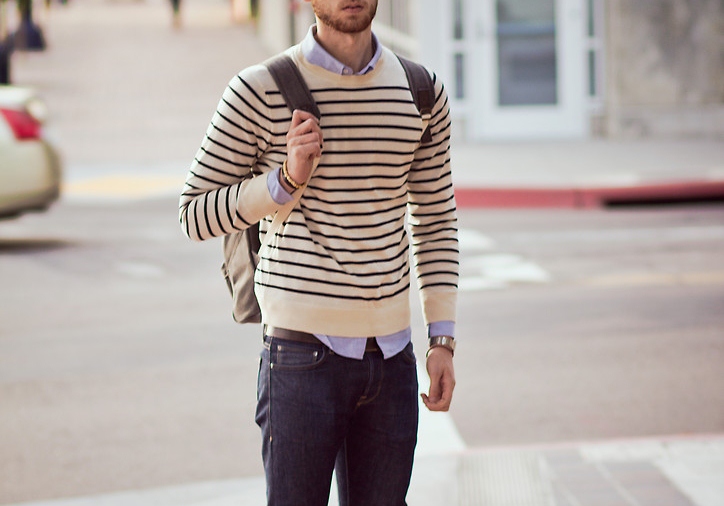 Best for:
When's not a good time to wear a sweater? With so many options, you'll find yourself torn between which sweater to pick. Crewneck option is a prime choice for the aforementioned Ugly Christmas Sweater parties as the simplicity of the sweater build really let the designs stand out. For a more everyday look, match a crewneck with fully buttoned up shirt (no tie), sports coat, jeans, and sneakers. Boom. Got a tech conference? Pay homage to that guy naming the #1 world brand after a fruit with a black turtleneck. You will feel your IQ soar, trust us on this. For everything else, especially if it involves a tie of any sort, a V-Neck sweater should be your right hand man. From Saturday afternoon coffee to adventuring the streets of Milan, it suits any occasion as long as you promise us to wear a collar shirt with it every time.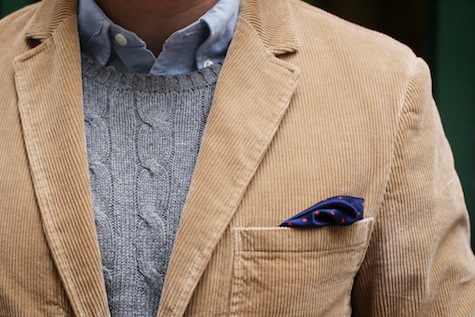 So Which Knit Has Won Your Heart?
Of course there will be times where one is certainly a superior option over the other and in that case, put allegiances aside and pick the one more suitable. Perhaps you dislike doing up buttons all the time and thus spawn distaste for cardigans? Or maybe you were never a fan of graphics on sweaters? How about you?Let us know in the comments below!