Here's a fun fact.
Did you know that the average, off-the-rack designer shirt only takes 30 minutes to produce?
That's why I'm excited to share today's review with you. I'll be reviewing an Egyptian cotton, bespoke dress shirt that takes 11 HOURS to produce.
The shirt is from Buttons n Threads, an India-based company that produces bespoke clothing for men.
Here's a quick look…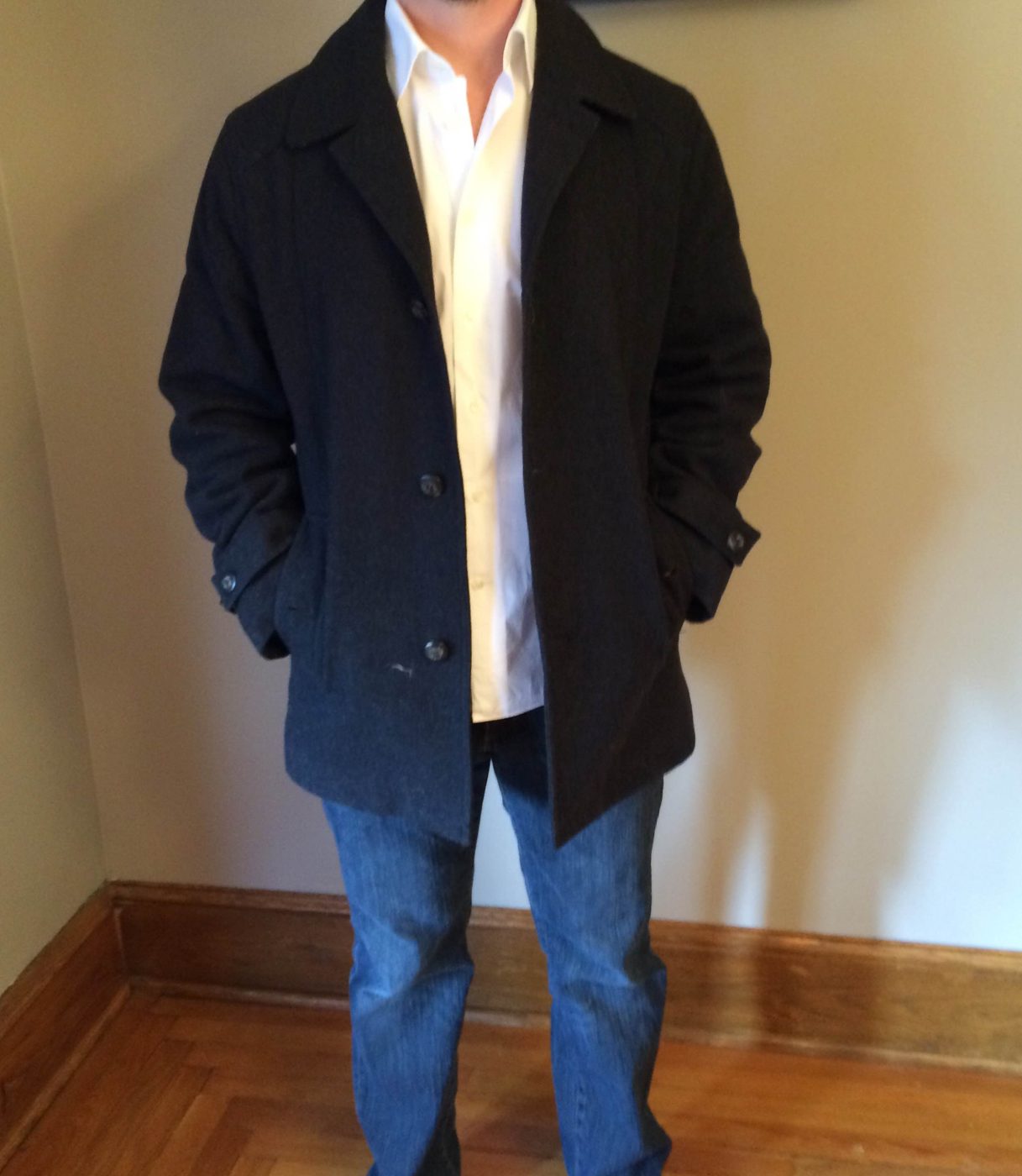 A nice clean, simple outfit.
And now, since it's winter you can easily accessorize to spruce it up a bit. Scarfs are a great choice. Watches can also make a white shirt pop. I may even layer it tonight and add a cashmere sweater over it. Maybe with a darker pair of jeans to create more contrast with the white.
Lots of options. But the fact is…
Every Man Needs An Egyptian Cotton White Dress Shirt
One of the principles in the Kinowear Bible is that you need to have your "everyday" wardrobe, along with a few staples that you only wear on special occasions. The times you're really trying to make an impression.
We also talk about the fact that every man needs a few white dress shirts. They're one of the most versatile pieces of clothing and should be one of the first places you start when upgrading your closet.
Included in that collection of white dress shirts should be one that's a bit… "premium". Something like these.
For under $150, here's what makes them a fantastic bargain…
100% Egyptian Cotton Fabric
These shirts are sources from some of the best mills in the world, including Thomas Mason, Cotonificio Albini and others throughout Switzerland and India. There are two options.
2-ply 120's
2-ply 140's
Both are made from Egyptian cotton, which, if you haven't tried it yet, is like dessert for your skin. It feels incredible and makes you feel like royalty.
23-25 Stitches Per Inch
This is very high. The more stitches per inch, the more dense the stitches become, making them virtually invisible and seamless. If you're looking to check the quality of the stitching when shopping for a new shirt, just check the collar. Here's an example…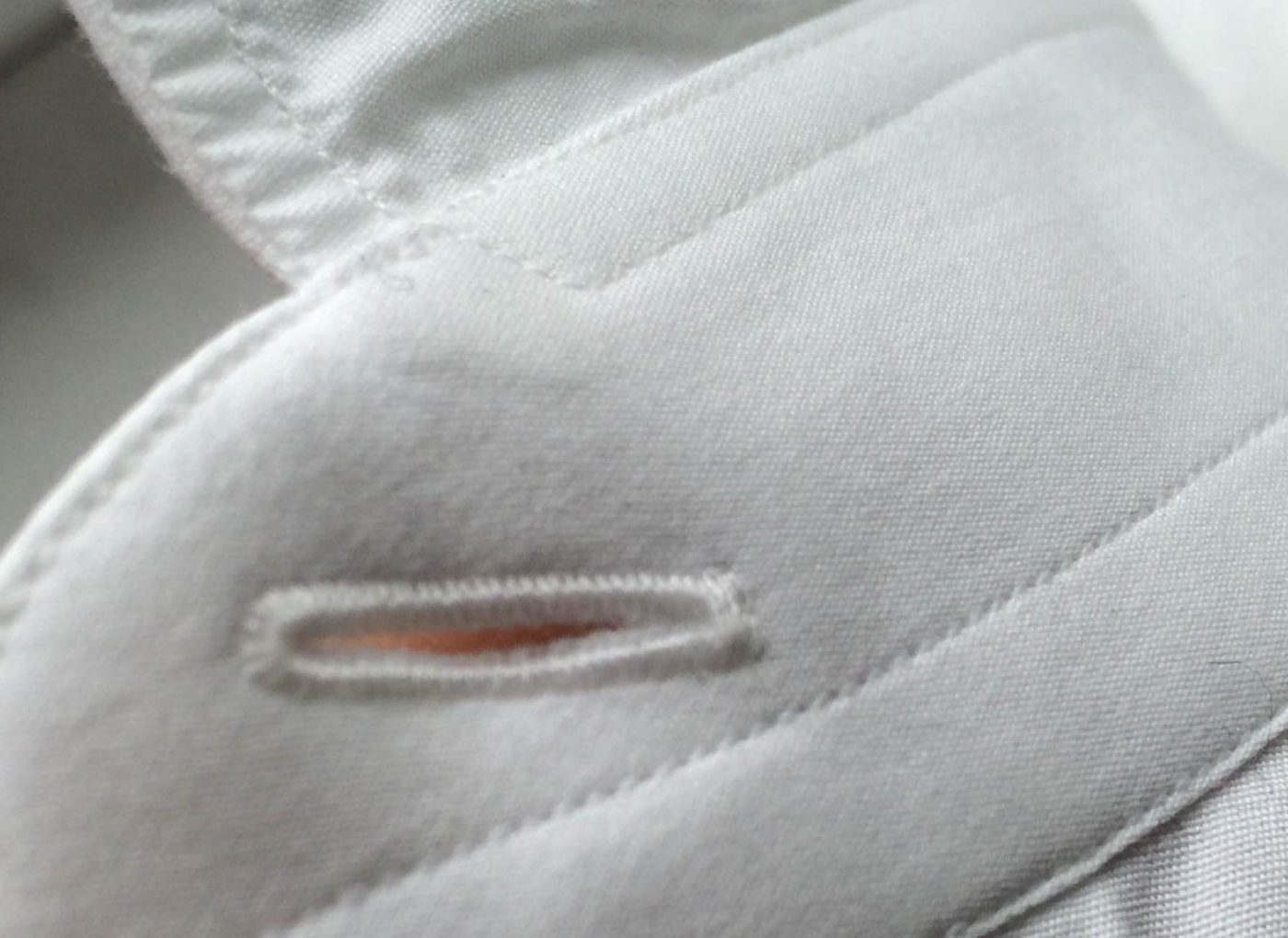 You'll also be happy to know that they come with removable collar stays, to help preserve the shape and curvature of the collar. Most shirts these days come with these, but sometimes they don't, and it's annoying.
200 Stitches Per Buttonhole
I hate when companies create shirts and lack stitching in the buttonhole areas. It makes them flimsy (hard to button up) and encourages fraying. Yuck. These shirts have a horizontal buttonhole on the sleeve guard and lower front placket, allowing for ease of movement while being seated. Plus it avoids tensing the shirt seams inside the trousers.
Australian Mother Of Pearl Buttons
Mother of Pearl buttons are the standard for high quality buttons on a dress shirt. These are sourced from Australia and crafted in Italy… adding a subtle touch that people notice. On top of the Egyptian cotton, they look gorgeous.
They've also included a button shank.
I hate when you try buttoning buttons and it starts tugging on the fabric. That's due to bad shirt design. These buttons are wrapped, which creates space between the button and fabric of the shirt.
This is what a button shank looks like…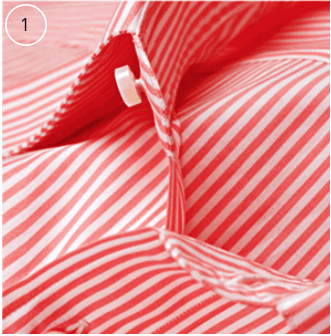 French Seams
Most shirts get sloppy with their seams. That's why I was happy to find out these come with 3mm side seams. Doing this allows for less noticeable lines, for a seamless and luxurious look that you don't normally get. It's a nice touch.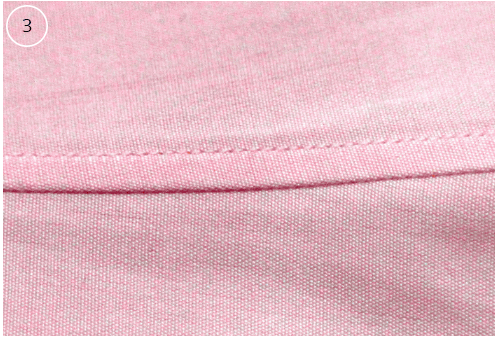 Matched Patterns
Ever get a shirt that has patterns which don't line up? It's annoying and is the mark of a poor shirt. Although mine didn't have a pattern (it's solid white, after all), if you decide to get a striped or checked shirt you'll get matched patterns. That way the lines flow smoothly without creating breaks in the shirt. Just take a look at this…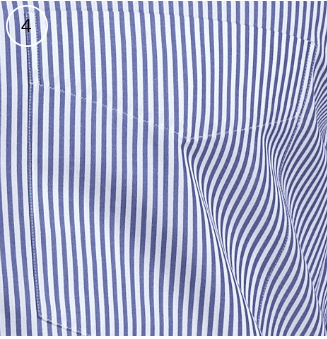 Here's How They Match Up To Higher Priced Shirts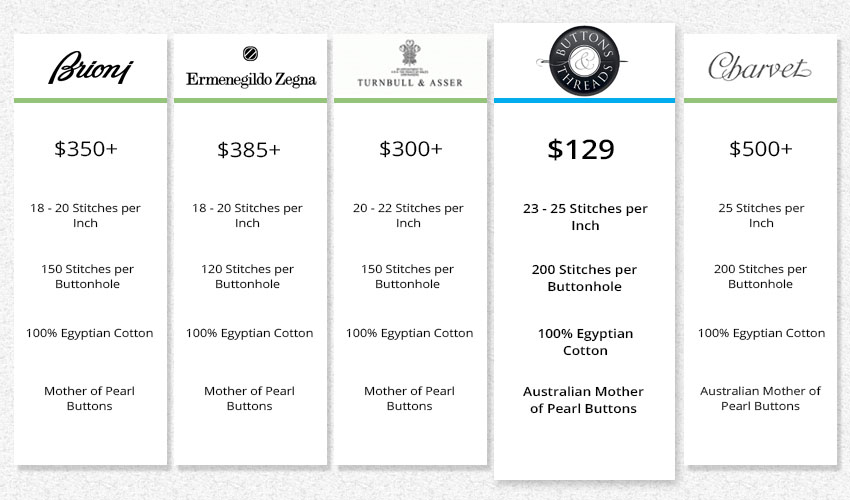 I always like to look at how a certain company matches up to other companies when you put them side by side. I found this image below, comparing Buttons n Threads to a few of their competitors. What you'll notice is that out of this entire chart, only one company has similar features… yet Buttons n Threads is nearly 1/3rd the price.
They Offer More Than Just Shirts…
I only received a white, Egyptian cotton, 2-ply 140's shirt so I can't comment on the quality of the rest of the items they carry. They also carry…
Suits
Blazers
Trousers
Accessories (ties, pocket squares, cufflinks, tie clips, etc.)
And It's All Customizable…
When ordering, you can customize the clothing to get it exactly how you want. I love that online clothing companies are starting to do this. It makes shopping so easy and fun. With dozens of options, you can customize whatever you get to exactly the way you like to wear it.
Check Out Buttons n Threads Today
To check them out, just go to www.ButtonsnThreads.com
If you're in the market for a new shirt, suit, blazer or trousers, I highly recommend checking them out.