Disclaimer – Laurent has been one of our readers and friends for many years.  Since he has been craving cordovan shoes for a long time and bought a pair last month, he spontaneously sent us this very nice article. And we thank him for it.
Ah shoes…according to some people, it's imperative to have at least two pairs; one brown pair for reasonably smart occasions, and a black pair for formal occasions.
For others, it's a story of love, know-how and polish! To satisfy these people, they need Oxfords, pointed Oxfords, Brogues, Balmorals, double buckled shoes, work boots, ankle boots in brown, cognac, dark red, grained leather, and finally in cordovan leather.
In cordovan…?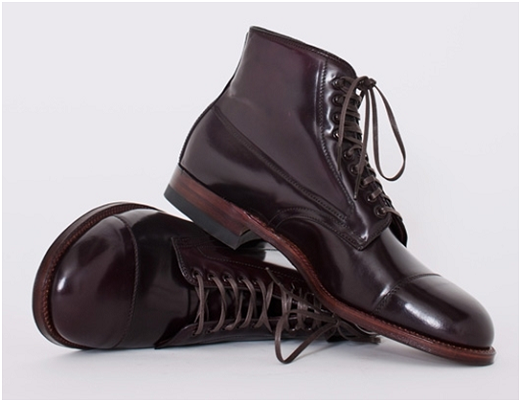 How can you not fall in love with a pair like this?
You have surely heard of the term "cordovan," which is often used to refer to horse or foal leather. But this is where you're wrong; there's an entire story and artisanship hidden behind this name that I want to share with you in this article.
From Spain to the United States
Etymologically speaking, the term "cordovan" comes from "cordoban" which means "from Cordoba" (Córdoba in Spanish). At the end of the 16th century, 'cordovan' was used to mean a goat's leather treated with a vegetable tan. This leather was used by artisans from Cordovan to make mural decorations, chests, and even ornamented armour.
It was only from the 19th century onwards that the word 'Cordovan' was used to mean horse's leather. The Germans, who mastered the art of Cordovan tanning, had another name for it; "Spiegelware". This word literally means "mirror goods" ('Ware' means goods, and 'Spiegel' means mirror) and pays homage to the shiny quality that the leather has when it is lit up.
It was at the same time that the German and Dutch tanners emigrated to the United States where they perfected their tanning techniques to make the Cordovan softer, and in this respect, more suitable for the production of shoes.
A legendary Cordovan tannery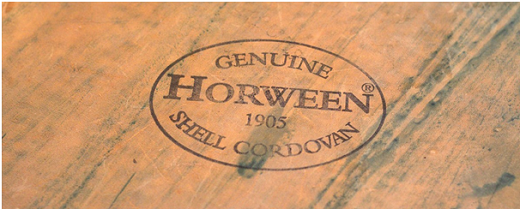 When you speak of Cordovan these days, the name of a tannery comes straight to mind: Horween. This tannery produces the majority of cordovan leather found on the market today. The tannery continues the tradition of tanning to this very day, and its stamp is considered a mark of true quality. It was founded in 1905 by Isadore Horween and is lead today by Nick Horween.
During their early days, Horween mainly produced Cordovan leather to be used for sharpening razors. However, following the invention of the disposable razor, the demand slackened and the company had to diversify their outputs.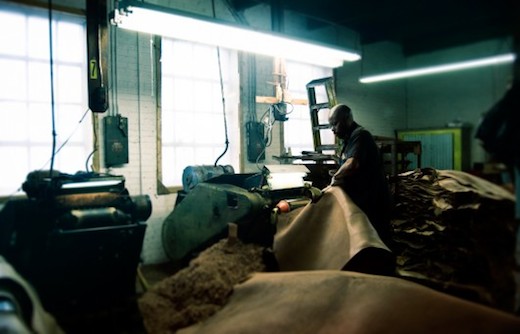 The Horween cordovan tannery (more photos can be found here)
Since then, numerous big fashion houses have been amongst Horween's clients, such as Alden (its biggest Cordovan leather client since 1930), Crockett & Jones, Visvim, and Allen Edmonds. Leather sold for shoes represents around 60% of their sales. The remaining 40% is sold for sports equipment. Horween is the official supplier of the NFL and NBA, and also works with Wilson in the production of American footballs.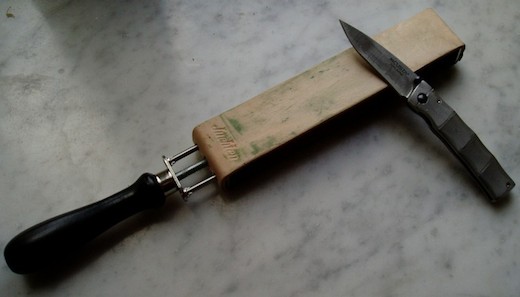 Leather used to sharpen razors
There are still very few tanneries that produce Cordovan leather in the whole world. The Japanese have a certain reputation in this field and the name Shinki-Hikaku often appears. Cordovan tanneries also appear in Argentina, and ANCA is one of their representatives.
Cordovan, or rump skin (from a horse)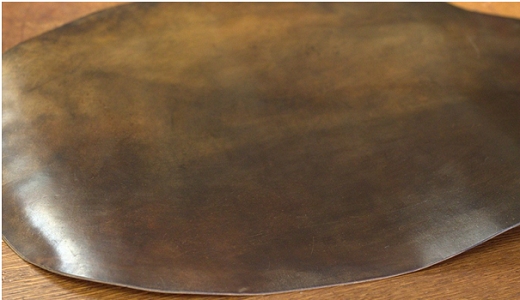 As was previously done, the term "Cordovan" is often used to mean horse leather. It is also used to mean a dark red colour – blood red, which is a characteristic of this leather.  However, in the world of shoes, 'Cordovan' is used to mean, what is often called "genuine shell cordovan".
Genuine Shell Cordovan is a type of leather that is extracted from a layer beneath the skin at the horse's croupe (rump). It can be compared to a sort of cartilage and has no pores.
From a horse's skin, you get roughly two ovals of leather, measuring around 0.3 m². Each oval is enough to make one shoe, or one and a half at most.
You can see the form of the two ovals of leather taken from the rump of a horse.
You can therefore deduce the following equation: 1 horse = 1 pair of cordovan shoes, which explains their rarity, and consequently their high price.
The cordovan leather is treated with a vegetable tanning process, during which time oil seeps slowly into the leather over a period of time varying between six and nine months. In comparison, a chrome tanning process lasts between 24 and 48 hours. Furthermore, due to the high oil content of the leather, Cordovan leather has a high impermeability.
Just like suede, Cordovan leather is taken from the flesh side, which makes it softer. This means that this leather develops many creases which look like ripples. Last but not least, this leather is particularly resistant and you wouldn't be wrong in saying that a pair of Cordovan shoes will last you your whole life.
In conclusion, here are the characteristics of Cordovan leather in comparison to box-calf (calf-leather which has been tanned with a chrome process, which is the most similar)
It is solid and durable
It has a natural shine
It creases (watch out, Cordovan leather has a reputation of creasing easily)
Brands which offer Cordovan leather
Due to the rarity of the leather and its price, there are only a few brands which offer Cordovan. However, if you find yourself in London, you will have the chance to visit the stores and admire these renowned shoes.
Alden
This is surely the most well-known boot-makers when it comes to Cordovan. Founded in 1884 in Massachusetts, Alden is one the flagship brands of the United States along with Allen Edmonds. Among its most well-known products are moccasins, and especially the famous 405 model.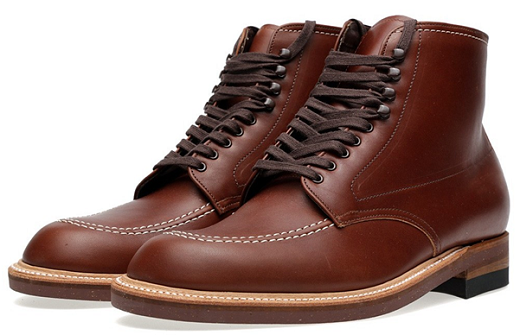 Short story: the 405 model is often called "indy boots" because they were worn by Harrison Ford in Indiana Jones. It was in fact the actor himself who chose them, since he had worn them when he was still just a carpenter on the sets of Hollywood films.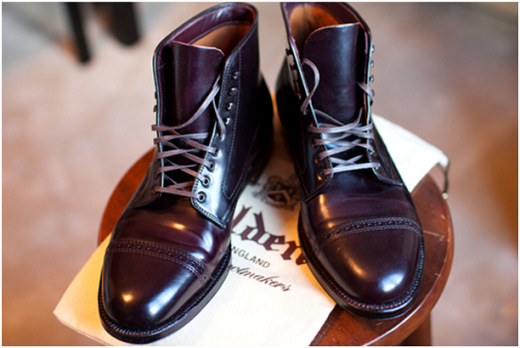 A very nice model of Alden cordovan boots, with the very characteristic colour of the leather.
This is footwear for Americans, and is therefore relatively broad. If you prefer to wear more slender shoes, look elsewhere.
You can find them at The Shoe Mart, Unionmade, Endclothing, and Uppershoes on the internet. If you don't find what you're looking for, you can always order what you're looking for at the official Alden e-shop. The price for a pair of these cordovan shoes is between $950 and $1090 (yes, I did warn you).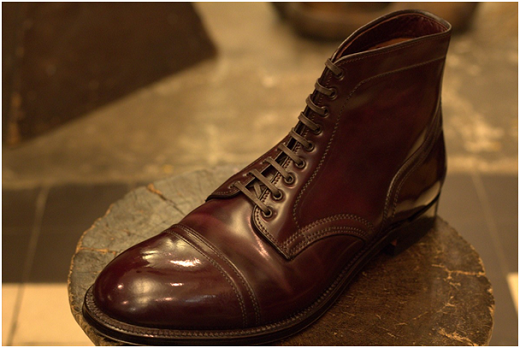 You can find these shoes at Browns Fashion London. Either on-line or in their store on South Moulton Street. 
Carmina
Carmina has a very good reputation on specialist shoe blogs, such as The Shoe Snob, whether it's regarding the quality of the material or their construction. I'm not going to deny the fact that I really like this brand myself (in fact, it was after I bought a pair of cordovan boots from them that I was motivated to write this article)
The shoes that Carmina produce are more pointed and slender than those of Alden, and thus they are more elegant. The leather used to produce Carmina's shoes also comes from Horween.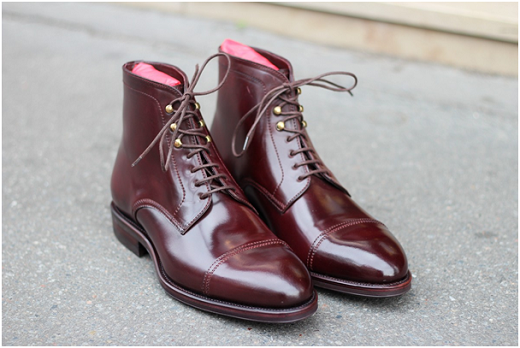 Here are the wonderful shoes that you could wear both with jeans or with a suit. N.b. the sole is made from dainite (studded rubber), a solid material which is especially practical in the rain.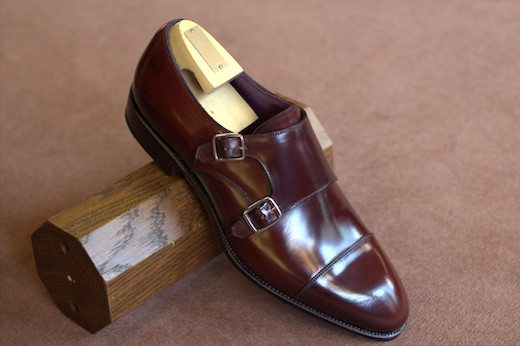 Here is a very attractive double buckle model for connoisseurs. You can wear them at the office, as well as on the weekend.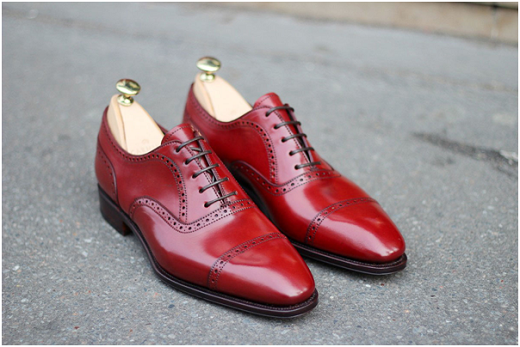 Carmina also has Cordovan leather shoes in very original colours as part of their temporary collections. This is a sublime pair, but what will people think (certainly not at the office!)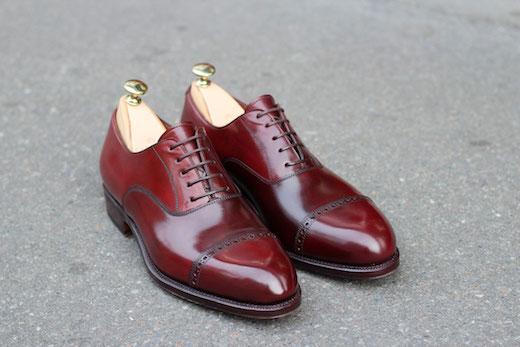 Finally, another pair of Oxfords  in a tone which is a bit less flashy. This ruby colour is great and goes well with grey and blue trousers.
If you are interested in shoes in general, I advise you strongly to visit the Spencer Hart store on Brook Street in London, or visit their e-shop. You will be able to see their large collection of cordovan shoes, as well as their box calf shoes which are a lot cheaper. The price is around $713 for a pair of shoes and between $815 and $870 euros for a pair of boots.
Septième Largeur
Septième Largeur is a brand which was founded by Marco Fernandez, the founder of the brand Markowski which we featured recently. Despite the fact that their choice of Cordovan shoes is smaller than that of Alden or Carmina, they are no less interesting.
Contrary to Alden and Carmina, Septième Largeur's shoes are made from Cordovan leather produced in Japan. What is quite rare and should be noted is that this brand offers boots made from cordovan leather with a natural finish.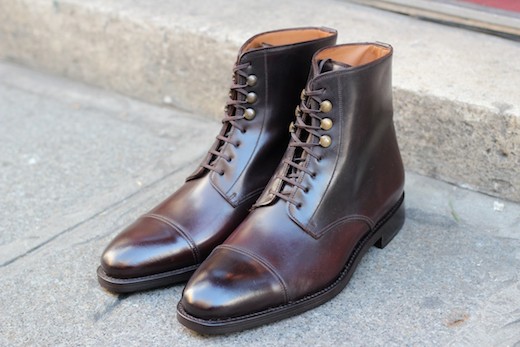 These shoes are in between Alden and Carmina, and have a dark red/brown colour which is characteristic of cordovan leather.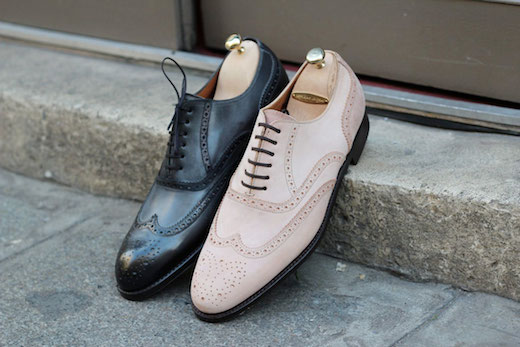 Just like on a pair of box calf shoes, you can ask for a personalised finish for your cordovan shoes.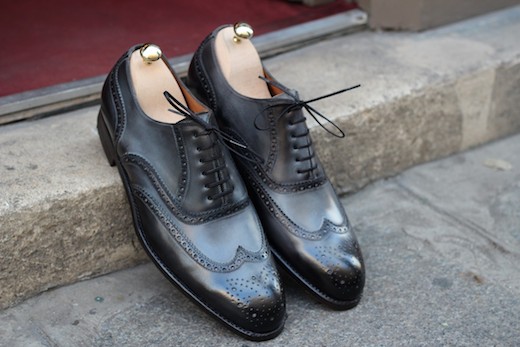 The grey black finish works very well on these cordovans.
Regarding the price, shoes cost around $670 whilst boots cost around $875 . I advise you to visit their website where you'll find all the information you need on this brand.
Crockett & Jones
I want to finish my selection with this prestigious English brand which is very highly regarded by our colleagues Les Frères Jo.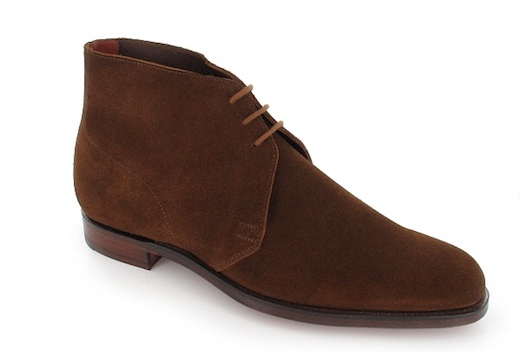 Crockett & Jones' best seller, The Chukka
The choice of Cordovans is limited abroad. However, the choice is much greater in the United Kingdom.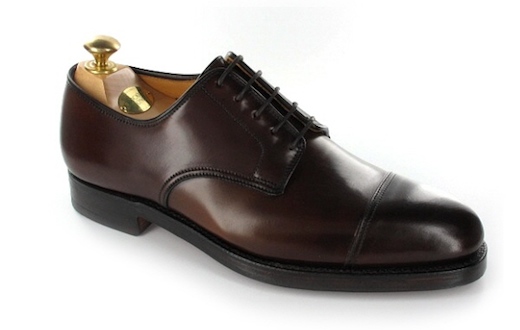 Simple, but efficient Derbies which are particularly solid.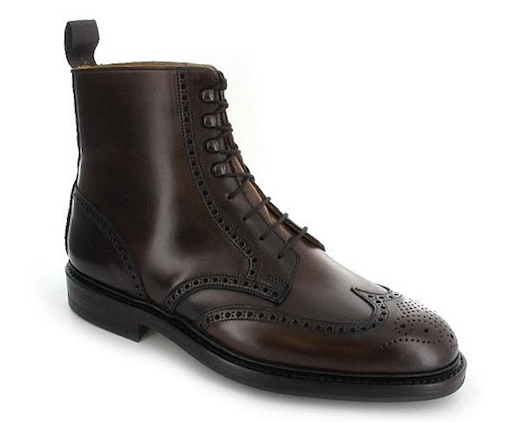 These full-brogue cordovan boots are by far my favourites: a very strong-looking model for a truly masculine shoe.
So, do I really have to buy a pair of Cordovans?
Yes, yes, yes, a thousand times yes! If you don't have the money, sell all you have, mortgage your house, leave your wife, and if needs be, sell your organs.
In all seriousness, it's naturally a story of love and money. But given that these products will last you a very long time, it's definitely worth the investment.
Also, a pair of cordovan shoes will unveil their true beauty in time when they have had enough time to produce their true finish. You need to be patient for this because this leather has a reputation of not budging. And unless it's by a strike of lightning, I would advise you to wait until you have a few pairs of more classical cheap shoes before attacking the cordovans, because, as I'll remind you, they are expensive!
If you do decide to buy a pair of cordovan shoes, here's a bit of advice. In terms of the material, you are going to need:
A horsehair brush (for example)
Special cordovan cream (for example this one made by Valmour. Carmina also makes one)
Or if not, universal cream (for example the one made by Saphir)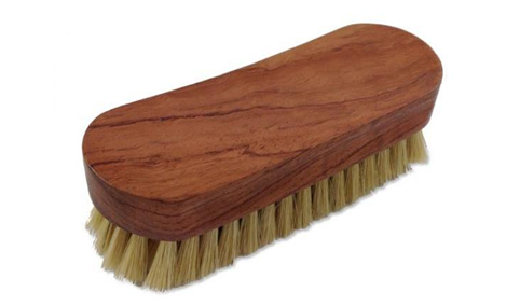 Cordovan's best friend: a brush
Despite the fact that they are water resistant, cordovan is nevertheless a difficult leather when it comes to rain, as even the smallest drop of water will leave a mark. To get rid of them, you just have to rub them strongly with the brush. After a short while, the marks will disappear. It's this same procedure that'll maintain your pair of cordovans on a daily basis, because this action will maintain the natural shine of the leather.
Regarding the cream, apply it from time to time, or after a heavy downfall of rain.
Make sure to look out for Romain's upcoming article on the different types of leather and the different leather tanning processes.