The right shirt is the cornerstone of a man's wardrobe. After all, men don't have too much choice with clothing. It's mostly a variation of shirts, pants, jackets, etc.
It's confusing enough to work with those basics, imagine what women have to deal with…
Today we're going to talk about collared shirts and casual ways to wear them.
Sometimes a man wants to avoid collared shirts that make him look he just got out of work, and wear them in ways that give him a laid-back aura.
Let's get to it.
Short Sleeve Collared Shirts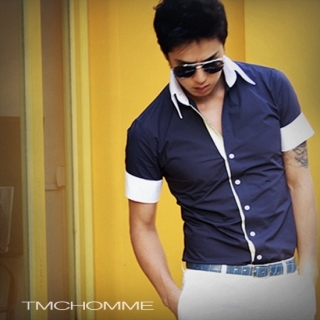 Surrounded by tees and tank-tops during the warm weather, you can stand out with a bit more class and elegance by opting for a collared short sleeve instead.
A short sleeve shirt naturally brings with it a casual aura that long sleeves (even when the sleeves are rolled up) can't match. At the same time, you keep the classic touch of a dress shirt with the collar.
Variegated Stripes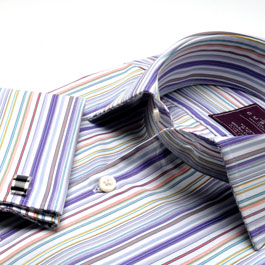 Variegated stripes are associated with nights out so they're more appropriate for such. Try wearing this Italian-style pattern underneath a blazer or a sweater. Just be careful about wearing it without a blazer in the clubs, because you may look like a carbon copy of many guys there.

I love these shirts because the color patterns can take the place of a tie and still pack the same punch. Without the tie, you look more relaxed and ready for some fun, but the shirt still adds an accent to your outfit.
In the case that you do plan on wearing a variegated striped shirt with a tie, go with a solid tie to maintain balance.
You don't want pattern on pattern – it'll get too busy.
Checks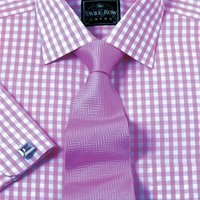 A gingham shirt is a great way to bring life to a suit. It's also a great choice to wear on top of jeans for a casual date.
Heck, it's a lot more interesting than the pinstriped shirt that every other guy is wearing and certainly more interesting than a blue collared shirt.
Roll up the sleeves and you're good to go – all style, no fuss.
Military Shirt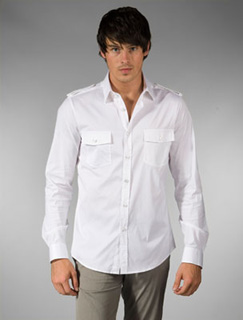 This military-inspired shirt is seen as a more fashionable button-down. It's perfectly casual and gives your frame some structure and strength as well.
Take it upscale with a pair of dress pants, keep it cool with a pair of broken in chinos, or rock it with your favorite pair of well-fitting jeans.
Shirts that Rock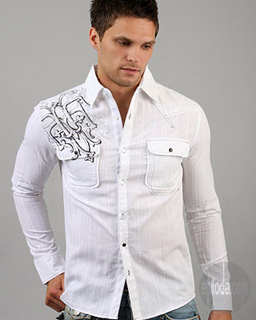 These type of shirts make you lose all association with collared shirts and seriousness. With embroidery and art, it becomes less formal and gives the collared shirt more bite. The typical rules start to blur when you bring up the rocker archetype, so don't hesitate to get expressive with the details.
Ways to Wear It
1. Top It Off With A Sweater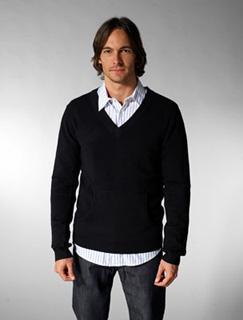 As it starts to get chilly out, you can pair a dress shirt with a cardigan or a sweater and bring it down to laid-back status.
I recommend using a colored shirt underneath instead of plain white so that you don't look so much like a math teacher. You can also use this opportunity throw in some bold colors (such as pink, purple, lime green) to the dress shirt.
2. Are You a Tucker?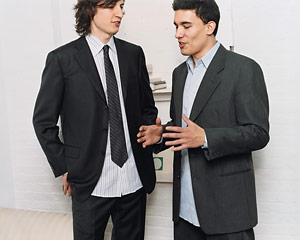 To tuck or not to tuck? That is the big question. Especially when it comes to whether or not you want your look to seem casual. 
Dress shirts are almost always made to be tucked in. The reason for this is so that when you sit down, the tail lies under your rear and it prevents it from riding up or coming untucked.
If you're wearing a suit, for goodness sakes tuck in your dress shirt. But on a casual level, you're either a tucker or not.
Some casual dress shirts will come in already come in a short cut and these are okay (and meant to be) to be worn outside of your pants.
I see a lot of guys on the streets doing the half-tuck. Tucking it in up front, leaving it out in the back. Try to avoid this. There are very few people who can pull it off. If you insist on leaving it out in the back, the shirt has to be short enough that you don't have a whole bunch of fabric flying back there.
Some people may want to tuck their shirt in up front to show off a fancy belt – if your belt is that cool, you might as well tuck it in all the way.
For those who are avid untuckers, be warned that untucking your dress shirt can make you look shorter. Not to mention looking like a slob. If you're a really short guy, you'd be better off tucking your shirt in, it'll give the illusion that your legs are longer than they really are.
If you insist on leaving your shirt out, I suggest getting your shirt cut shorter by a tailor to look more flattering.
3. Loose Another Button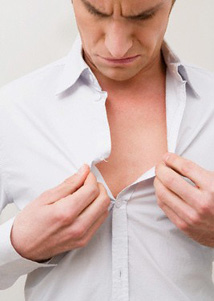 How low can you go?
Depending on how you're feeling, at least unbutton down to the second button from the collar. I wouldn't go any further unless you want to display that you're ready to take it off.
4. Leave it Open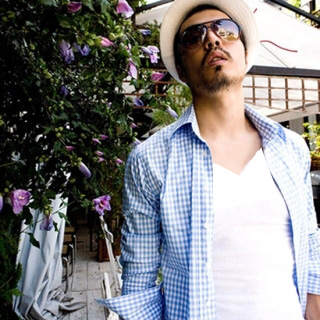 You don't always have to button up, a button-up. Leave it open and show off a graphic tee or a low-cut undershirt.
Conclusion
Casual doesn't always have to equate to a t-shirt or polo, bring in some casual collared shirts into your wardrobe so you have a lot more to work with.
Next time you're meeting some friends straight off of work, you'll know what to do in order to avoid looking like it ~ (while turning some heads while your at it).
And remember, whether you're dressing up or down, a stylish man knows the ins and outs of taking any piece from his wardrobe and matching it to the occasion.
Stay sharp,
Jae