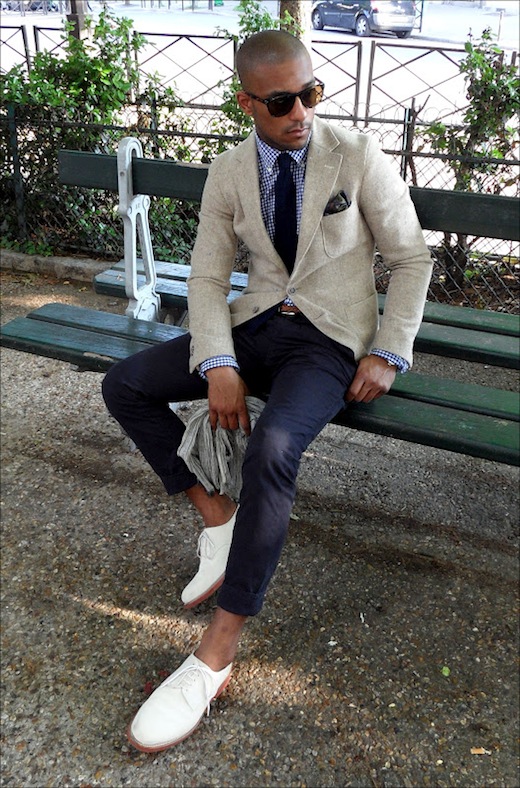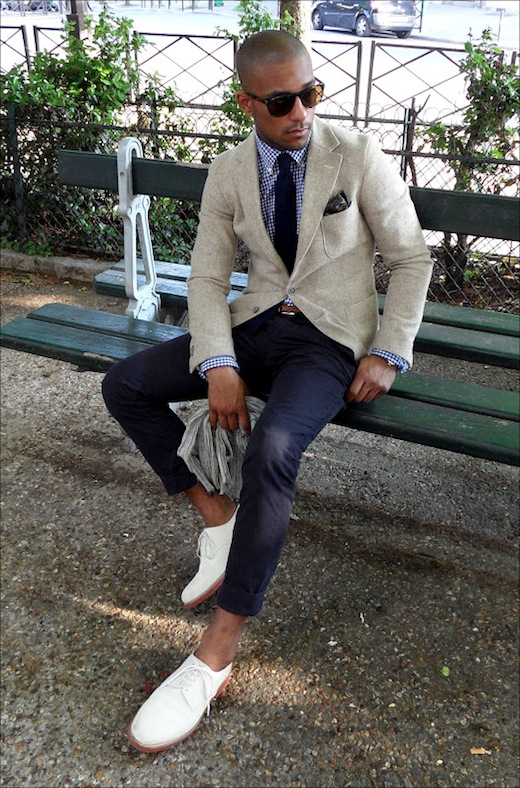 Sports Jacket for men : A guide on how to choose a men's sports jacket (1/2)
Powerful, elegant and flattering: the blazer or sports jacket is the essential piece inside a man's closet. We've rolled up our sleeves up to examine this item through all possible angles, in the light of a gorgeous spring day.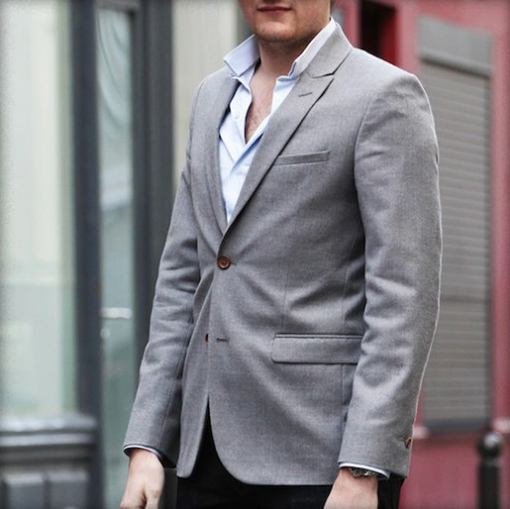 Benoit wears the BGMG-01 sports jacket, from the BonneGueule and Melinda Gloss partnership
Ah, and for the more curious ones out there, at the end of the article I'll talk about a blazer that I produced entirely by myself.
The men's sports jacket: a multifunctional item of clothing
Providing that if you choose quality in terms of material and assembly, the blazer is a timeless item: a beautiful can be worn whatever the weather, and will never become out of date over time.
For winter, a seasonal coat covers the sports jacket, given that you have chosen a coat as a consequence of the cold.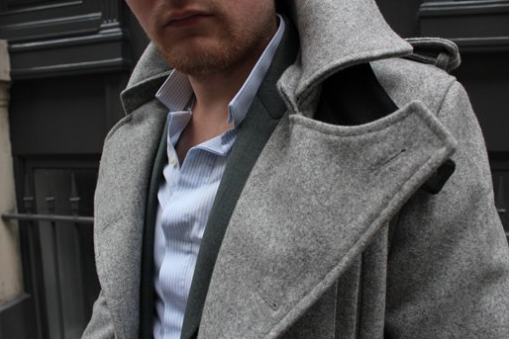 Benoit wears a Melinda Gloss sports jacket under his BG x La Comédie Humaine coat
In between seasons, a trench will protect the blazer in case of a rainy day. For the rest, the shirt / cardigan / blazer / scarf combo will let you brave the lower temperatures without the threat of suffocating under unexpected rays.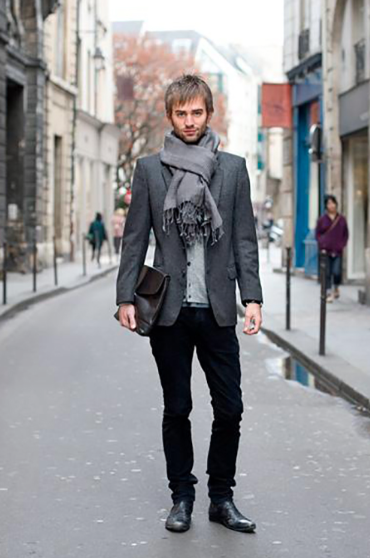 As the beautiful days return, skirts rising at the same time as the temperature, the blazer becomes a central part of your look.
The strong points of a blazer / sports jacket
The blazer gives structure and elegance to an outfit built upon solid basics, and highlights the items that have character.
Worn over a graphic tee, a pair of chinos and sneakers, a well-cut blazer made out of beautiful material gives just what is needed for a cool, summery vibe.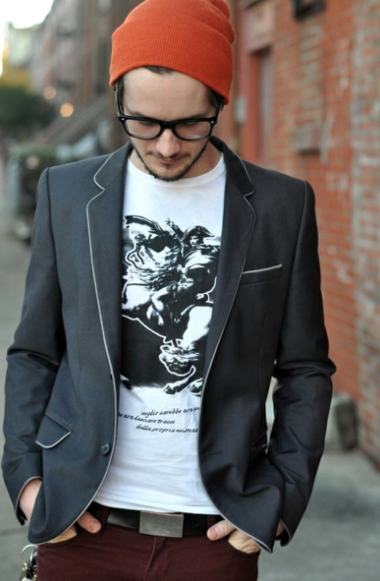 An informal blazer and a graphic tee is a great combo.
To give different styles depending on how relaxed you want to look, you can wear the blazer open or closed, the sleeves rolled up, with or without a pocket, collar turned up or down.
Sports jacket materials
The most widespread blazers are made out of wool, typically the material of jackets, notably owing to its insulating and breathable properties, which do crumple a little – as we have already explained to you, don't hold back too much with the fibres of the wool (100S, 120S, etc) as it isn't a way to gage quality.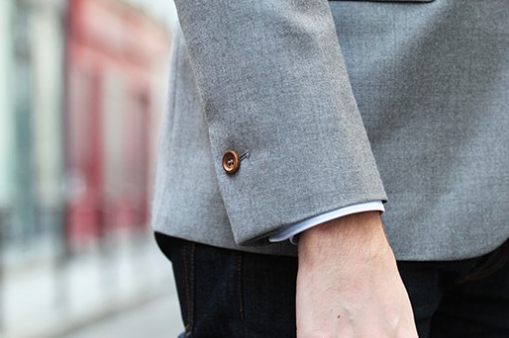 The BGMG-01 blazer made of flannel of wool

In summer, look out for lighter fibres such as cotton (solid, even and thin), linen (flexible, resistant and fresh, even if the fibres intermix.
The mix of different fibres increases the properties of the item: solidity, won't shrink, lightness, and waterproof features. For instance, a hint of synthetic materials mixed with natural fibre can give a decisive advantage.
With this being said, be wary of 100% synthetic materials that you can find in major retailers. Although there you'll find jersey cotton jackets interesting, it's also here that polyester is rampantly available: it's horrid to wear (you can't breathe in it), and shines a lot where it ages which is really ugly.
A note on linen: typical summer material
Linen is a vegetable fibre, which comes from the stem of the plant of the same name. After the retting, scotching and spinning process, you'll obtain a lengthy, reliable, supple and resistant material that's nice to feel, dirt resistant and insects won't eat you alive.
What's more, linen absorbs moisture really well and is easily washable. It keeps you warm from the cold, as linen is quite insulating but also carries a really fresh feel, perfect for wearing in the summer months.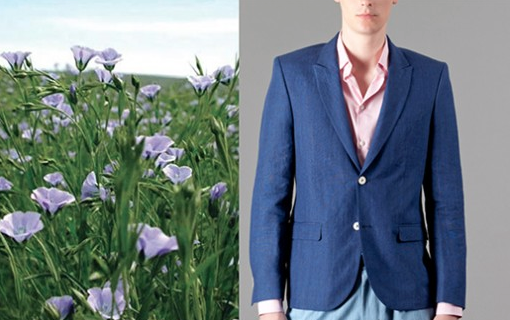 Linen plants and a great linen blazer by Melinda Gloss.
This is typically an eco-friendly product; linen doesn't allow for any irritation and is respectful of the environment, and is 100% recyclable for the purposes of equipment, hygiene and health. Finally, it's good to know that France is the main country that cultivates linen in textiles: a great opportunity to satisfy the chauvinism that exists in us.
Choosing the best sports jacket
It's a demanding and complicated fashion exercise, but is ultimately worn by everyone. In effect, the sports jacket is the cornerstone of the masculine closet, and requires all the more fittings are somewhat burdensome.
Luckily, the results are worth it: a good blazer is a strong basic item that'll last you a long time.
How many buttons on a man's jacket?
For starters, a safe bet would be to choose a blazer with one or two buttons – models with three buttons have a tendency to dwarf your figure.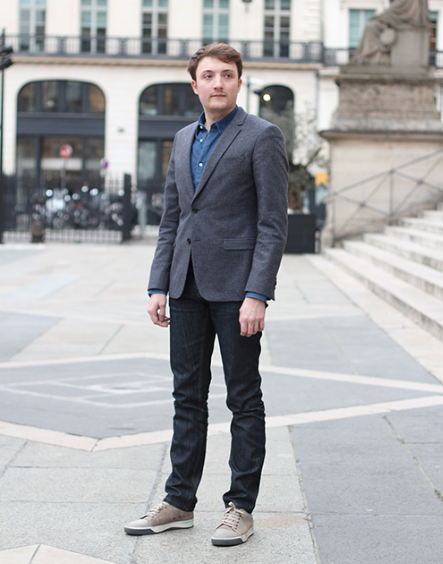 The blazer / shirt / jeans / sneakers combination is a strong look that befits every situation
As often as you can, go for simple designs over criss-crossed blazers – which have two rows of buttons.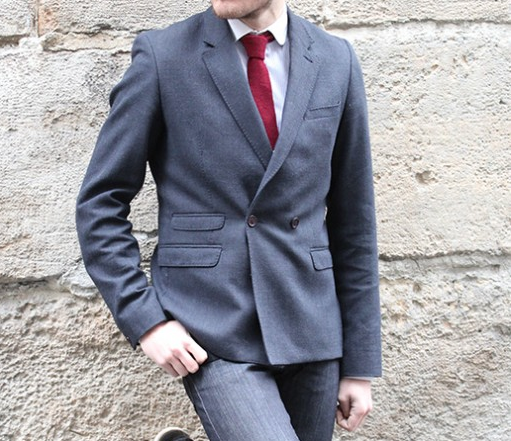 Crossed blazers are perfect for big events, but can appear too dressy for an office or an evening with friends as they are much better suited to more formal dress codes.
The colour of the sports jacket
You've probably heard this before but it's good to remember with jackets, the vital colour is grey.
Why grey? Because grey is the colour that accommodates all other colours and tones. A beautiful grey jacket enhances coloured chinos, underlines selvedge denim and even accommodates black.
In a general sense, a grey blazer works well to tones down bright colours and, at the same time, this contrast brings attention the outfit.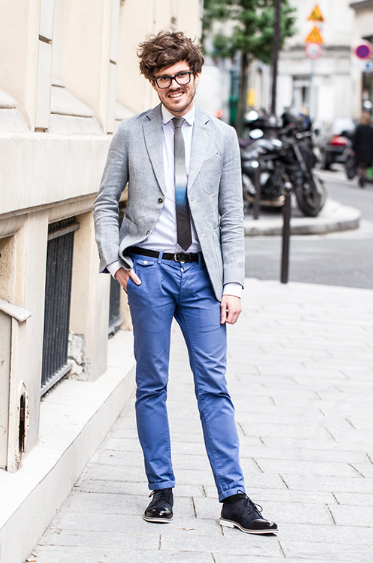 If you already have a grey jacket, blue, beige, brown and kaki green are interesting colours: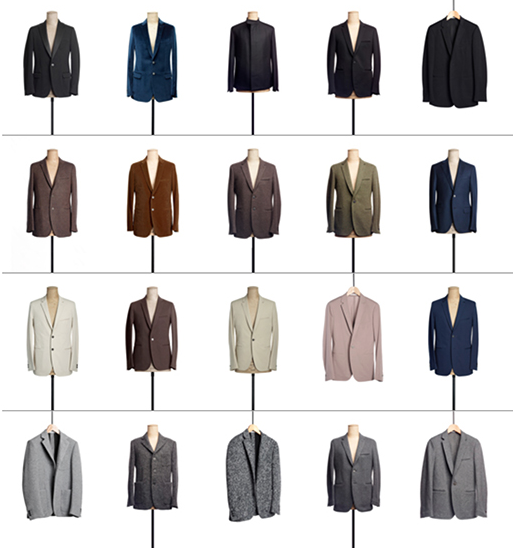 The brand Electic offers an elaborate and masculine colour chart
Generally speaking, I would advice you to avoid black, unless the material and details have been well worked. Excluding certain designers who offer particularly elaborate items, a black jacket can become boring quite easily, even adding years to those who wear it.
Essential things to consider when choosing a blazer
Shoulders: the most deciding factor, on your shoulder the angle must be well defined, without creasing or excess material.
The cut: Open, the blazer must outline your hip bones with a nice and smooth curve. This is commonly referred to as the fit. There must be as little creases as possible on the back or the collar.

The length

: Standing, with relaxed arms, the blazer must stop at the middle of the hand. The sleeves must appear to stay 1cm of the shirt in a straight position, and 2 or 3 cm maximum when you bend your arms for a regular handshake, or even a rabbit handshake.

The size

: It's important that the blazer isn't too tight at the centre of the item (notably the light creases on each side of the buttons).  You must always feel well retained, level with each side but equally you must be able to put a fist between the central part and the blazer.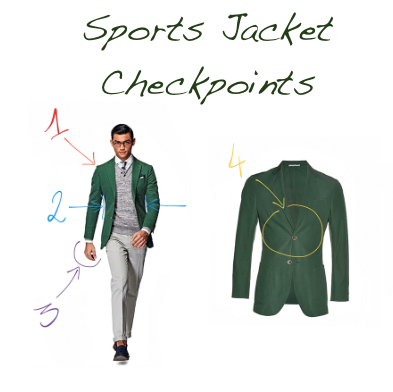 In practice, this is what a well-chosen jacket looks like:
Above, the collar of this Fursac jacket moulds perfectly with the collar of the shirt worn by Benoît.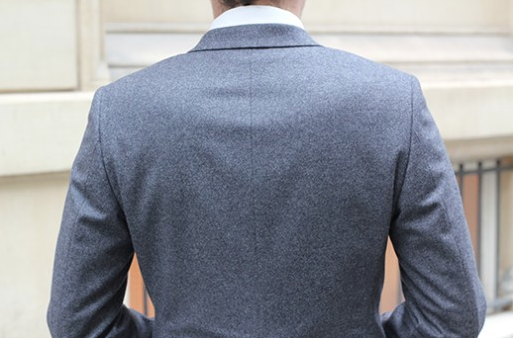 Above, the back gives a cut that is close to perfection.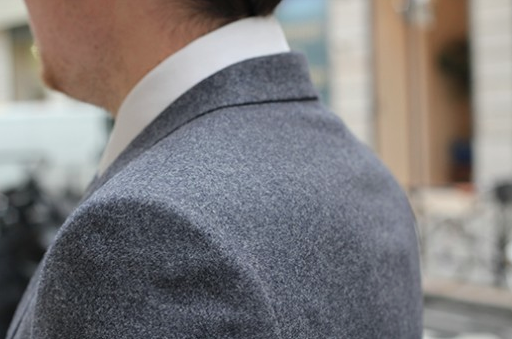 Above, the shoulder angle is very neat, and there aren't stubborn creases which could reveal a misfit in the sleeve's construction.
A little bit of history: why was the suit taken apart?
For those who enjoy learning about history, in the 80s, Giorgio Armani cut the traditional suit in half. He put aside trousers matched with the jacket and introduced by this occasion a sense of comfort and fluidity, which revolutionised the male suit.
From then on, the relaxed silhouette made way for conventional meshing (= the ancestral manufacturing technique of a jacket) and linings. He placed the buttons at the bottom of the jacket to emphasise the sleeves. He invented a new kind of beautiful which seduced professionals in the creative industries such as the media, publicity and architecture. Incidentally, he ruled out tweed and soft-woven fabrics in favor of softer and more flexible fabrics and created light jackets in a range of neutral and masculine colours, such as taupe, charcoal and beige-gray.
Receiving international success from the film American Gigolo and the star Richard Gere dressed by Armani, his Italian collection is acclaimed by the entire world. Thereafter, the designer is one of the greats in Hollywood where he continues to highlight aesthetically pleasing and luxurious glamour discretely in numerous suits that he created for hundreds of films.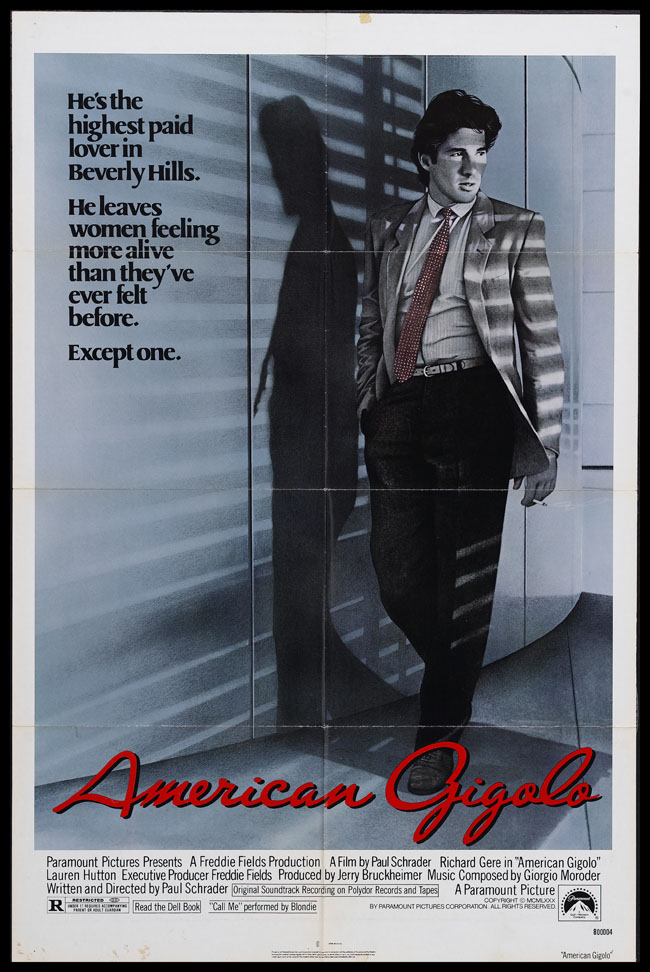 35 years later, the ideal jacket isn't cut in the same was as the jacket worn by Richard Gere.
The men's blazer today
Unlike the suit jacket, the blazer is a short (again shorter than that of a suit). An icon of the sports jacket, it allows the freedom to be worn with odd trousers (another colour different to the jacket), indeed jeans or chinos to accentuate a more modern look.
An important note: you must NEVER odd-match a suit jacket to serve the purpose of that of a blazer (i.e. without matching trousers). It's often too long for this kind of wear. Ignore this warning and you run the risk of coming across as a guy who likes to be classy but makes a mess of it.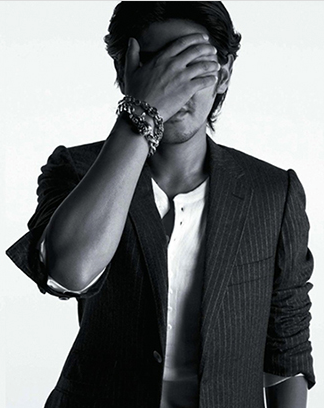 Things to avoid: a suit jacket taking the role of a blazer.
It's important to wait for the second part of this Maxi "Best-Of-Blazer" without fries, where I'll talk to you notably about the art of pulling off a blazer.
How often do you pull off a sports jacket ? Let me know in the comments 🙂