How to choose a watch? – by Luc, future watchmaker
Introduction by Geoffrey: Here's a new post written by a reader, this time regarding a subject that we don't know much about: watches. Luc, on the other hand, is studying watchmaking: you are, therefore, in good hands. We met during his makeover and, having sympathised with him, I offered him the chance to share his passion and knowledge with the biggest number of people possible. Here you have, then, a two-parter that's pretty damn useful for those who still don't really know which watch to go for. Over to you, Luc!
How to choose a watch?
Sometimes you here people say that 'the watch is the only jewel in a guy's armor'.
It's true that the watch is a powerful accessory in an outfit: it can polish off an outfit as well as completely demolish every scrap of elegance that you put so much effort into establishing… Your watch should, therefore, be chosen with care, otherwise you're better off not wearing one!
Your watch should match your personality, more than falling into a category of good or bad taste: you have to like it. It's a bit like choosing a perfume: it shouldn't be something you 'have' to wear on your wrist to finish off your outfit, but rather completely the opposite, it should be integrated into your look as if it were a part of you.
When we see you, your watch should not be the thing that we spot first. But it is a detail that we should notice and that should bring a positive element to your outfit. It would seem that women (and men, too, for that matter) pay particular attention to this accessory/jewel because it allows us to get a better idea of your personality and social status.
First things first, a bit of basic vocab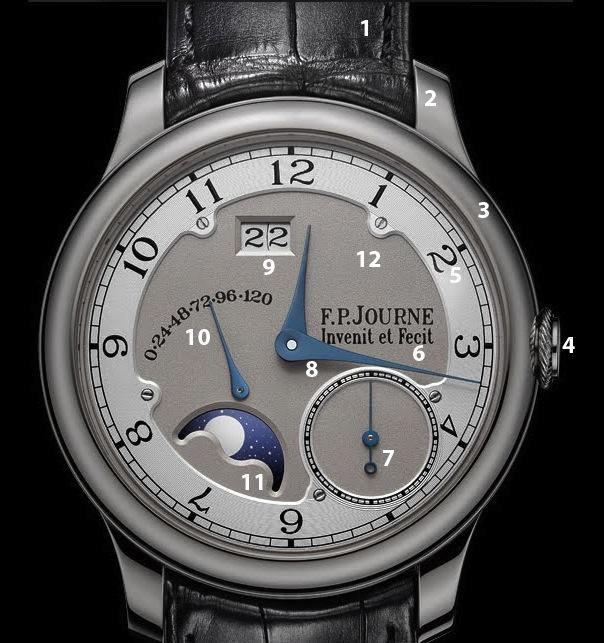 1 – strap (here in leather) (you may here bracelet when talking about a metallic strap)
2 – lugs (allows the attachment of the strap)
3 – round casing. They exist in all shapes and sizes (square, triangular…) and all materials
(plastic, or platinum, aluminium…)
4 – crown (allows you to set the time, date, re-wind)
5 – Index (the numbers 1,2,3…and the gradients)
6 – the name of the brand, the logo
7 – the little second hand (if there isn't one, there'll be a central second hand)
8 – blue hands
9, 10 and 11: Complications: the information given by the watch, other than the time.
9 – date
10 – power reserve (how much time remains before you'll have to re-wind the watch)
11 – phases of the moon
12 – Dial (often called the face) (plaque with the patterns on, underneath is wear the magic happens with the 'motor' of the watch)
13 – Crystal (part of the watch that protects the face, can be : sapphire, mineral, and acrylic)
There are two kinds of watch – 'mechanical' or 'quartz'
Mechanical watches
Mechanical watches are widely seen as having a 'grandpa's watch' image. And yet, there are many innovative designs to be found using this kind of watch (sometimes they're even too futuristic.) However, to get hold of good quality items, you absolutely have to look at high–end ranges.
Out with mechanical watches from Russia, Eastern Europe or anywhere else for that matter! Indeed, they're made with poor quality steel and the design means that the parts don't function well together…they break before you know it and are sometimes irreparable.
Today, then, buying a quality mechanical watch that will make requires a large budget: more than $1200 … and that's just to buy. Indeed, you need to take into account maintenance costs, too: a complete revision every 3-5 years max, coming to between 650 and 6500 dollars (or more) for high-end items. And that's without mentioning waiting times…which can be very long indeed.
This isn't necessarily the case when it comes to vintage watches but you'll need to be passionate and know your stuff in order to spot a bargain. It doesn't apply to watches made with movements from ETA either (ETA is a business that produces parts and movements for watches), which come with the advantage of often having a very nice design, quality Swiss clockwork and a price tag of around 200-650 dollars.
I'm immediately going to make a little point on the side about high-end watches that sell like hotcakes: some luxury brands sell more than a million watches per year…I doubt – in spite of their generally elevated price tag – that wearing such a watch on your wrist will allow you to really express your personality and originality.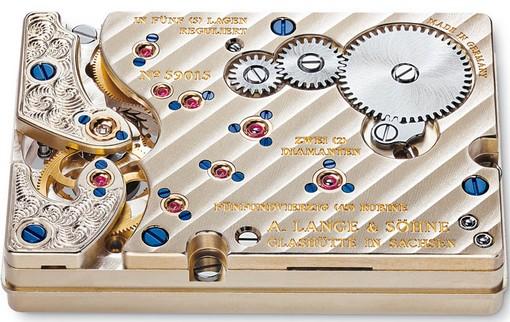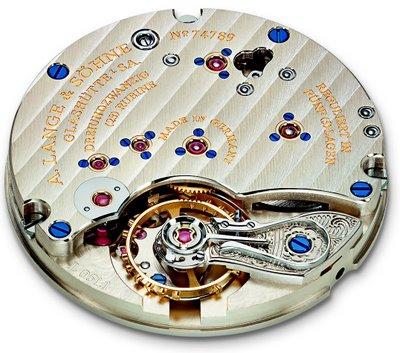 Movements by A. Lange & Söhne, a great German brand – you'll notice the finishes
Amongst mechanical watches, we can also distinguish between those that need to be rewound manually and those that are automatic.
An automatic watch has a set of parts called the 'automatic module' which allows the watch to be rewound (or for 'the motor's energy to be replenished') as the wrist is moved throughout the day. You take off your watch before going to bed, pick it back up again the next morning and it still works. No need to re-wind it unless you haven't worn it for a few hours/days (depending on the power reserve of the watch). You therefore need to move to make it work!
A watch that needs to be rewound manually needs to be rewound daily in order for it to work. You just have to turn the crown (it takes less than a minute in the morning and evening) to give the watch some energy.
An automatic watch offers undeniable advantages and an ease of use and doesn't cost much more than a manual model.
Quartz (or battery-powered) watches
Quartz watches have a significant advantage when compared to mechanical watches: they are ultra-precise. The quartz movement, even a Chinese one that costs around ten bucks, is still more precise than the high-end mechanical movement that'll cost you 50 000 dollars.
Another positive point: decent models can be found in all price ranges, from 50 to 500 dollars, there really is a great selection on offer. The budget is therefore more accessible and the maintenance consists merely of changing the battery that'll cost you around 10 dollars (sometimes the whole movement will be changes but that still only costs between 20 and 120 dollars). Watch out, when it comes to high-end versions, you'll be billed for a complete revision, so bank on sending 300 dollars or even much more.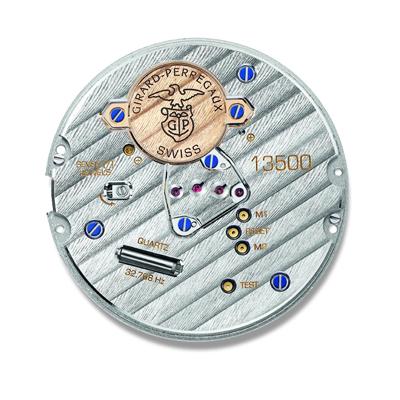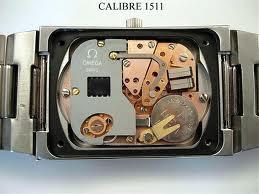 Girard Perregaux and Omega (high-end) Quartz movements. You can see the battery.
In a few weeks the sequel of Luc's article on watches, with the theme 'what style of watch to choose?'
What kind of watch do you wear? Do you prefer classic watches or original ones?