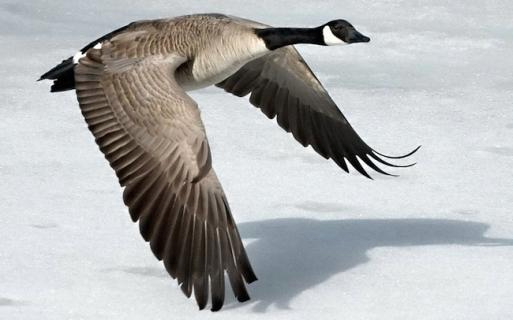 Good or not? I tried out the Canada Goose parka…
Canada Goose…
At the minute, it's a brand that's dividing opinion.
As idolized as it is hated, you must have seen a bit of it everywhere, to the great displeasure of its many critics, who think that in France, Canada Goose is the new Moncler in a negative sense.
But on the other side of the fence, there are many fans who, for love nor money, would not spend a winter without their Canada Goose clothing (and who I think have only recently joined the club ).
Important: I lived in Montreal from the end of August 2012 to June 2013, so I wore my Canada Goose in various conditions (from nearly -20°C with wind, up to +8°C when I returned to France for three weeks), so I think I have a fairly extensive, clear view on the quality of the product.
So, as a lover of men's fashion, beautiful materials and good fitting clothing: what do I think about a bulky parka?
But before I report back to you, I'd like to take a moment to consider Canada Goose's brand image, which is rather ambiguous…
Hate it or love it – 50 Cents feat. The Game
Quite frankly, the Quebecers have the same opinion of Canada Goose as the Americans have about Louis Vuitton bags, namely:
'it's expensive for what it is'
'it's something for wealthy foreigners'
'it's stupid to spend so much money when you can find something as good for less'
'it's pointless'
'it's an ultra-cliche' (a Frenchman buying a Canada Goose in Montreal is a bit like a Chinese person buying from the Louis Vuitton store on the Champs-Élysées)
However, none of that is true: far from it.
The question of price
Ah…the price. This is the flag the critics of Canada Goose proudly wave. For most haters (and believe me there are lots) you're a sucker when you buy a Canada Goose because:
you're only paying for the brand,
it's too expensive for what it is.
In fact, everything would be better in an ideal world if Canada Goose wasn't so expensive, as even the biggest haters are unanimous over the quality of the pieces.
Except…Canada Goose is not expensive. Yep, I said it.
Considering the quality of the product, you get a lot for your money. I've looked and honestly, you cannot find anything cheaper with the same quality (warning, my criteria did not just boil down to 'it has to keep me warm', I'll come back to that a bit later on).
People often talk to me about North Face, which surprises me every time. Because if there's a really expensive brand, it's that. Honestly, to pay nearly 450 dollars for a 100% synthetic parka (fur and down), made in China, now that's VERY expensive for what it is. Learn more about synthetic vs down insulation here
And then there's a factor that's never taken into account by the critics: the cut.
Because it should be noted that it's hard to find parkas cut as well as some of the Canada Goose designs. I've rightly said some designs, because there are some that make you look like a walking refrigerator.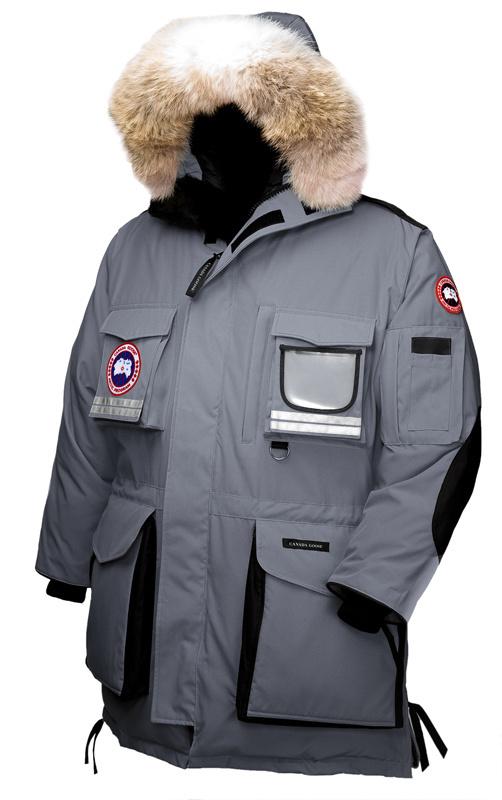 Snow Mantra, 1200 Canadian dollars. It's the warmest design, guaranteed to keep you warm as low as -60°. It's used by Alaskan miners and those who work in the oil industry in far-flung icy parts of the world. There's even a strap on the shoulder that can save you in an emergency. You won't look anything special with this on your back, but at least you'll stay alive.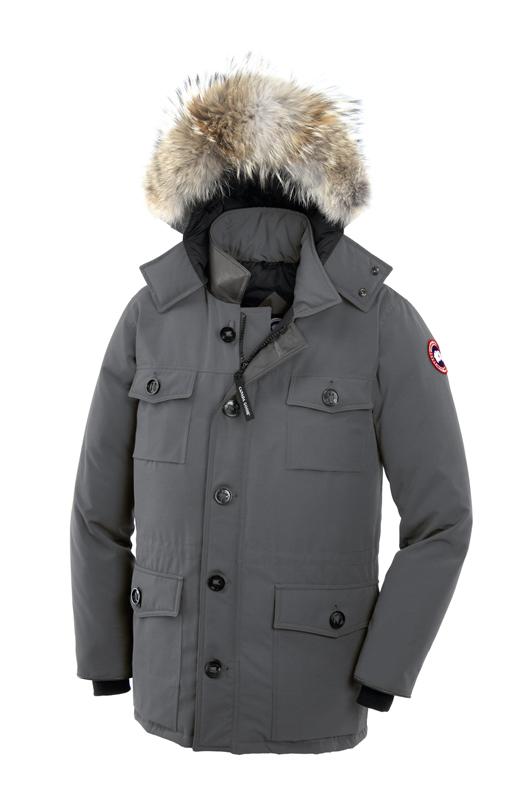 Banff, the most modified design of the brand, with a nice enough military inspiration. It's only flaw? No pockets to keep your hands warm: it's in your interest to have some gloves!
As a side note, when you've spent the last five years looking for the best cut items of clothing for your figure, it's a weighty argument. But I completely understand that it's not necessarily the case for everyone. In my case, I simply can't overlook it.
'Yes, but you're paying for a brand!'
I'll be honest with you, that's what I thought to begin with, but it isn't the case.
Really, not at all. For example, Quartz Nature is a lesser known Quebec brand that has the same prices as Canada Goose. Likewise, Kanuk, which is 100% a Quebec brand (the workshop is just next door to my house) is even more expensive than Canada Goose, with prices easily exceeding the 800 dollar mark!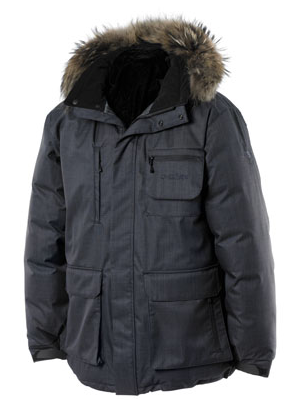 A Quartz Nature parka, 620 dollars, with a quality that's equivalent to Canada Goose, but with a completely different brand identity for Quebecers, because the products are made in Quebec (french-speaking). And even at that price, nobody dares to suggest that you're only paying for a brand…
So why these prices? The fur that you see on the hoods is expensive. As a point of interest, Kanuk sells interchangeable furs for the hoods for between 200 and 300 dollars. And then there are no secrets: for a piece that's not made in China, with down and high quality finish, you quickly reach the 500/600 dollar price tag, if not more. It's the true value of things.
Kanuk (THE ultimate Quebec coat brand, but which costs a fortune and is aimed at a slightly older audience) has this fur strip which alone costs…270 dollars!
I've gone off on a slight tangent, but it seemed necessary because, in my opinion, Canada Goose is a brand that is unfairly stigmatized.
Right, so what's it actually like wearing a Canada Goose parka on a daily basis?
There's no point in drawing out the suspense: in the winter conditions of Montreal, it's spectacular.
I am not surprised that the brand is given to workers in some governmental bodies, because you get the feeling that its design is the result of a hellish experience in the cold.
For me, there are loads of brilliantly thought through details. That goes from the wire around the hood to the thick, robust zipper (a detail sometimes missing from North Face designs, hello to the uphill battle when you've got gloves on) to the two pairs of pockets for your hands lined completely with fleece, without forgetting the thick fleecey chin-protector.
And does it really keep you warm?
Completely. It's as if you'll never feel the cold again. Even that slight morning freshness, or when you're waiting for the bus, or when you walk home after a winter's night out, you are never cold. I can't remember being cold once this winter. The protection against the wind is exceptional. One weekend, I was at a carnival in Quebec, that is to say spending six hours outside with a temperature that's approaching the -20°s, but with some wind (I have no idea how much this alters how the temperature feels, but say at least an extra -10°) and it should be noted that you're protected perfectly from the cold. Even at -20°. Even the length of the zipper is protected, which means the wind just never gets near the inside of your parka.
What's more, the hood is super well made, and even if you don't put it up, it protects your ears. Basically this hood that protects your head perfectly from high winds is really great, really effective.
On the other hand, these aren't the clothes for a sustained sporting activity. If you're skiing at -15° and it's windy, you're definitely going to sweat. Originally, Canada Goose clothes were created for workers doing a lot of standing around (which explains why bouncers love the brand). Extreme mountain climbers tend to go for brands like PHD, with equally impressive technical features. The Wiggy brand has some completely fire-proof parkas…
What does the cut actually matter?
Okay, we agree, a parka is still a parka.
Nonetheless we're still lightyears away from a Wooyoungmi coat having an absolutely perfect cut. But having tried out a few, Canada Goose is one of those rare parka brands to care about the cut of some of their designs. So I was surprised to find that the shoulders of Banff, Chateau, Ontario and Citadel designs (the most 'tight-fitting' designs, all things relative) have been worked on and are relatively high. If chosen well for your size, the parka doesn't hang off your shoulders, it's neat and tidy.
Finally, and I was surprised, it is always the case with the most urban pieces that a size S is a 'true S'. Similarly, Canada Goose even does a size XS which is good to know.
For example: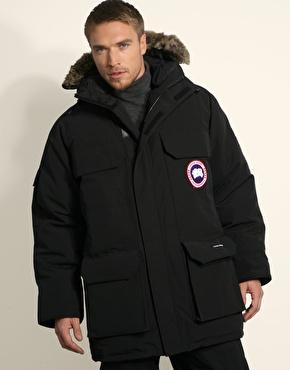 Here, the Expedition design isn't very appealing…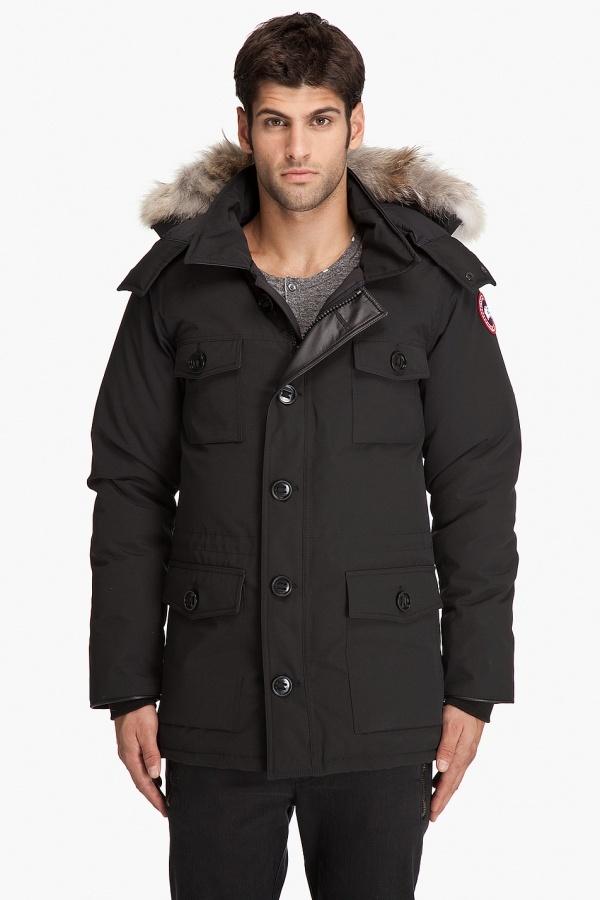 You can see here that the cut is more slimline on this svelter model, with better fitting sleeves, but it's still far from a regular fit (Banff).
But what's it like in comparison to North Face?
Clearly, North Face coats also keep you from the cold.
But having tried one and having walked at -12°, it's still notch below Canada Goose, especially for someone like me who feels the cold. And some winter clothing geeks made the same comment well before me.
The hood protects your head much less when it's not up, the cold comes in through the sleeves and the zippers – basically it's not as well-finished as Canada Goose.
But it is really enough to protect you from the cold?
No. Going out when it's -15° without appropriate shoes, gloves or a hat (and without wearing a hood) will expose you to the cold. You can't ignore good shoes with good socks, gloves, a scarf and a decent hat.
Since you will be wearing a Canada Goose, your torso won't get cold but the cold will affect your head, feet and hands.
But doesn't it bother you wearing such a huge coat when you've spent your time convincing people to wear clothes that are their size?
Honestly, when you have to walk for 20 minutes in the cold, or go to an open-air electro gig for four hours at -15° (Igloofest) you won't give a damn about that and you'll thank Canada Goose for making such reliable clothing.
And then going out at similar temperatures with a basic woolen or cashmere coat is stupid, ridiculous – even dangerous. Is it better spending a winter shivering with a perfectly outlined figure or spending it with the luxury of being perfectly warm with a slightly less-defined cut when everyone else is wearing parkas? I quickly made up my mind.
It's no longer about talking of an admirably well-dressed, well-outlined figure, or of a mix between wool and cashmere, but at these temperatures, it's your health at stake. I'm hardly exaggerating: being happy to be warm is one thing, being stylish is another.
It's Baptiste, my roommate aka 'the co-founder of Kinowear, the man behind the scenes you never see' who made the observation that someone's style only makes sense in context. It's perfectly true that, in the middle of below freezing temperatures, wearing a parka makes complete sense, unlike in an urban NYC environment.
And Canada Goose alternatives?
There are two.
The first is Mackage: they're clearly urban jackets, very fitted, well cut and well finished, but I find that they're putting on a few airs and graces. All the more so since they don't have the same sturdiness as a Canada Goose and the fabric seems really fine. But it's the kind of piece that I would advise someone to get who doesn't want to compromise on the cut of their clothes.
The second is the Rolls Royce of parkas, Nobis. The design has been worked on a lot more than a Canada Goose, the fabrics are more urban and interesting, but it is more expensive. I don't remember ever seeing one of their parkas for less than 800 dollars. But if you have the means, go for it, it's amazing stuff.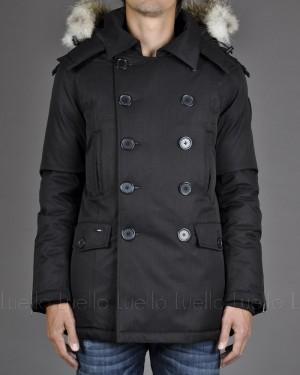 A really nice Noblis with double buttonholes, extremely rare for this kind of clothing, that I wouldn't have done up all the way to the top.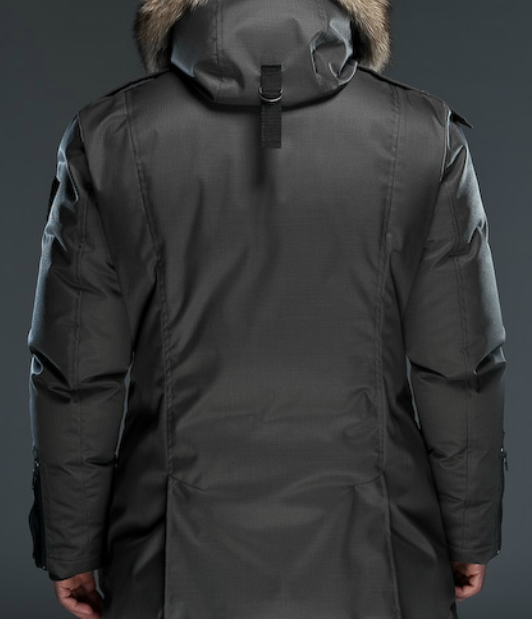 A very obvious designer's inspiration at Nobis with this back cut in the the same way as a jacket.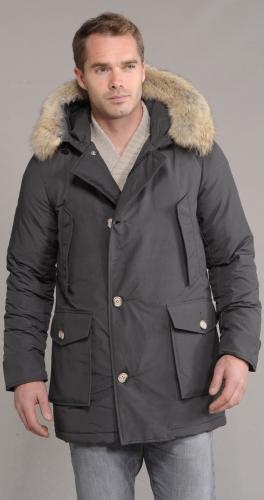 Woolrich Woolen Mills also make really nice things for similar prices
And what do you think about wearing a Canada Goose around Paris?
Now then: it's ridiculous. Not only are you going to be too hot all the time, it's a brand that unfortunately has negative connotations (just hang around the exit of a Parisian high school: a wonderful example of lemming behaviour), on top of a really costly French price in comparison to the Canadian price.
What's more, strictly from a design point of view, a Canada Goose parka will never have the vintage charm of a designer's, like the stunning Bleu de Paname parka.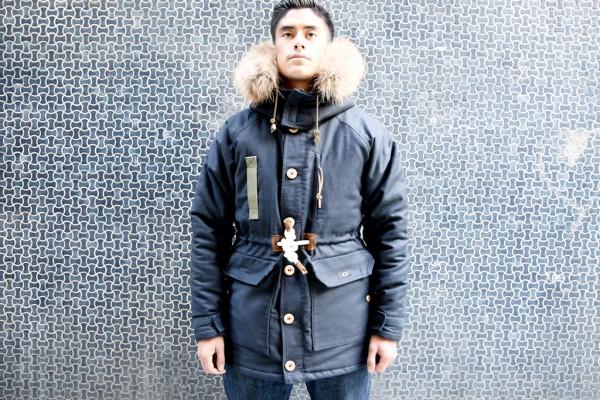 Bleu de Paname: vintage done well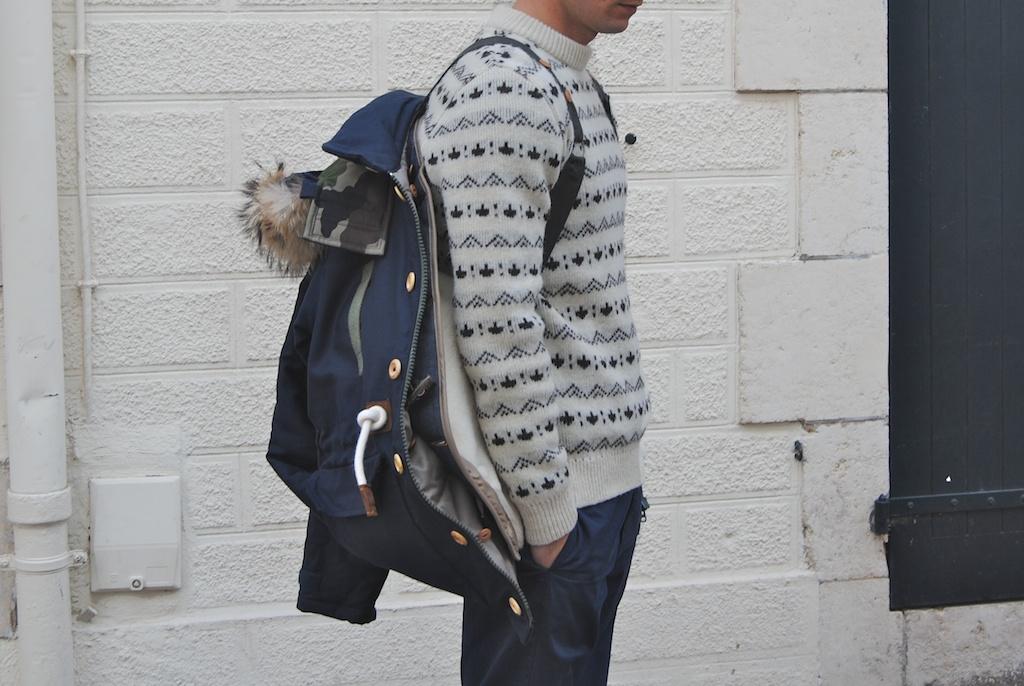 I can assure you that this type of gadget, contrary to its appearance, is VERY useful.
Really, buying a Canada Goose to wear around NYC is just stupid, it's going to be impossible to wear on a daily basis, and you're going to look like a bourgeois idiot lacking in exoticism.
The question of the French who arrive in Montreal and buy a Canada Goose
In reality, when you see the number of French people wearing a black Chiliwack (in my opinion the least successful Canada Goose product), it's undeniable that there is a fad behind it, often cynically qualified as lemming behaviour.
One of the most popular styles. It doesn't cover your bum, gives you an enormous stomach, but it's the cheapest and unfortunately the bestseller. Such is life…
But that would be forgetting several things:
a Canada Goose resells very well on returning to France, unlike that North Face crap (I'll come back to that later). It loses very little of its value between the Canadian price and the second-hand cost in Euros.
the exchange rate between the euro and the Canadian dollar is to our advantage, it's a bit like arriving in a country to find a very high brand is 40% cheaper!
and finally, Canada Goose has a very strong brand identity, it's a brand that's the stuff of dreams. That's something that I respect, because I can't imagine how hard it is for a brand to create a clear image that really has an impact.
I really think that it's a shame that the Quebecers disparage a Canadian brand that is so exemplary in so many ways: in its start-up strategy; in the way in which it has such a strong relationship with its customers; in its vision for clothing to combat the cold; in its dynamism. But that's another story…
Canada Goose's enormous collaborations…
Canada Goose is a brand that knows how to keep up the hype surrounding it through well-considered collaborations. Here's the first, with the brand of the rapper Drake, October's Very Own: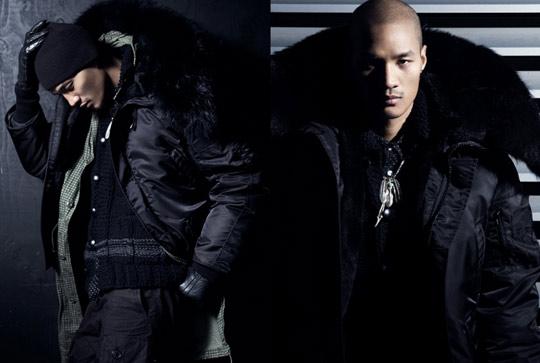 It's a piece with a really imposing presence thanks to that enormous hood. I agree, it's design that's hard to appreciate when you're used to coats that have been cut with a scalpel. (Canada Goose x October's Very Own)
After that there was a more sporty piece, dedicated to the sportsman Lance Mackey, who does dog sledding: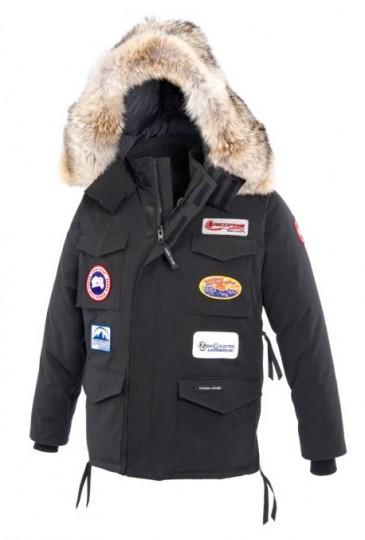 This design stands out due to its enormous wolf-like hood, and the sponsors' stickers which are spread around. If you've never had the urge to travel across the Far North on a sled…it's worth mentioning that there's still practical ventilation under the armpits.
There's also a superb collaboration with Loro Piana, but unfortunately it's completely unaffordable: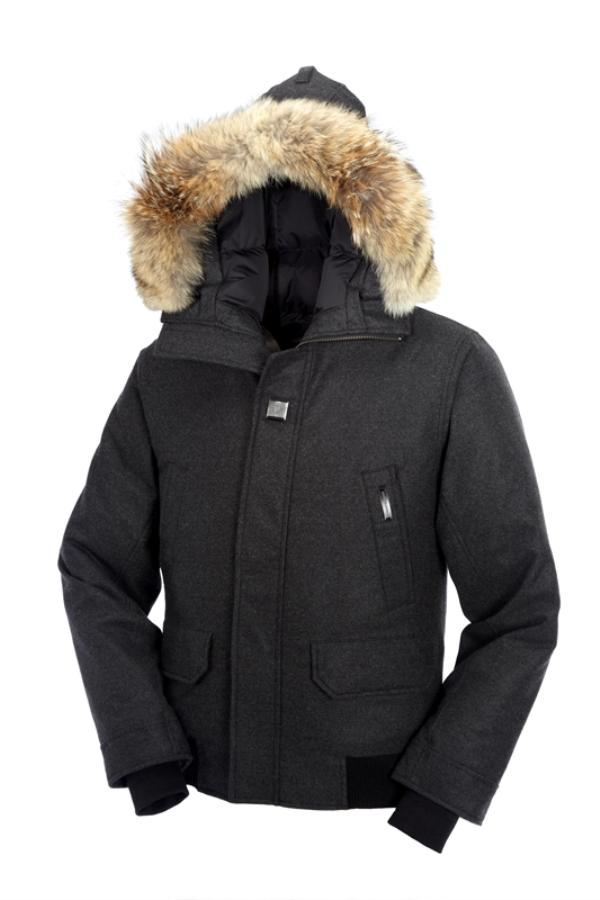 Seeing it for real, the flanneling effect of the wool works very well and the cut is immaculate, with perfectly fitting shoulder pieces.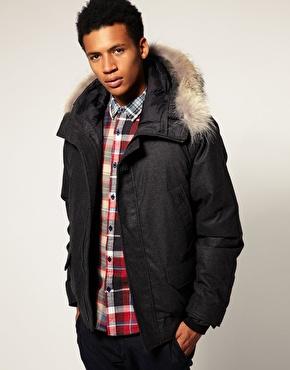 See? It works well as long as you don't wear your checked shirt like a hipster
And finally, and to my great dismay, the inevitable happened: Canada Goose has collaborated with… Colette, a.k.a the hypest select shop in Paris, no need to say I never ever shop there.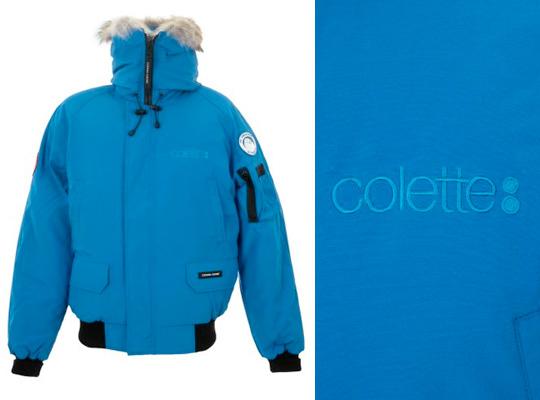 No, I don't endorse this. Not at all.
And that's how I feel about this fabulous brand, that I only advise you to purchase if you're in a country with really harsh winters. I know that it's expensive, but I assure you you're getting the best in terms of insulation, design and quality of the down.
But a word of warning ! It's an item of clothing that becomes addictive no matter where you go. Why? Simply because it's indispensable when it's freezing cold (around 10 days a year in the average town in temperate climate countries such as the US or most of Europe).
But it still stands that it's a brand that makes incredibly effective clothing. They easily live up to their promise of keeping you warm.
And that's already a lot.
What kind of coat do you wear to keep you from the cold? What's your favorite coat brand?