Different countries, different styles of suits
When we give advice about suits, we always give it from a very European perspective (quite naturally). Yet there are very different practices out there, and opinions even vary between different European countries.
The most blatant differences are without a doubt between Italian and British styles.
Italian style
The Italians tend to flaunt colorful and even exuberant styles, often finished with small accessories and a nice watch.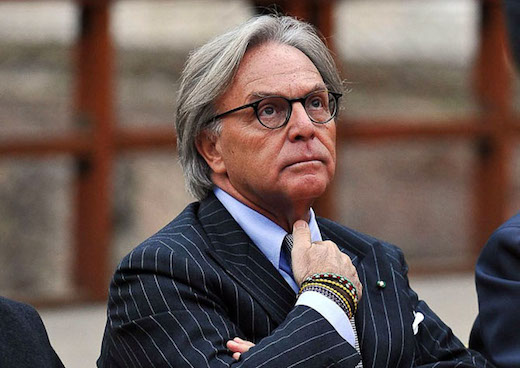 Wearing many small bracelets is a big thing at the moment.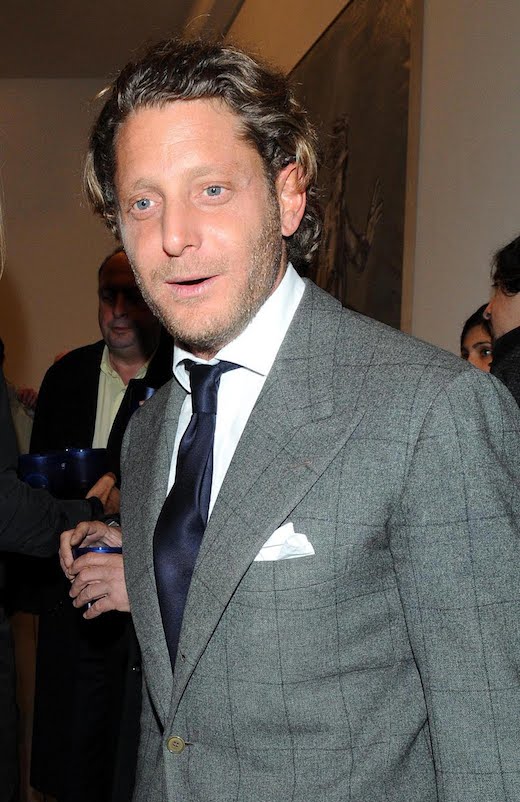 Peak Lapels, fine detail, a natural haircut, and a certain nonchalance. This is the epitome of Italian style.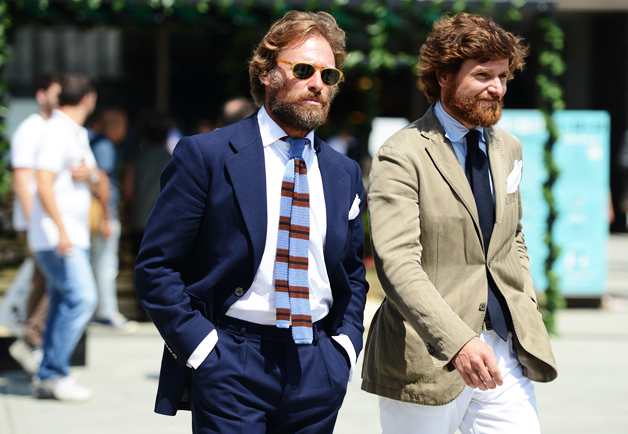 Here's another pair of Italian style suits with unpadded shoulders.
There's not one single Italian style, but in general, the shoulders tend to be more natural and relaxed (no shoulder padding), and they are often lighter and less structured. You won't find many jackets which are very fitted with very structured shoulders (but the suits are nevertheless still fitted). Especially since the jacket buttons tend to be lower which doesn't go with a jacket which is very fitted.
The jacket is more fluid: this means that it moulds to the body rather than creating its own structure. In this respect, the suit respects the body shape: athletic physiques will be accentuated, whilst people who are overweight and body shapes which are a bit peculiar will not be corrected as much by Italian style suits.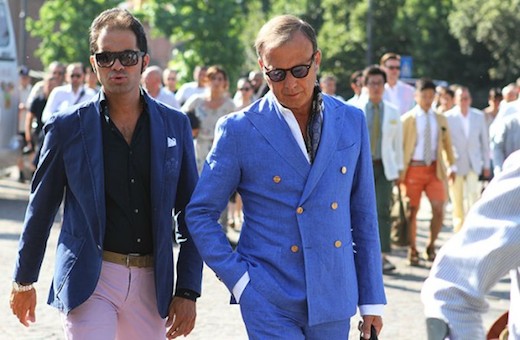 These jackets are very relaxed in their color, but also in their cut. Look at the shoulders.
The trousers are relatively slim: you'll often hear the term cigarette cut (it's self-explanatory).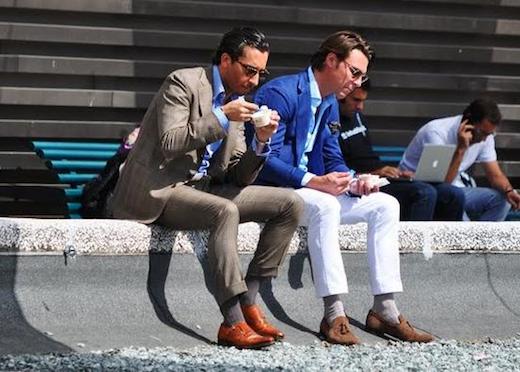 Here's another image with very soft shoulders and cigarette trousers.
The cut is also very simple which means that a lot more emphasis is placed on individual and original details that the wearer creates.
Even the very attitude with which our transalpine neighbours don their suits is different from ours: Italians try to show a bit of their personality through their suits, simultaneously displaying elegance, whilst also showing a certain nonchalance (which still looks nice to others): the combination of the two is called sprezzatura. As social codes are less engrained in their clothing, you can do what you want in Italy, as long as it's done in good taste.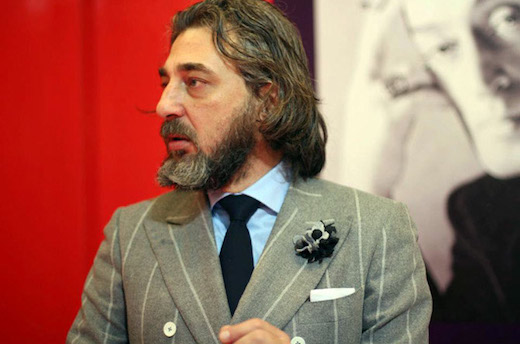 There are many small details here which fit together nicely. 
British Style
The British style is both more cumbersome and strict. This is because its origins come from military uniforms.
The jacket is fitted and structured: it is primarily designed to create an upright and formal posture. There is therefore a more rigid structure to British tailoring. It's a style which is suited to slightly awkward physiques, as it restructures the body shape rather than fitting it, creating an hourglass silhouette. I also have the impression that the jackets tend to have collars which are higher as well.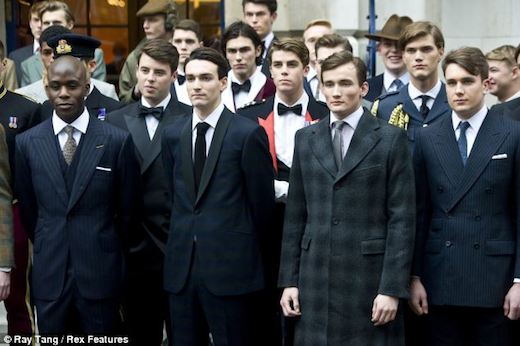 Very structured silhouettes: it's the suit itself, rather than the body which defines the final silhouette.
Trousers play a very important role in British style in comparison to their romance counterparts (French and Italian). In French and Italian culture, trousers are just a just a means of getting to the shoes. Allowing you to incorporate and highlight the jacket whilst overlooking the trousers.
However, trousers tend to be just as important as the jacket in British style. They have styles which are more imposing and structured. Pleats and tightening straps are commonplace. They are often cut to be worn higher as well.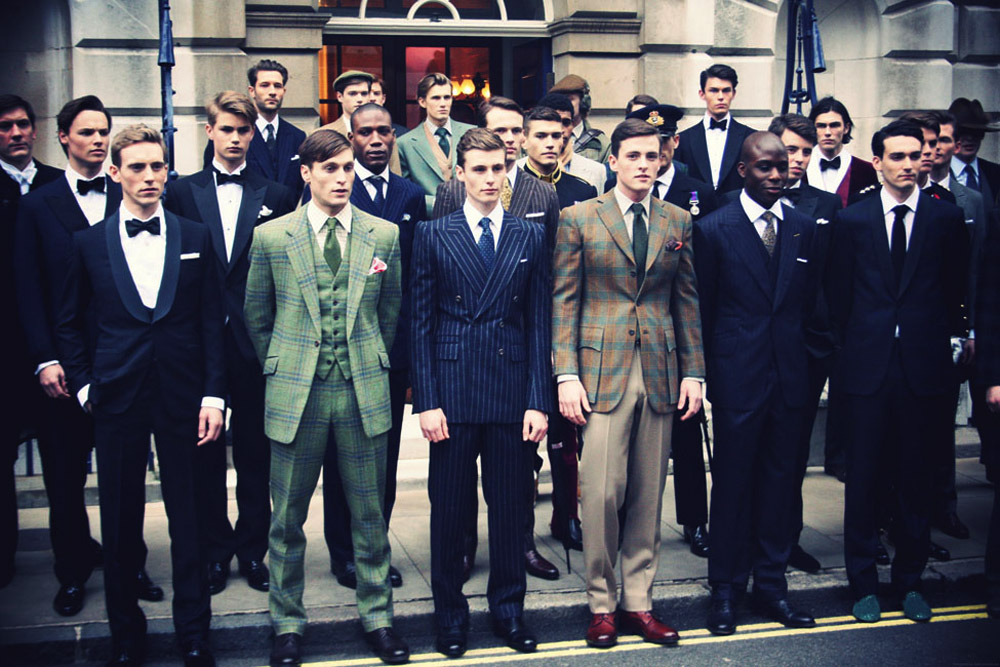 You can see the rigid and structured quality of British tailoring in this attractive assortment of Saville Row's finest (London's famous suit making district). Click on the image to enlarge it.
You will see less fitting on American suits in comparison to European ones, yet the shoulders tend to be larger than English ones (with or without padding depending on the era) to create a silhouette which is more masculine and powerful.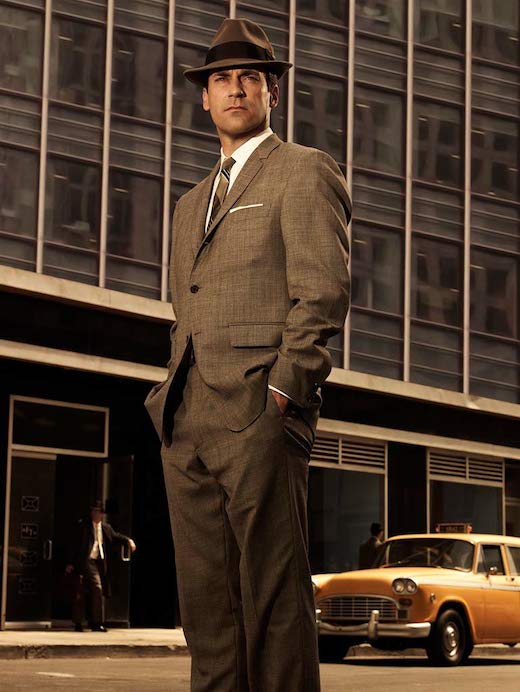 Broad fitted shoulders and baggy trousers.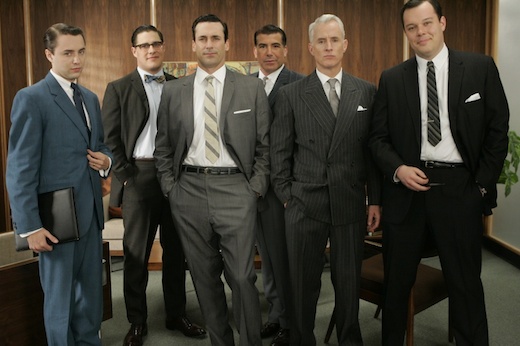 Even the leanest men appear to have broad shoulders in one of these jackets; very American!
These suits are more comfortable in general as they are less fitted, which conforms to the tradition of preppy style (there is a good article on Parisian Gentleman by Chris Hogan from the American blog Off the Cuff which looks at this topic).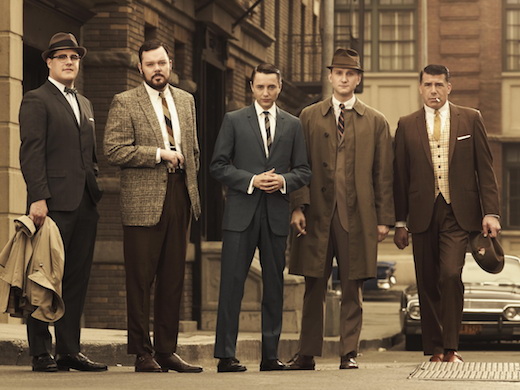 Imposing shoulders, baggy trousers: we're in the US.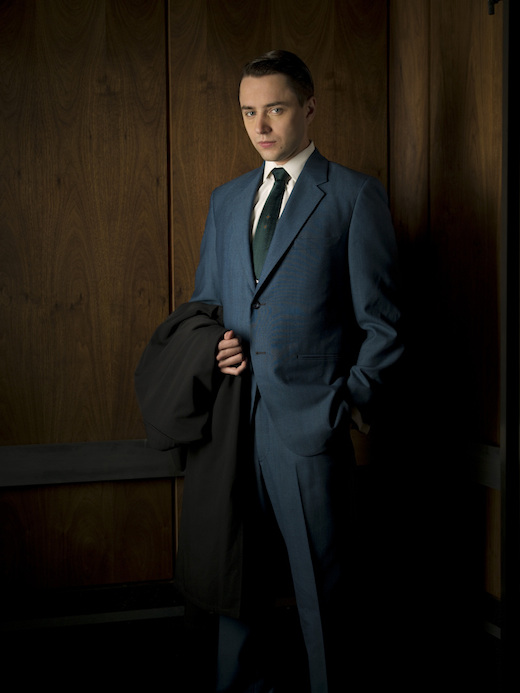 I like the color of the character Pete Campbell's suit.
That being said, it's all very relative: the tastes of young workers across the pond are evolving very quickly, and are now becoming increasingly Italian: a phenomenon which is undoubtedly caused by the increasing popularity of events such as the Pitti Uomo de Florence. And that's what we're going to see in this test of the New York brand Black Lapel.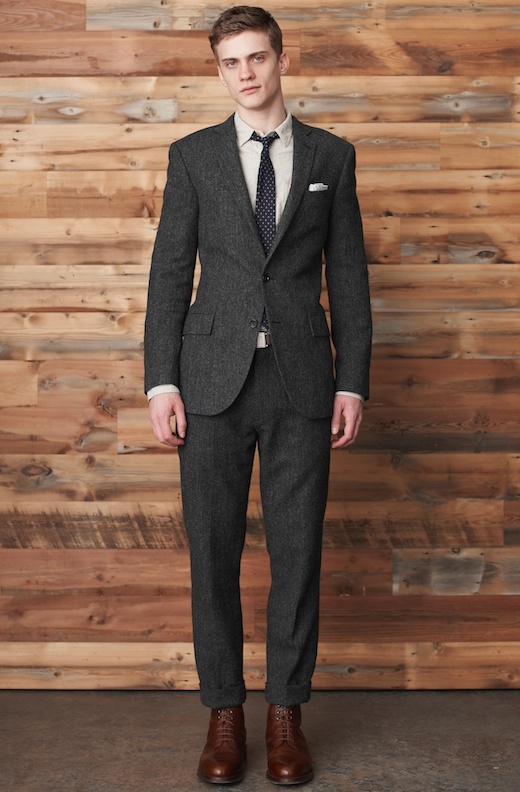 A J-Crew suit, an American mass consumer brand (made to appeal to the largest number of people possible). You can see that there aren't many features of a classical American suit left, apart from the upper cut of the trousers.
And in France?
They touch upon all these different styles.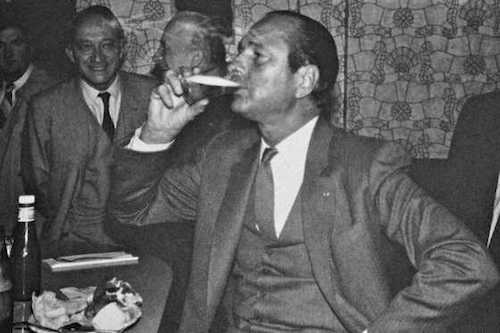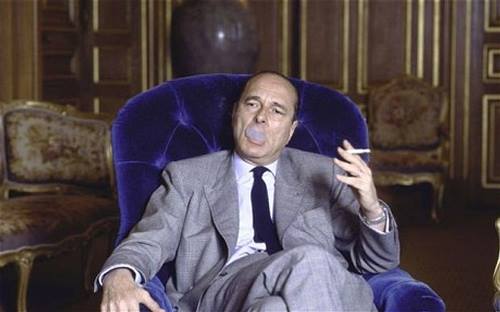 Don Draper, from Mad Men. Jacques Chriac, new style icon "chic / couldn't care less".
In terms of attitude, the French don't take risks in terms of colors and cut: the French are more partial to minimalistic elegance, without taking risks, in relatively plain and neutral colors. The suit isn't so much for the self-expression of its wearer, more as a means of conforming to a social niche. French elegance is discreet.
You only have to look at the reaction of colleagues at the office at the guy who dared to wear a knitted tie, colored socks, or the Prince of Wales pattern which breaks up bland plain colors. He will immediately be regarded as someone with a bit of originality or someone with good taste if it's done well. The positive point is that in a few small steps, anyone who wants to stand out can do so easily.
In regards to the cut, suits are structured but not too much, the whole body is well defined with a fair amount of chest visible. Everything remains within a certain limit.
The mix of styles in the internet age…and the current trends
This being said, you have to keep in mind that the descriptions of these different styles refer to "pure styles". In fact, each different brand and tailor puts their own mark on their suits in order to adapt to the specific needs of their clients and to stay up to date with the changing expectations placed on brands.
In effect, digital media (blogs, micro-blogging and social networks) has mixed up all the influences and removed certain national tendencies, which has created a global and more homogeneous style (a good chance for French style which is already a mix of all the others?)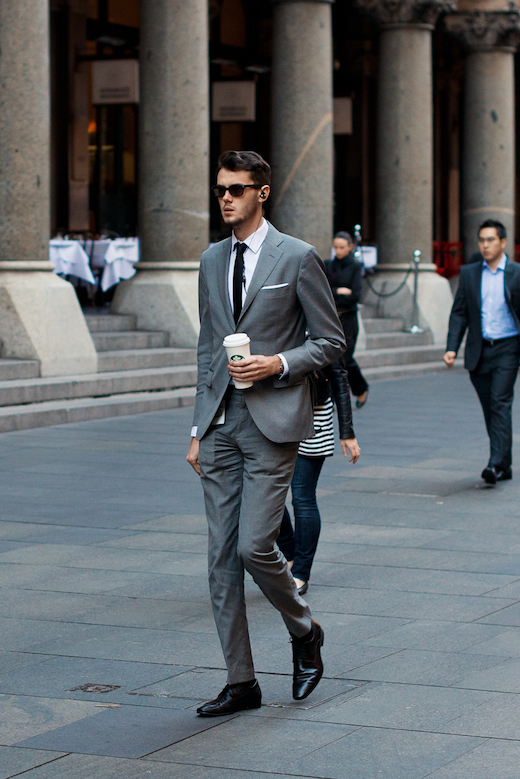 The same suit cut in New York…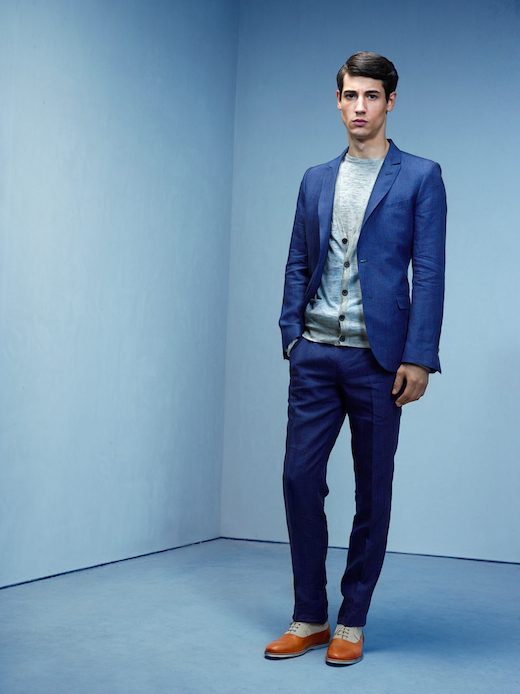 As in Paris (summer 2013 Melinda Gloss lookbook)
The trends which we can see at moment are as follows:
–          Shoulders with little padding (a small amount nevertheless)
–          Collars which aren't too large, often with high lapel notches.
–          Straight armholes
–          A tendency to shorter the length of the jackets
–          High armpits and crotches
–          Short trousers
As the seasons pass, we can sense a return to slightly larger cuts with less fitting, and lapels which are becoming a bit larger. The short trousers and jackets seem to still be around this year at least (but they will no doubt disappear just as quickly as they came in the next months or years).
Let's now have a look and see if Black Lapel follows this homogenization that we've been seeing recently.
Black Lapel, what is it? who is it?
Black Lapel is a young New York based suit brand, specialized in made-to-measure suits.
All of their suits are based on a specific model, yet there are numerous personal touches that you can add, especially concerning important things like the fitting or the trouser pleats.
Regarding the ordering process, all is done online through their website which has been done very well and also features an excellent blog: The Compass. As is often the case with this type of service, the disadvantage with this model is ensuring that the client takes their measurements correctly (which is harder than it would appear, especially since measurements don't take themselves.
In my case, it's Jay himself, director of customer service of Black Lapel, who takes my measurements.
It was love at first sight when I say this blue steel suit. It's a color which is between blue and grey which you don't see regularly in ready-to-wear collections, but which has nevertheless always struck me.
I also really liked the character Pete Campbell's suit in the American series Mad Men which was the same color. And I always wondered where you could go to buy something similar someday. So when I saw this color amongst Black Lapel's choice of materials, I said "bingo!"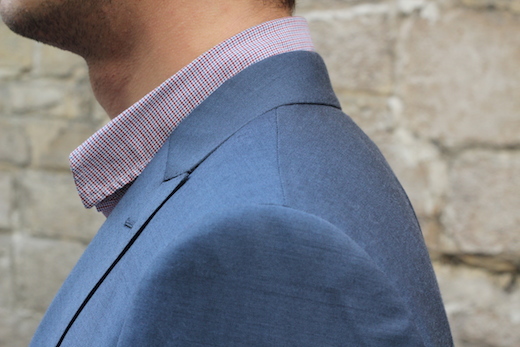 The jacket is an attractive woollen armour, slightly textured, with attractive lapels.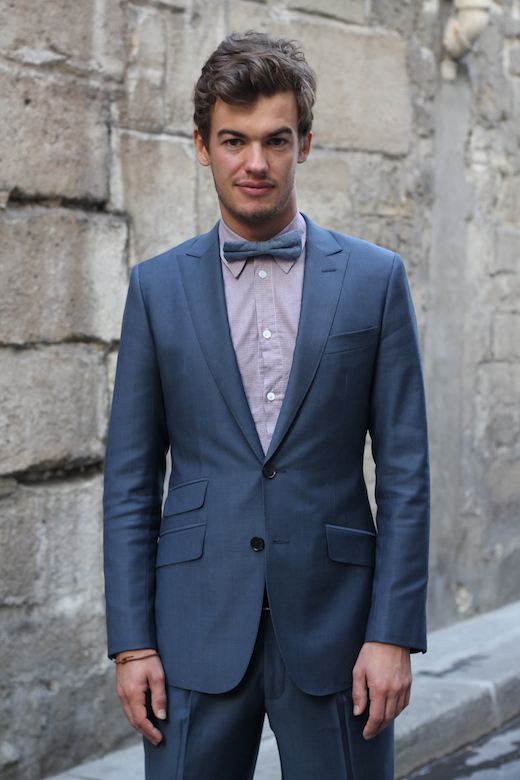 I decided to wear the suit with a simple choice of colors, but nevertheless experimenting with color tones (many colors of the same palette), and especially experimenting with contrasting materials to give the outfit a bit of body.
The shirt comes from Melinda Gloss with a very small Hound's-tooth pattern in red and blue. It's not really a business shirt, more of an after sport shirt, but I thought that the materials went very well together. As for the bowtie, it's made of Chambray and comes from Naked & Famous, and the shoes are from Tabuba (a brand which unfortunately shut down last year). And the small bracelet is just a small band of leather that I tend to tie around my wrist (it's my Pirates of the Caribbean look).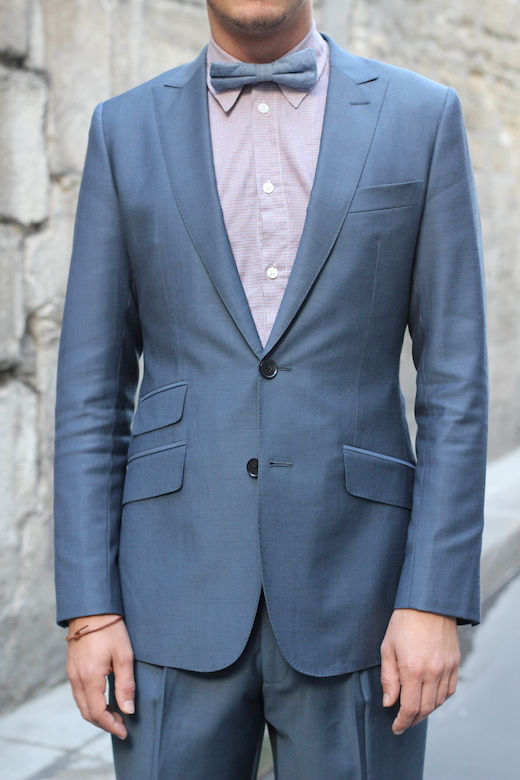 You can see that it's very well cut, even for the first fitting, with a perfect cut (small tension creases at the plexus, well placed lapels). I don't need to make even the smallest adjustment. The quality of the production is very high; Benoit will tell you more about it in the following article.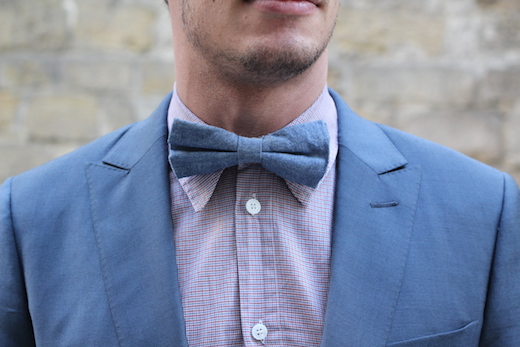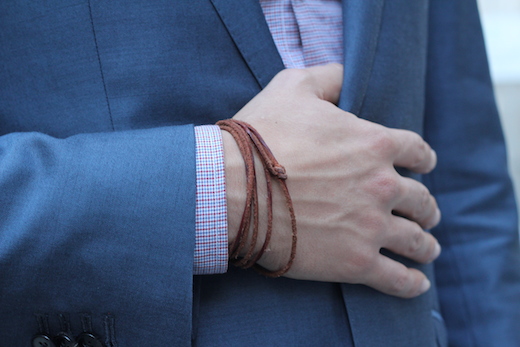 I like this fresh type of look for summer.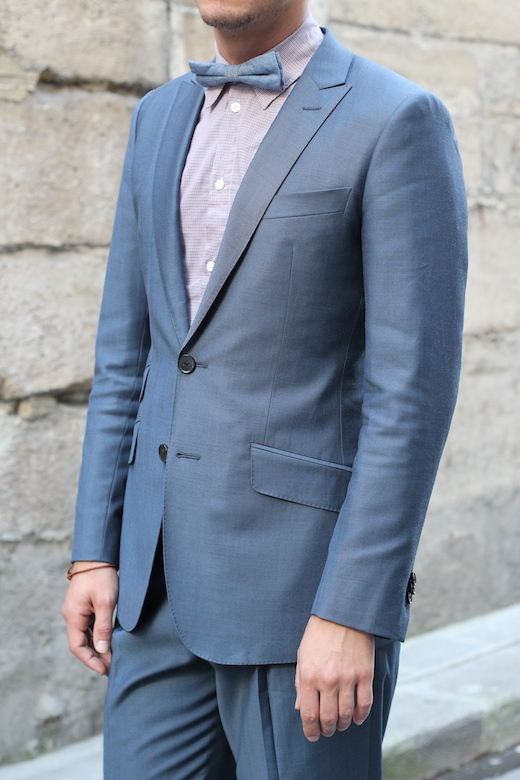 The only problem is that the top of the pleats on the jacket are slightly marked with an indentation which you can see depending on the light. But I'm just being picky.
On the other hand, you can see that there is a space between the collar of the shirt and the collar of the jacket: the collar isn't plastered against my neck. But this certainly isn't a problem with the cut of the jacket: I have quite a large back due to boxing, and one shoulder which is slightly lower than the other also due to defending in boxing, when you push your chin back slightly into the hollow of your shoulder. Certain tailors will rectify this type of problem by adding extra padding in the bottom of one shoulder. The back also needs to be adjusted slightly. If I want the suit to be perfect, those are the two additions that I'd make.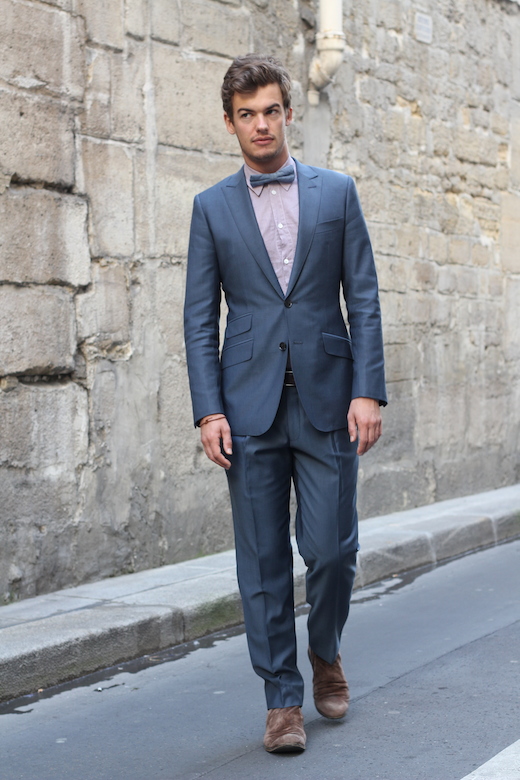 Let's talk about the trousers now. Yes they are baggy around the thighs. No it isn't error, it's just simply in the American style which tends to put comfort first through their use of pleats (which open and close depending on the position of the wearer). You can see that the jacket is very rigid as well: far from an Italian style (which isn't a problem as such, it's just a matter of personal taste).
Update: this isn't the trouser cut that I'd advise for your first suit, but it's a perfectly acceptable choice to create a bit of variation from the ubiquitous cigarette trousers. You should be a bit careful with this in comparison to their European counterparts.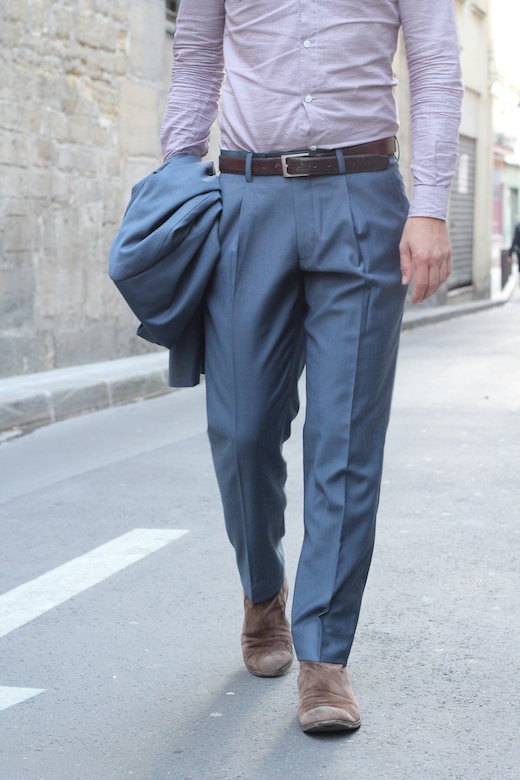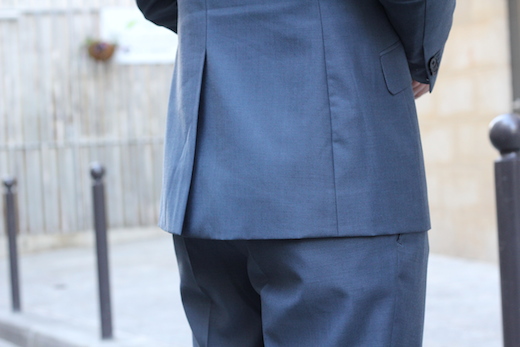 At the back there is space as well. Be aware that you always need a bit of room in order for the suit to be comfortable, especially if you have relatively big thighs or if you have a tendency to wear out your trousers at the point where all the seams join between your legs.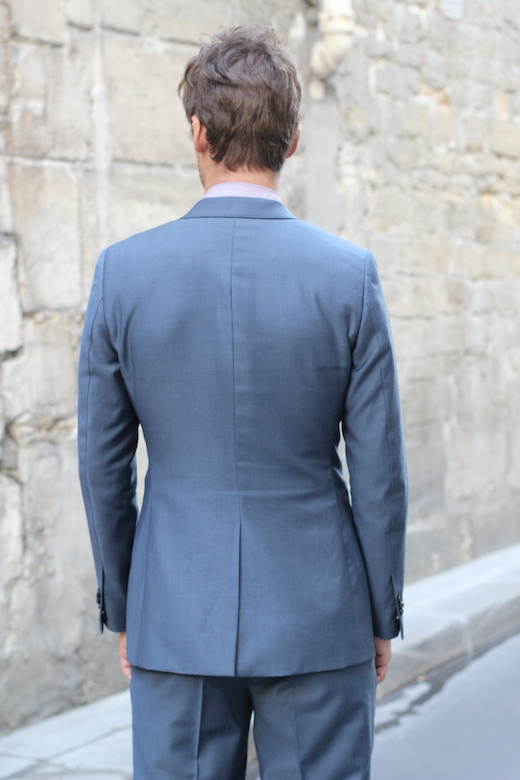 The back is straight. There are just a few small creases behind the armpit. But the surface is smooth despite the fact that the shoulder blades protrude a bit.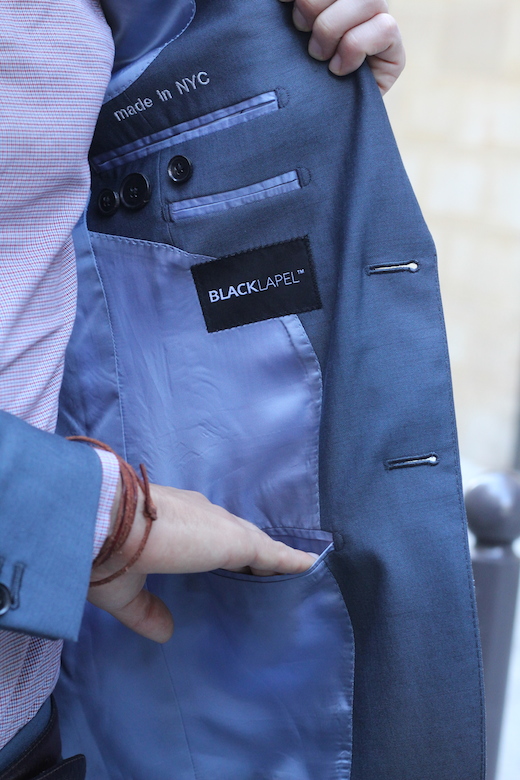 There are many pockets and an attractive inner lining made of viscose and not polyester; that's an important factor. Viscose is a material made of cellulose, and thus has the natural respiratory qualities of cotton. On the other hand, polyester does not possess these respiratory qualities and in fact makes you perspire. It's particularly uncomfortable when it's hot or when you wear a jacket on top on public transport in winter.
It's a good idea therefore to get a lining in viscose (it's a marker of quality when you're wondering about a brand or a particular garment).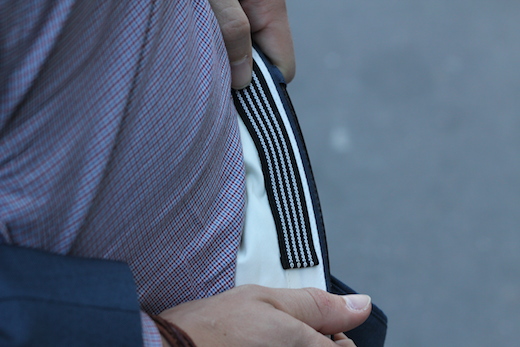 Last detail that I love: showing old ladies my underwear. The anti-slide band makes sure that the shirt stays well in place in the trousers, particularly when you sit down, get up, sit down, get up, sit down, get up, sit down, get up, sit down, get up, sit down, get up, sit down, get up, sit down, get up during a working day, or when you do cross-training in a suit, which I wouldn't advise.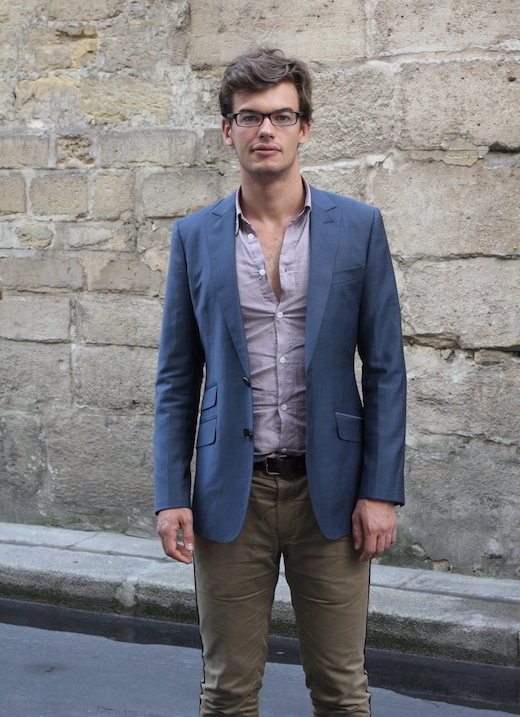 Since I like this jacket so much and because it isn't too long, I like to wear it with normal trousers as well. Here I'm still wearing the Hound's-tooth shirt in blue and red, with stripped canvas trousers from Marchand Drapoir.
The choice of material
Due to the fact that I'm no longer obliged to wear a suit everyday and given the fact that I have quite traditional suits in my wardrobe when it comes to color, I wanted to try a material that isn't normally touched upon in the blog; the prince of wales pattern (plaid in American).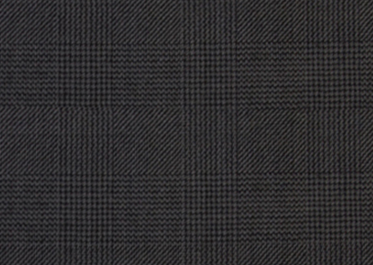 An example of the Prince of Wales pattern (plaid)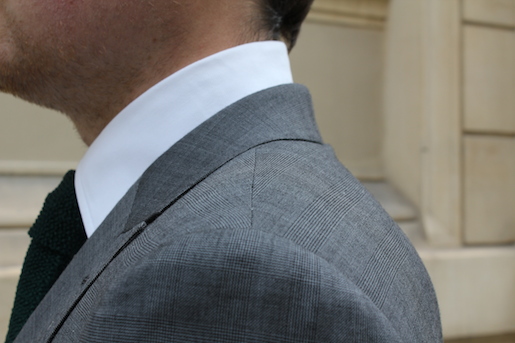 A light luminous grey that I like.
Why this material? I didn't want a totally plain grey, but I also didn't want a color which was too eccentric. I had also seen some very nice looks with the Prince of Wales material which inspired me.
The cut
My taste hasn't changed much over the years; I want a button and pocket which are very simple, because I like the dynamic elements of these two things together.
First impressions upon receiving it
When I took the suit out of its elegant packaging, I was impressed by the quality of the finish; the open button hole, the horn buttons (that slightly overlap at the sleeves; I love this detail), half-moons by the pockets, lining at the crotch etc. In general, everything is very tidy and neat: the button holes are prefect and the embroidery is top notch.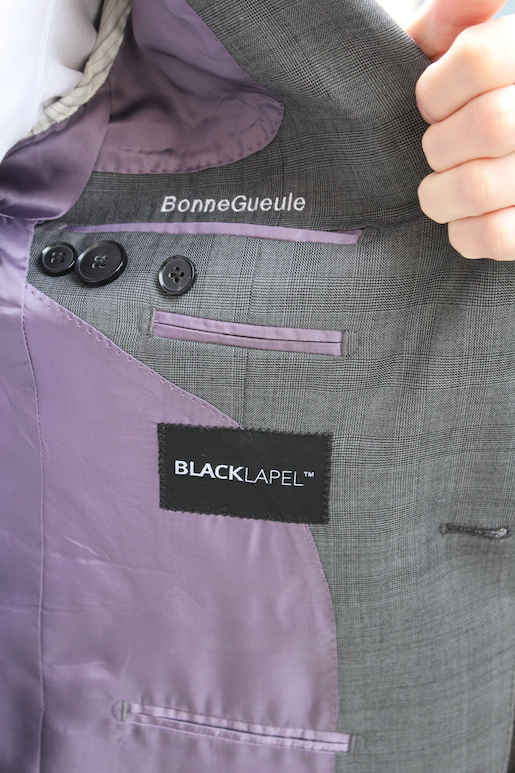 At least you know who this suit belongs to. Notice the half-moon lining at the corner of the pocket and underneath the armpits.
Trying it on
I try on the jacket, and what a surprise, it fits perfectly. The jacket is canvas (no, not half canvas, but entirely canvas) which makes it very comfortable and soft to wear. As usual, I'll ask you to judge the outfit itself rather than my usual photogenic qualities.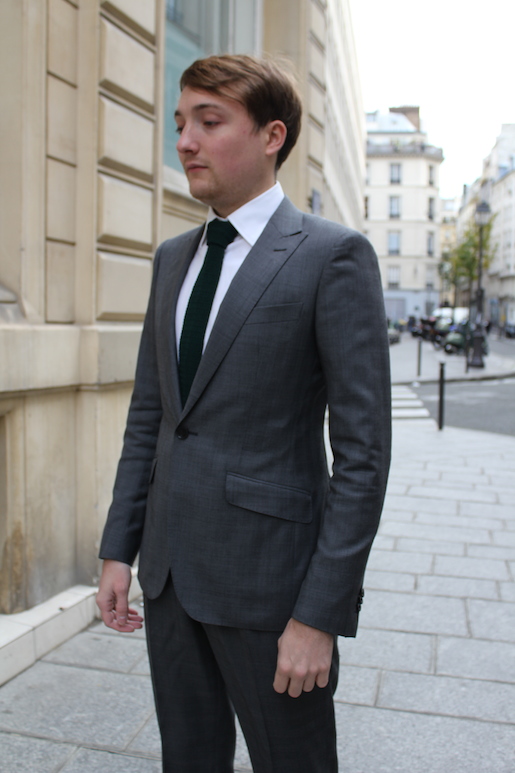 It is perfectly fitted as well. There are certain minor errors on the shoulder, the collar breaks in places (but only slightly, and it would be silly to moan when Black Lapel offers such a good price / quality ratio). The sleeves are well fitted which is another point which I'm very attentive about.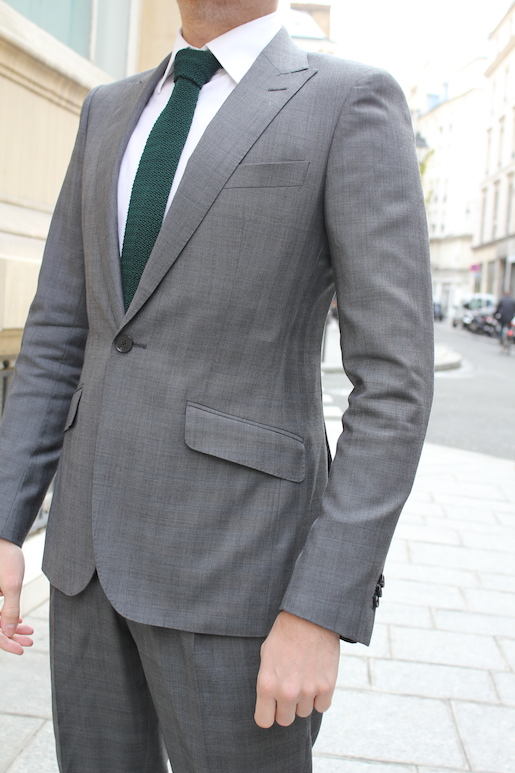 Another photo which shows you the details and the fitting of the jacket more clearly. You can see that there are hardly any creases even though there is a well-defined fit. It's thanks to the fact that it is entirely canvassed and not fused at all, which allows the jacket to fall perfectly and which gives it a purity in terms of the cut. It's all about comfort; it's a lot softer, lighter and in general nicer to wear.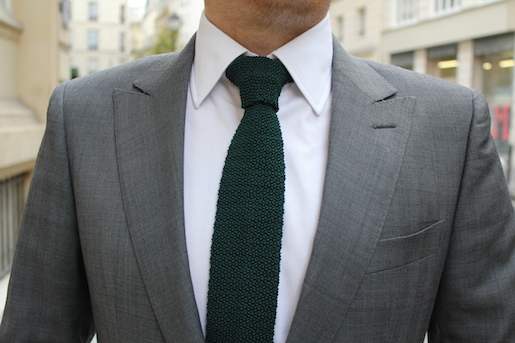 The lapel button holes have been done perfectly. I would have just wanted the thread between the lapel and the collar to be less visible, but I'm just picking. I'm wearing a shirt and a tie by Husbands, don't change anything! Purists will have a go and say that the point of the collar should be hidden underneath the jacket, but it's time to realize that we live in a modern world where clothes are not made like Lego where everything fits perfectly and of course they move with wear.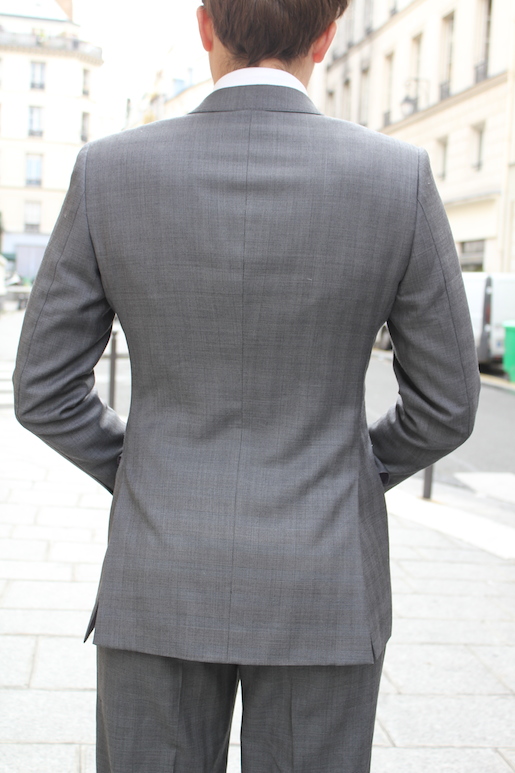 There are hardly any faults in regards to the back and there is a cut in the scalpel. The jacket is still comfortable and is never too tight.
However, I should have chosen trousers without pleats. I wanted to try this cut out of curiosity really. Even if the pleats give the thighs a certain thickness and make me look a bit old school, it certainly isn't my style; I prefer something which is more fitted around the thighs. On the other hand, it's very comfortable.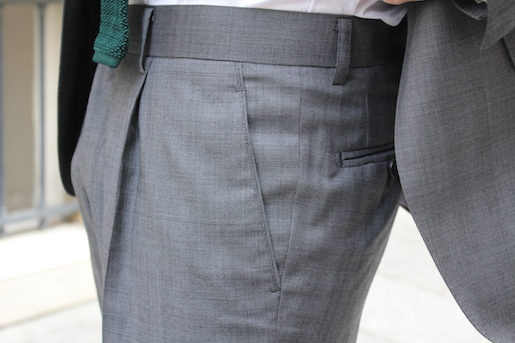 Notice the threading at the top of the pockets. You can easily make out the pleats on the legs, and the amount of space that it gives, adapting to the movement of the wearer. Certain people like this comfort, I personally don't.
Verdict
I would obviously recommend it! How can you not be won over by the perfect cut and top class finish?
Don't worry when making an order, Black Lapel has one of the best quality / price rations out there. You will pay between 500 and 550 euros for one of these suits (if you choose the completely canvassed option), for a product made in a shop in China (but I assure you that they are of the highest quality nevertheless) with their client service based in New York.
However you need to be extra careful when taking measurements. Don't hesitate to seek help from their client service if you are an English speaker.
The link to their website is here.
News from Black Lapel in the mean time
Jay and Ben regularly choose new materials for their suits. The most recent ones for winter were particularly nice for those who want to avoid the traditional grey suit (Prince of Wales pattern or blue check).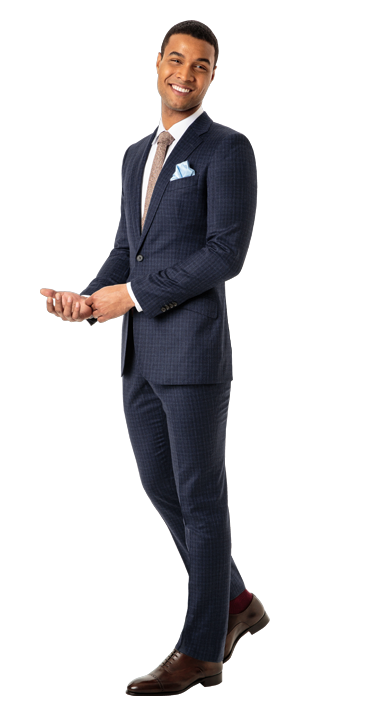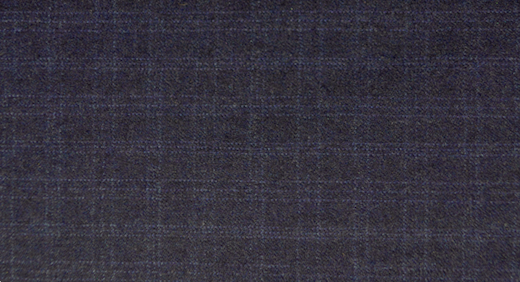 The colors are very simple, but can still give your outfit some weight. I often see people who have managed to master the basics (good size, good cut, high quality) but limit themselves through wearing plain colors and very standard tones. The result is very often an outfit which is just a bit flat. By adding color, a different material (for example flannel for a rawer look) or patterns (check, Hound's-tooth, Prince of Wales, thin stripes), the look would be improved without any extra risk. Think about it if this is what you do with your outfits.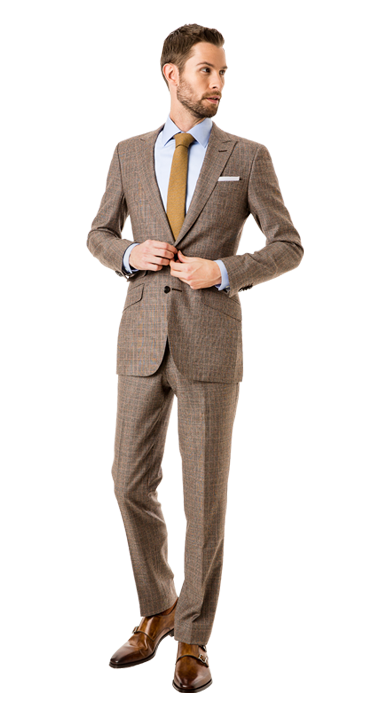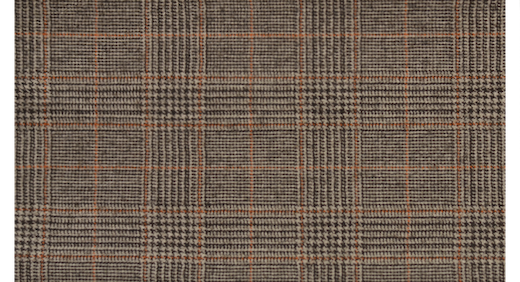 Note from Geoffrey: thanks to Hugo from Parisian Gentleman who helped me with my research for this article (with this article written in English that looks at the different techniques and gives you a key insight to help you master this practice, and this article which presents you with the different types of shoulder corresponding to the country). Milanese Special Selection and the forum DePiedenCap have also proved to be very useful reading.
What do you prefer, American or European suits?