When it comes to custom suits, Black Lapel is quickly becoming a force to be reckoned with.
Based out of New York City (you can also order online) in 2012, they went live for a single reason…
… to bring gentlemen high quality, custom suits… at a reasonable price.
I recently had the pleasure of testing out one of their suits and before I get into the review, there are two things you might want to know…
The previous owners of Kinowear (the guys who founded it) work at Black Lapel.
I loved the suit so much, I wore it to my own father's viewing when he passed away in November.
That said, let's dive in…
The Black Lapel Experience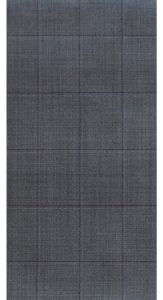 When they first got in touch with me and asked me to do a review, I was pretty excited. I'd talked to the guys before and have a tremendous amount of respect for them.
Then, they walked me through the process of buying a suit.
I started with the Gray Suit With Purple Windowpane. Most guys have the typical, drab, grey suit. This one takes it up a notch with a windowpane pattern that have just a slight purple accent to them, as you can in the picture to the right.
It's made of 100% wool which allows you to wear it in pretty much any season.
And with Super 130's, it feels incredibly luxurious and comfortable. The pants in particular feel downright beautiful.
Then I gave them my various measurements using an online tool they have which makes it incredibly easy to do. They show you exactly where to measure along with pictures and videos.
Then, they even follow up with you if they think any of your measurements seem a little "off".
End result?
It fit perfect from the day it arrived. I "might" take it to get some tiny little alterations, but if I do it would really only be for my own benefit. They'd be so small, others wouldn't even notice.
That said…
Here's What It Looked Like "Out Of The Box"…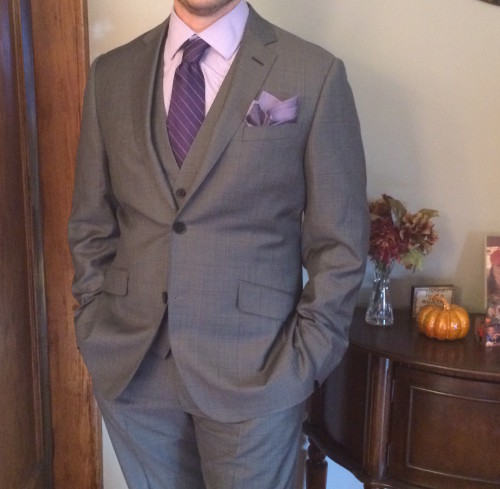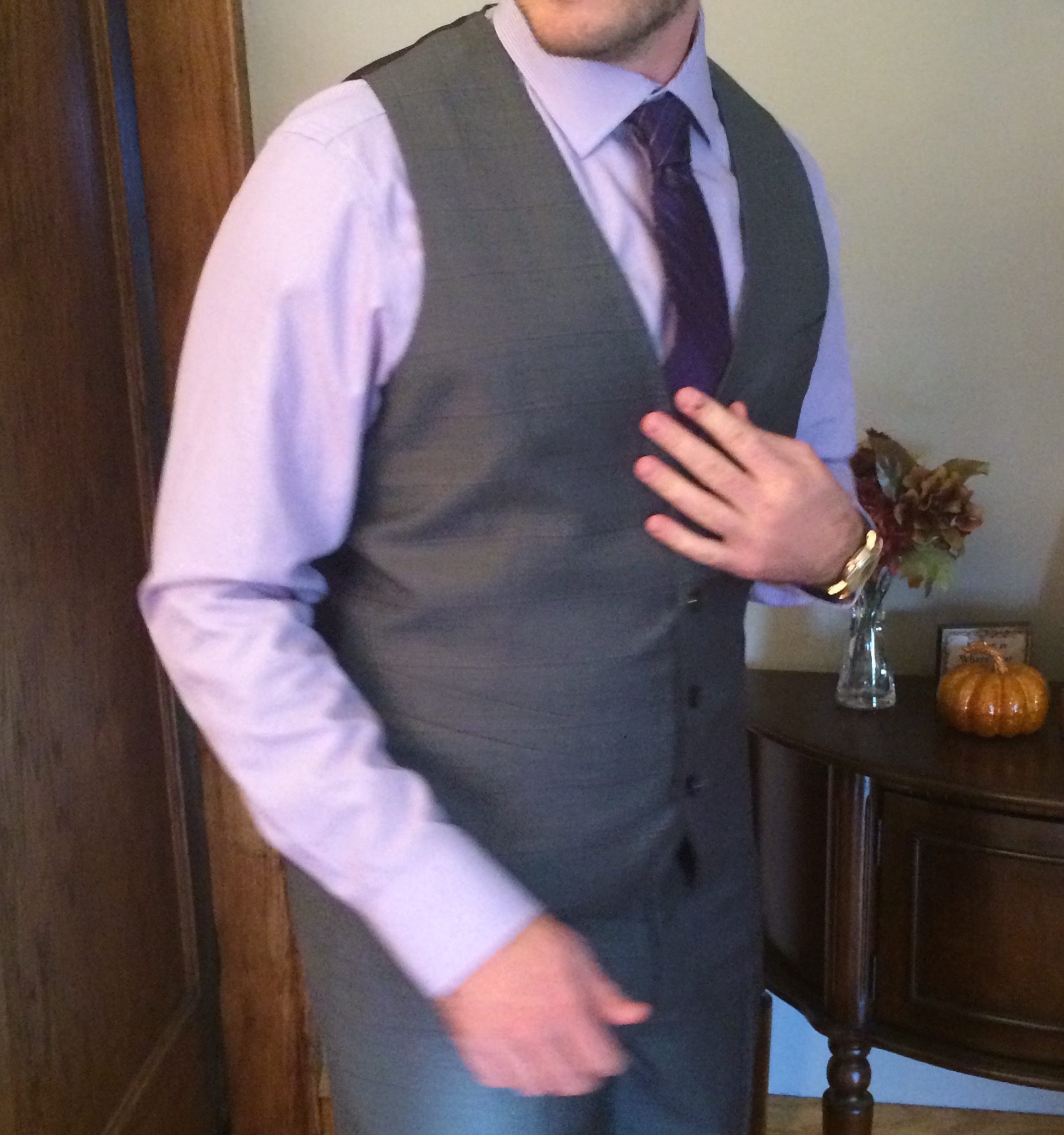 As you can see, the fit is "almost" there.
This has everything to do with me, and nothing to do with Black Lapel.
As you know if you've been following us, I put on some weight recently as my Father neared the end of his life. It was stressful and I ate out probably 2x per day for a month. I also didn't have time to exercise. Basically, I stopped doing everything I normally do to stay in shape.
So the problem was that when I gave them my measurements, they were at my lower weight. Roughly 10 pounds lower, which makes a difference when it's a custom suit. That's why it's a bit tight in the stomach area.
Once I get back to down to my normal weight (about 175 – I'm 185 now), I'm going to get it altered and update this post with the updated, perfectly fitted look.
The good thing is – Black Lapel offers to cover $50 on vest alterations and up to $75 on suit alterations. That's a BIG deal. How many clothing companies offer to pay for your alterations?
Here are two more pictures showing what it looks like with just the vest (I kept them all buttoned)…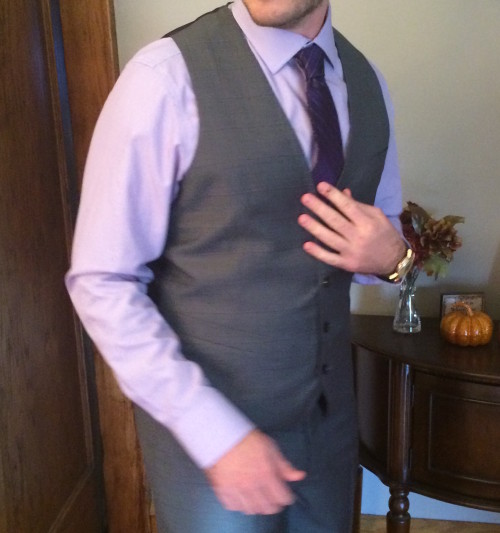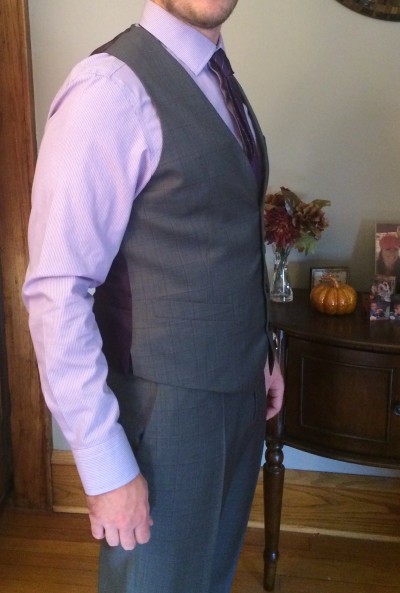 And here's another one of it laying on my bed so you can see that even the interior of the jacket is gorgeous. Very important if you plan on draping it over a chair and showing it off 😉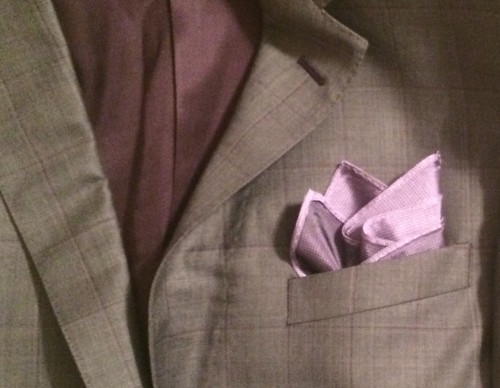 They Even Offer To Help Diagnose Your Fit
Most companies sell you something and never want to hear from you again. After all, they have your money already.
Not Black Lapel.
When you purchase from them they even offer to give you a personalized diagnosis of your fit.
Here's what they told me based on the pictures I sent them.
From what I can see, the vest looks a tad snug in the stomach area. I recommend that you take this to a local tailor so they can open this up about +0.5″ to 0.75″.

The jacket stomach also looks like it can be let out by +1″ so that there is less lapel flaring. It could be popping up because you have your hands in your pocket though. Other than that, the suit shoulders and chest area look great! How is the sleeve length on the jacket?
(Note from Jeremy #1: The sleeve length needs to be altered probably about 0.5 inches to be perfect. Again, they offer to cover alterations like that)
(Note from Jeremy #2: The lapel flaring was due to me putting my hands in my pockets. That went down considerably when they weren't in my pockets)
Final Comments About Black Lapel
If you're looking for a custom suit, I highly recommend them. When I wore it, I received several compliments from both men and women and was easily the best-dressed man at my father's viewing… out of the hundreds of people who came to pay their respects.
They carry a variety of products including suits, shirts, wedding apparel, pants, vests, various accessories and more. Plus they're trying to establish their reputation in the industry so pour their heart and soul into everything they do.
You'll also be glad to know that they offer free shipping and very easy returns just in case you need anything altered when you get the suit. They're a real player in the custom industry and deserve your attention.