For those who aren't the most in tune with their fashion side, the word "camouflage" may sound a bit daunting at first.
Possibly a "no" from those who are just starting to become adept with mixing colors. However, I figured it's high time to stop living in fear. It's time to embrace your inner soldier by incorporating some greens into your "diet", and I'm not talking about salad. There are several different ways to pull off camo, and all in varying degrees.
In this article, I'm going to piece it into three sections, each one more daring and difficult to achieve than the next.
How Beginners Can Start Wearing Camo
You could keep things simple at first – just learn how to mix the aforementioned earthy tones into your wardrobe's palette. For example, consider investing in a pair of cargo shorts, as seen below: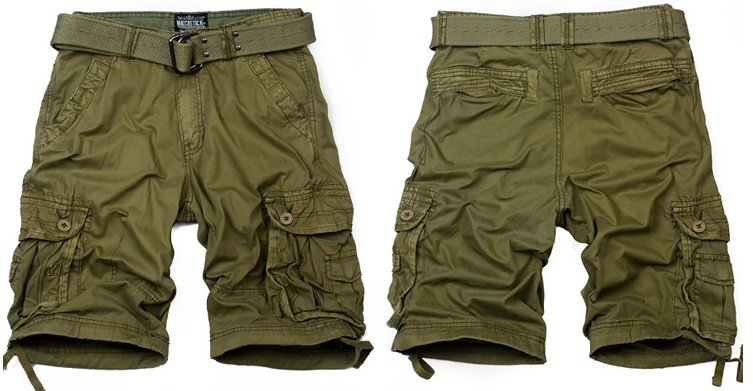 When it gets hot, wear a gray tee over with a pair of casual sneakers. I'd go with a pair from New Balance. Just make sure the shorts don't go too far below the knee. You simply want to look rugged, not like you don't know what your measurements are.
When it gets cold, swap out sneakers for army boots. Camo, and even its most basic forms, can be worn in any season.
Remember, these colors are not dependent on anything. They can be injected into almost any outfit. In fact, make your other colors revolve around them. To build more confidence in this, start small. Eventually, you won't even notice it, and you can keep escalating from there. The hardest part is starting.
How To Go More Bold
For those wanting to go a bit more beyond "the basics", try a look similar to this…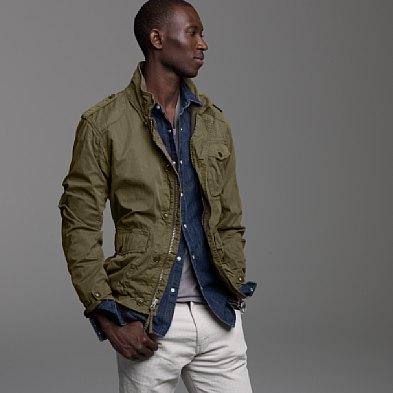 For a more rugged, militaristic look, swap out the white chinos for a more toned down pair of light gray jeans or a light khaki pair of cargo pants. The more worn in, the better; if you've got a pair of jeans you use to paint in, give it a shot!
Breathe some life back into them. Leave them behind if they're tattered or torn. Coupled with army boots, you'll be more than ready to march off into the streets.
But all in moderation. Wearing camo doesn't also mean wearing several dog tags. With accessories, moderation is the golden rule.
IF you must wear one, go ahead. Just don't overdo it.
To accommodate for changes in season, swap out cargo shorts for cargo pants, olive colored shirts for field jackets, etc. Ditch the whites of summer for dark jeans in the winter for darker colors of cargo-wear. Navy bottoms can also help darken a look. Try navy chinos out with a green field jacket like this to dress up- you'll be at least one peg above everyone else in the room, and people will certainly take note. To nail it, wear a pair of oxfords. End game.
How To Start Your Journey Into Camo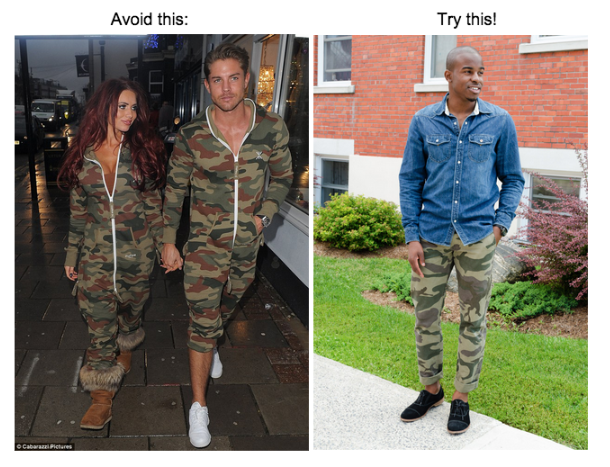 So you've decided to incorporate genuine camouflage into your wardrobe. It can be tricky finding a balance between standing out and blending in. A good way to start would be to stick to earthy colors at first. Grays, browns, and different shades of green can help tone down the feel of your camo or even bring it out.
If you decide to go full Peter Pan, make sure to establish a contrast; you wouldn't wear similarly colored denim jeans and jacket, would you?
In the Kinowear Bible we always mention to start with moderation.
Then, go more advanced as YOU become more advanced.
The same rule applies here.
I myself have my sights on a dark olive colored dress shirt to wear with a gray wool tie. Throw on some dark denim and my army-like boots, and I've got a casual dress look that will last me all winter.
As far as other looks to include camo go, denim can be your friend. Throw on a camo tee under a khaki field jacket with your dark jeans and you've got a solid night outfit. Bonus points for wearing desert boots. If you're feeling bold, try wearing a navy blazer over camo cargo pants. It's a solid way to dress down your blazer and still be the best dressed guy in the room.
Just don't wear it to an important business meeting!
Shoot a comment below – let me know if this helps 😉