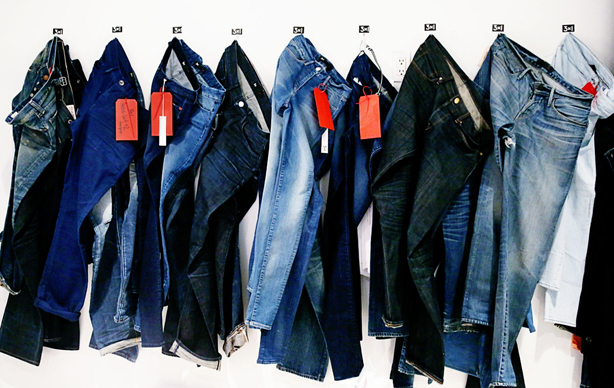 A Man's Guide To Jeans
It's a Friday night and your buddies call you for drinks at the hottest new bar in town. With a casual dress code, this new place is not looking for squares, so there's no need to break out your work trousers. Khakis? Nah, that's more daytime wear. Boardshorts? Now you're getting delusional. There's only one choice that's suitable for this occasion. It's those handy-dandy, trusty pair of jeans that everyone has.
As the most commonly used trousers, because of their comfort and simplicity, jeans should be seriously considered in any outfit that doesn't have a tie. Composed of denim, a dyed cotton, jeans have been a staple in the closets of every man who's had to work with their hands. As a disclaimer, this discussion does not involve jean jackets. We'll save that for a rainy day.
Originating from cowboys and miners, the popularity of jeans skyrocketed in the 1950s with Hollywood endorsements from the likes of bad boys James Dean and Marlon Brando. Because jeans were associated with youth rebellion at that time, they were banned in several public establishments including restaurants and movie theaters. Nowadays, they're accepted anywhere from soccer games to high-end fashion shows.
Jean have been around a long time.  It all started in 1872 when a tailor, Jacob Davis living in Nevada, made jeans with copper rivets to anchor the joined seams at pocket corners. A year later, Levi Strauss trademarked the jeans as their own product and the rest, as "they" say… is history.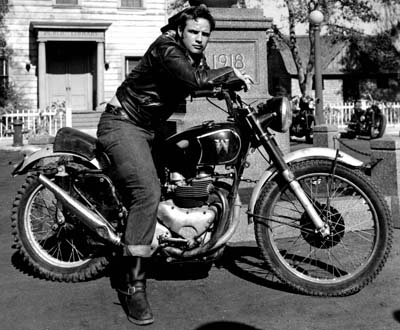 A good pair of jeans should have a decent amount of stretch, especially in the knees, thighs and crotch area.  Jeans do require a break-in period. When first purchased you have to go at least the first couple of months of regular wear without washing them. This allows the jeans to adjust to your body.
There's also stretch denim, which has a tiny amount of spandex woven in with the other fibers of the garment. Although it provides more "give" in the jeans, it does shorten the lifespan. So choose wisely. And whatever you do, wear them properly… at the hips.
Typically, jeans are washed to preshrink them and make them softer. Raw denim is unwashed, which leaves distressing the jeans up to the body of the wearer. This is called natural distressing.  It's the main allure of raw denim, leaving a unique pattern on the jeans by the wearer… almost like a fingerprint.
Resist washing them to accelerate the fading process. This will tarnish the integrity of the jeans. Let it come naturally or buy them pre-distressed. Each wash will only wear down the fabric and possibly worse, shrink them as well. Most commonly sold in shades of blue, the colors of jeans are known as "washes" to describe the stage of wear that they are in. For example, dark wash jeans possess a deep navy color. They are designed for a clean look in order for you to distress them through natural wear. On the other hand, acid wash jeans are pre-treated to give the jeans a worn-in appearance right off the rack.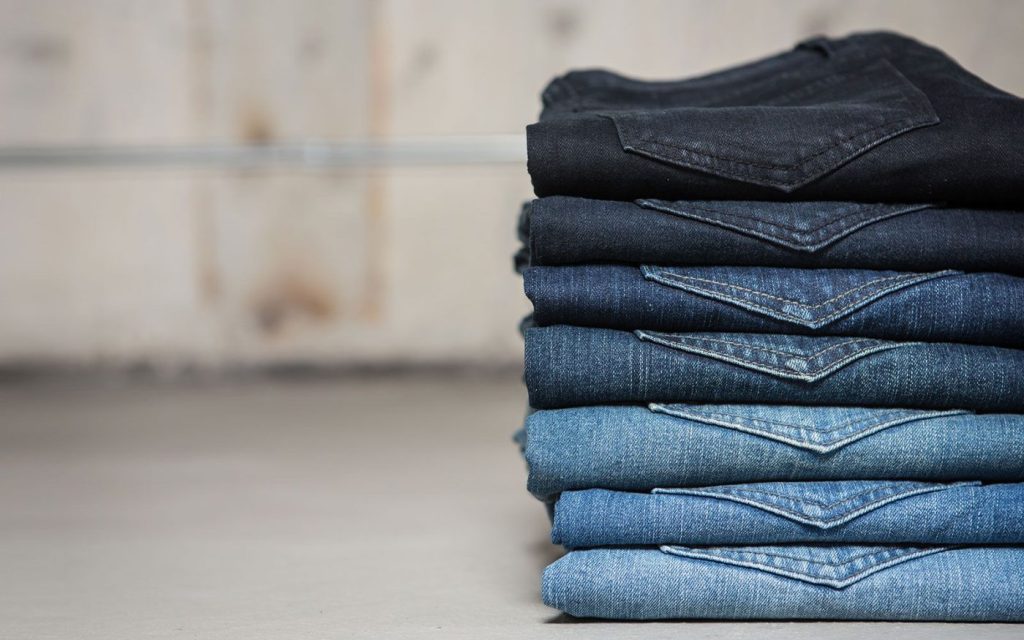 Styles
Straight Cut
Who says simple isn't sexy? A straight cut pair of jeans are the safest pick out of the denim ensemble: Not baggy enough to have people laugh at you, and not slim enough to have them look more like blue paint on your body. The fit of the jeans should be uniform all the way down your legs, being fitted along your thighs and roomier below your knees.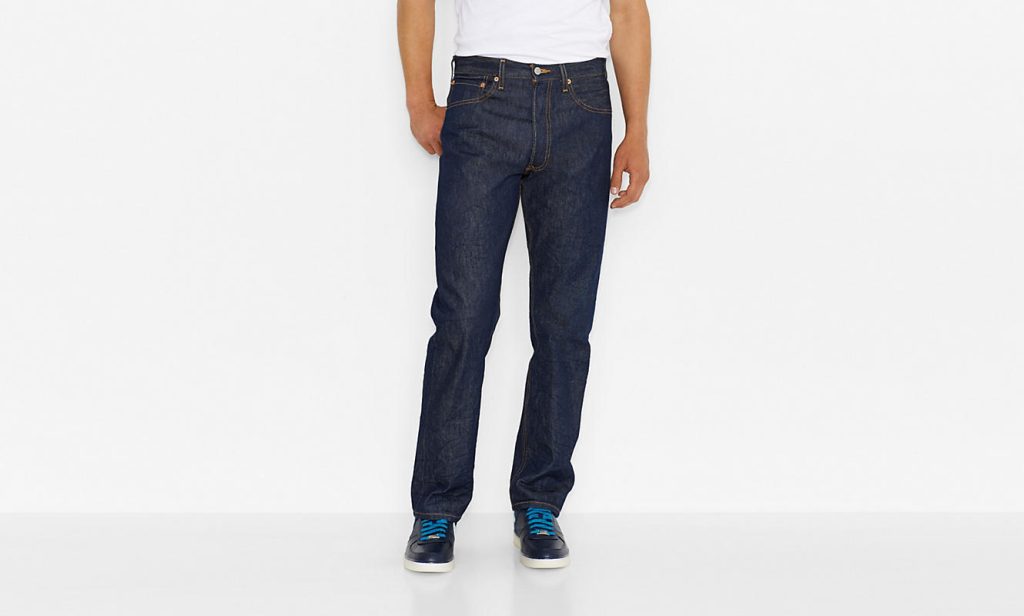 Boot Cut 
Not as flared out as bell-bottoms, boot cuts offer a slightly wider opening at the bottom of the pants in order to accompany the high-ankle cushioning of work boots. Definitely the trousers of choice for the working man, these are what charcoal grey dress pants are to businessmen. Make sure you actually wear boots with these as any other shoes will end up looking silly.
Slim
The most popular trend at the moment, though subject to change overnight to something even skinnier. Following the universal inclination of whittling everything down in width, slim jeans have taken the world by storm and ignited a race to see who can wear the skinniest trousers without completely cutting off circulation in their legs. However slim they may be, they should still have enough room in the thighs and crotch area to move freely and store your wallet, phone, etc. Slim jeans also make it easy to roll up the bottom cuffs of your jeans to illuminate the contrast stitching on the inside of the pants.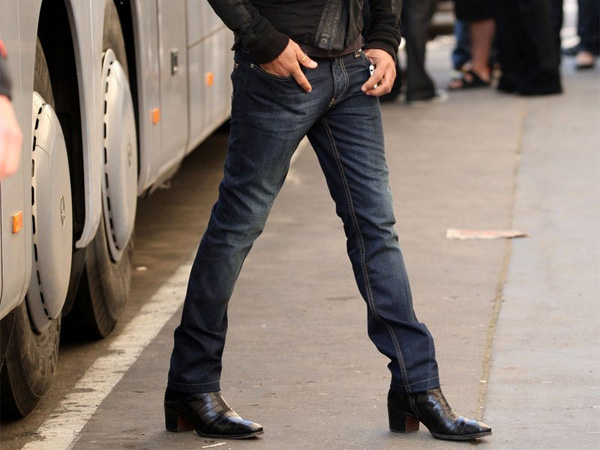 Distressed
Referring to pre-treated jeans that are bought with faded detailing on them already. This includes jeans that have pre-cut holes and wear and tear in them. Buying jeans that are made to look damaged? Who thought of that idea? And make sure to hide these from your mother or else she'll have them sewn back up faster than you can say "I bought them like that!" And patches on jeans? Only if you're a Bohemian.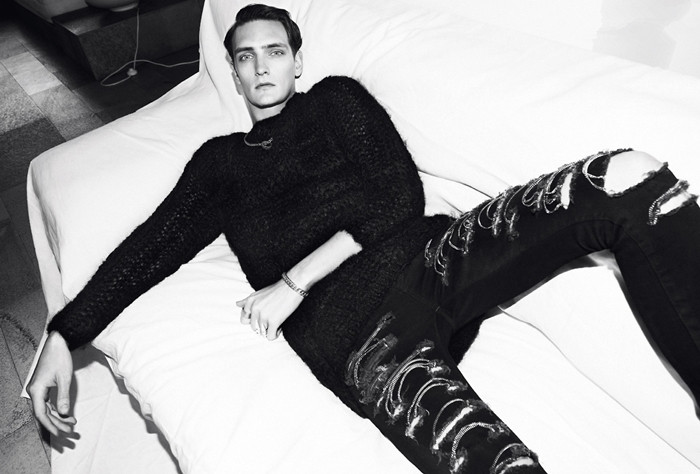 Acid Wash
Also known as stone washing, acid wash jeans are treated with chlorine and washed with pumice stones until they are near completely white. Most prominently worn by punk rockers in the 1980s, they have transitioned from bleaching certain areas of the jeans to a full-on white. Tread carefully with these as they are considered fashion forward these days and any pieces to match these jeans should be selected with thought behind it. We would recommend a darker top (i.e. navy) to contrast the pants and a neutral color shoe, like brown boots.