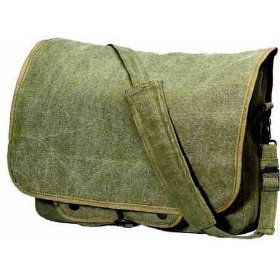 The Messenger Bag
Damn, Jack Bauer is such a badass.
It's clear that it's the messenger bag that makes this action shot. Most guys are afraid of the stigma they believe comes with wearing a "man purse." However, Jack Bauer and the readers of Kinowear don't let such limiting beliefs stop them from looking sexy. So let's get to it.
Okay, seriously though. Despite what you may think, there is a whole smörgåsbord of bags out there for men. We're talking manly suitcases, bookbags, carry-ons, you name it. They come in all different shapes, sizes, and colors. If you carry a bag at all times – whether for business or pleasure – then why not carry one that's purposeful as well as effective in communicating your personality and lifestyle?
There are many types of bag to cover, but today, I'll be focusing on the messenger bag.
Why Messenger Bags Are Great
Well, it's all preference really. But personally, I love them because they go so well with almost any outfit. Plus most of the time, they'll make you instantly stand out as a stylish guy. Even if you're wearing a plain white t-shirt and jeans (which there is nothing wrong with), carrying a messenger bag elevates your style just because you're not carrying a boring backpack (unless it's a different type of backpack, which we'll get into in another article). It's just something most men are afraid to wear, like a pink shirt, and thus comes with an air of confidence.
Also, it's a great fashion accessory. There are so many styles of messenger bags, and you can find one to go with almost any look.
Another reason why they're so great is because you can just shove a bunch of bulky stuff in there – that won't fit in your pocket – and have simple access to it. If you need something out of your bag, all you have to do is open up the flap – boom – reach in and grab it.
These types of bags are also great for high school and college students. If you're a student, consider standing out from a sea of backpacks, by carrying your books and other school supplies in a stylish messenger bag.
Different Styles of Messenger Bags
The original messenger bag gets its name from being used in the transportation of mail and goods by numerous types of messengers, including Pony Express riders, postal workers, messengers on foot (especially in ancient times), and bicycle couriers. Some Royal Mail carriers in the United Kingdom currently use large messenger bags to deliver mail. (Wikipedia)
Biking
The true messenger bags will strap tight across your chest and fall across your back. This type of messenger bag is great for bikers because it will stay put as you ride.
Leather
Evolved from its original form of carrying mail, the fashion industry has taken the original messenger bag and made it more like a shoulder bag with sophisticated style. Many retail stores will have messenger bags in leather that look great for work or travel.
I carry a leather one to hold all my consultation materials when I'm meeting with clients. Other days, I'll open up my messenger bag, stuff it with my laptop, planner, pens, a book, a water bottle, and a snack — then throw the strap across my chest, and walk out of the door like a super stylish super hero out to save the world from sartorial confusion.
Alright, maybe not. But I still love my messenger bag.
Classy and Clean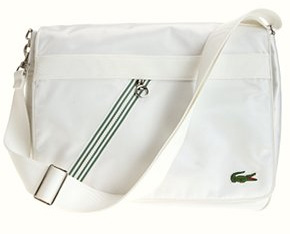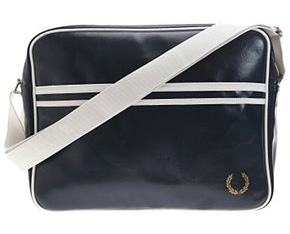 Both the Lacoste Croc and Fred Perry messenger bags are great for the classy, clean, and sporty guy.
All-Purpose
Want a great bag for school or travel? Want to find them cheap? Check out the Jack Bauer style canvas shoulder bags on Amazon.com. There are hundreds of designs to fit your style.
 Create Your Own Bag
Bored and looking for something fun?
Timbuk2's website enables you to create your own bags! If you're a true artist, they even have "canvas" bags where you can paint your own designs on the bags.
If you have a lot of spare time, consider making a bag out of plastic bags lying around your house! Check out this video.
[youtube=http://www.youtube.com/watch?v=sB1mE8e35UY]
How cool is that?
Finding The Right Bag For You
Looking for a messenger bag is pretty simple. First make sure that its functions meet the needs of your lifestyle. If you're a student, make sure it has slots to fit all your school supplies. If you're a biker, make sure your bag has strap adjustments that will ensure that the bag stays on your body. If you need one for work, make sure that it has enough space for your laptop or whatever else you need to carry around. Second, ask yourself if it's presenting a part of personality that you want others to see. Is it strictly business? Is it artistic? Is it simply used as a bag and not fashion? The details are what matter most. Silver buckles on a leather bag will be more classy, plastic more laid-back.
The better question to ask yourself is "Do I have a bag that is both purposeful and congruent with what I want to communicate?" If not, it may be time to upgrade. A messenger bag perhaps?
Always helping you look your personal best,
Jae