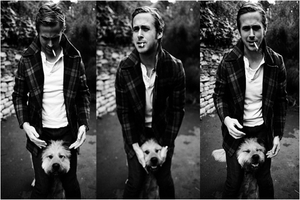 Ryan Gosling: Crazy, Stupid, Love Star and Style Inspiration
Ryan Gosling is first up on Kinowear's list of successful men to follow this year.
Here's a fun clip of him looking sharp and acting smooth in Crazy, Stupid, Love:
Just last year, TIME Magazine's Joel Stein dubbed him "Coolest Person of the Year," and while some may vaguely remember Gosling from The Notebook many years ago, Gosling is now a household name after his most successful year as an actor.
He starred in the widely praised Drive (superb acting), and co-starred alongside George Clooney in Ides of March – being nominated for best actor in each movie. He's also been called New York's real-life "Batman" after randomly being spotted breaking up a fight in the city streets.
It's been almost impossible to go a full week without hearing a female friend swoon over how "hot Ryan Gosling is in Crazy, Stupid, Love." There's even a website dedicated to women who are obsessed with him called F**k Yeah! Ryan Gosling with photos of him and tongue-in-cheek captions.
While the famously funny Steve Carrel was the lead in the movie, Ryan Gosling stole the show with his charm, incredibly fit body, and magnetic style.
Many of my clients and friends also seem to keep bringing up Ryan Gosling's role in Crazy, Stupid, Love. Particularly asking what brand of clothes his character wore in the movie.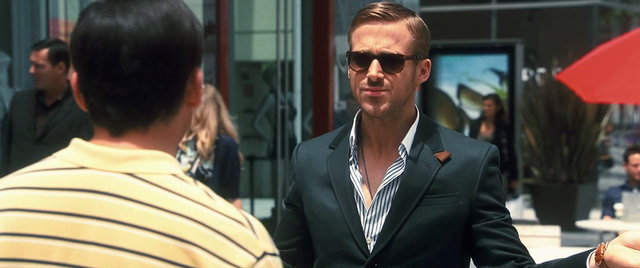 (2011, Warner Bros., screen capture)  
Where exactly are his character's clothes from?
Many of his suits worn in the movie were designed by The Strokes guitarist Albert Hammond Jr. and Ilaria Urbinati, co-owner of L.A. boutique Confederacy. Wardrobe stylist Dayna Pink says she used Parisian brand Gossuin's custom-made shirts and some pieces from designers like Yves Saint Laurent, Alexander McQueen, and Simon Spurr to pull together Gosling's wardrobe. The sunglasses he wears are specifically Chad Sunglasses by Selima Optique.
Here are some style tips to steal his look from the movie:
1. Try custom-made suits/shirts and get a perfect fit like Ryan
2. Choose custom details like:
a peak-lapel instead of the typical notch
double-vents for a suave European look
a customized colored lapel buttonhole (a small detail that stands out)
3. Lose the tie and leave the second button undone
4. Get a pair of masterfully-crafted Ferragamo dress shoes
5. Add tasteful accessories (e.g., classy leather-strap watch, masculine ring)
6. Try his iconic haircut from the movie
Want to wear something more casual?
Get yourself a henley shirt like he wore in the movie (which looks great on him after he bulked up for the role):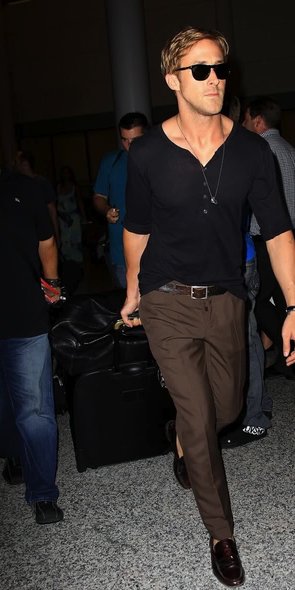 Still, what makes women so attracted to Ryan Gosling is not model good looks, but a uniquely charming personality, style, and overflowing charisma.
What does Ryan Gosling have to say about all his recent success?
You know how sometimes department stores have these things where, if you win, you get 10 minutes and go in and take anything you want from the store? That's basically what I'm doing. I'm running in and just trying to grab as many characters as possible before they pull the plug on me." 
Ryan Gosling is definitely a man to continually check in on, inspiring us in both success and style.
What's your personal opinion on Ryan Gosling? 
Also, what other actors or celebrities would you like us to write about on Kinowear?
Leave a comment below!
Want to learn how to dress more like Ryan?