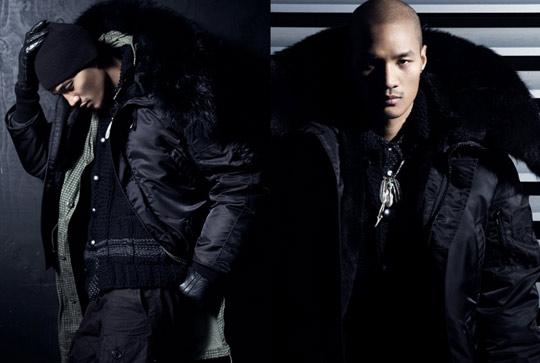 Review: The Parka Nobis, a savage series of events in the land of the deers (1/2)
If you've already been faced with a trip to the mountains, skiing downhill or at least lessons, it's likely that you already have a relatively clear idea what you do better first time round, what kind of equipment you will obtain and what kind of precautions you're going to take. This article can allow you to calmly come face-to-face with the biting cold.
If, for example, you're going on a trip to Norway perhaps, and you want to have a specific idea in mind of what you're going to do, don't worry.
By the end of the article, if you have any queries, you can ask them in the commentary and I will respond accordingly with the Kinowear team dedicated to the post.
The most painstaking of preparations: to dress yourself during the freezing cold
When I learnt that I would be spending four months in Canada, during the harshest part of winter in Quebec, I immediately sought to equip myself with warm clothing. Admittedly, the forecasted temperatures were looking at being around -20C to -30C for a big chunk of January. Referencing an expression from Quebec, " now is not the time to fool around!"
So, I contacted Benoit, who has already broken his way through snowstorms, to ask him what he would advise I wear in such an hostile, arctic environment. He was somewhat pragmatic, very much like his character, "don't joke about the cold, it's important to invest in properly adapted clothing."
Note from Benoit: I can't emphasise this enough, don't look to save money when you're buying clothes to protect you from the cold. In my opinion, the cheaper Parkas out there aren't that trustworthy.
After taking his advice, I got my hands on some stuff that could be useful in the conditions that awaited me:
Thermal underwear from Uniqlo and Nike (their range for running in winter)
They're handy to have pretty much all the time, allowing you extra warmth and comfort if the wind is particularly strong, or  if you're walking longer than an hour in the snow. Between long johns, socks, and long sleeved t-shirts, it's easy to manage multiple layers that will be adapted to function with the activity that you expect to do. Note from Benoit: When I was in Montreal, I remember that apart from long johns, you don't really need loads of thermal undergarments. With a decent pair of socks, vests and whatever you decide to cover your head with, you'll be fine.
Trousers that are thick, warm and protect from the wind
Protecting your legs is essential because, the torso is easily covered by lots of layers, yet we don't put on as many trousers. So, once my dignity was put to one side, I pulled on my thermal leggings under  wind-protecting trousers, or alternatively ski trousers work fine too, and my legs were protected.
In conditions that are considered a health risk, you must quickly get used to wearing leggings more often than a TV host wears make up.
Sous-titre: Dressing yourself in warm clothing better not resemble this, Sirs Dolce & Gabbana
A pair of winter boots
Walking on snow that is hardly solid softens your step, as you don't want to break it, but you end up buried up to the knee. A good pair of boots will be well adapted, because there are those that will protect the foot from the cold which worms its way in little by little. Mountain boots, boots with thick soles (note from Benoit: go crazy with Vibram soles! The thickness of the sole is a key factor) and trousers which cover them, even the gaiters, if you wear them when hiking.
An essential Canadian Parka (or not far from)
Even if getting (and investing in) a thick coat is somewhat disputed, we will see what the advantages and disadvantages exist, how to choose one, etc. I will develop this topic at a later date.
Moisturiser
The cold, the frequent change in temperature and the wind will ruin exposed skin that will find itself constantly aggravated. It's important to repair your skin to avoid chapping, frostbite and other joys to look out for. For me, I take two tubes of cream to repair my hands, one pot of hydrating balm for my body and three sticks for my lips.
Here, you aren't lacking with brands, and you probably already have your favourites. I chose to buy an American brand: Neutrogena. It's very effective, already after a month of glacial temperatures, my skin isn't marked and I have never had chapped lips.
Sous-titre: The roads are effectively de-iced, however the cold is always there, as with snow up to your knees too.
The story of the Parka Nobis: where does it come from?
Nobis was born from the division of the Canada Goose team, on the subject of which direction the brand should go. Nobis was thus created in 2007 where the aim was to associate protection against the cold and the expertise of design and development. The brand is young, but it already has experience with an established label. Interesting, no?
Nobis has mixed its Canadian heritage; military codes and contemporary street wear culture with warm clothing. One will particularly appreciate the care taken to make the coats functional and comfortable to wear thanks to the properties of the clothing.
Models Cartel, Yiggins and Yatesy
Note from Benoit: There's a little bit of funny product placement concerning this brand, since the last Resident Evil film, the heroes are fighting with a Nobis on their backs.)
Sous-titre: This goes out to all the fans of the Resident Evil 4 heroes, Léon Kennedy!
All the models are impermeable, stuffed with Canadian goose feathers, and are wind broken. There are many technical details, but in short, the clothing is composed of many layers, which are added up to create ultimate protection against the elements.
The coatings that are used are reputable for their effectiveness and are used by all textile giants and heating for its waterproof qualities, wind resistance, ventilation (like sportswear) and warmth.
What kind of conditions have you experienced?
Whilst testing the Parka, I was firstly faced with outings during snowstorms. I've been especially surprised because I've had the tendency in the past to dress myself with a classic coat, but found myself too hot once outdoors (note from Benoir: we all have to do everything first time round! Once you have bought a Parka that's warm enough, you'll realise that to wear coarse knitwear on top is too much.)
I reserved a part of my technical clothing to wear when my coat was too much. In concrete terms, I wore my coat each time I needed to be outside for longer than half an hour, and with this, I never felt the cold or the wind.
After a decent fight against the snow and many descents, the coat wasn't humid and the melted snow ran immediately without even permeating it. I tested all aspects of the coat without discovering the tiniest fault for now (note from Benoit: this is what we mean by "trustworthy clothing.")
Returning to sport, I was perfectly at ease, as my coat breathed fine and allowed the excess heat to escape, whilst I remained at a perfect temperature to not let in the cold despite the difficult environmental temperatures. (Note from Benoit: I've had the same feeling with my Parka, it's really strange that you don't get too hot even when you're doing sport. It's the belief that really good quality and perfectly balanced down allows for heat transfer.)
Finally, with the gusts of wind, the only cold that I felt was on my face and legs. With my trousers being much thinner than the Parka, it's understandable. I felt like I was inside a rolled up rug, the wind unleashing itself upon it, but it couldn't reach me. It is honestly the first time that I have felt completely secure inside a coat.
Note from Benoit: There is a real sense of "client experience" which is put in place without even realising, especially with a Parka, which carefully guards body heat. It's a slightly strange sensation when you see the arctic wind rip into your badly equipped friends whilst you don't feel a thing.
The Parka Higgins Nobis Test
Photo Credit: Dolorès Lemoyne
The Parka isn't overly imposing, yet it is warm enough to allow me to not have to wear a t-shirt underneath, despite it being less than minus 15. The absence of a scarf explains this, because there isn't wind to worry me and I don't spend too long outdoors. The outfit is harmonised and balanced by the level of tones and colours.
Navy blue and grey appear well in this outfit, which would seem to be more faded if the shoes were the same colour. I voluntarily chose to integrate more visible shoes with contrasting laces, to avoid the monotonous look that is so commonly associated with grey or often with colours that qualift as boring or "old". You can find these shoes (Abington by Timberland) in the second part of this article dedicated to the cold of Quebec.
Photo Credit: Dolorès Lemoyne
The fur is well sourced and it hides the face well in order to protect it from the wind and snow, giving it a real presence on the coat. It is possible to enquire about adding fake fur, as it is one of the options available when personalising your coat, propsed by Nobis. I appreciate this, as it is a worry for a lot of people and it's an area that is easy to adopt in order to protect animals.
There are plenty of pockets within the coat that allow me to put my hands into the warmth of my chest area. The micro fleece inner layer is incidentally positioned so that I can reheat my hands without having to use extra gloves. Note from Benoit: It's those little features that are super practical that I would love to see more often within brands.
Photo Credit: Dolorès Lemoyne
Certainly, we aren't looking at the effects of a Lanvin or Dior coat, but a Parka; you will recognise that the cut is far from awful. On the contrary, here you have a somewhat straight cut, which respects the shape of the wearer. There is even maximum shoulder room as the natural shoulder span is highlighted.
Note from Benoit: It's important to know that a down Parka can't be adjusted too much, because otherwise the down is compromised and thus the power of the coat is lost. It is very important that one allows enough space for the coat to puff up. It's for this reason that I recommend to be somewhat cautious and to take a coat a size down from what you normally are to see if anything needs adjusting.
You will note the difference of appearance and colour between the upper and lower part of the coat. It underlines an advantage in the upper part and carries an interesting twist here where you would least expect it. Somewhat subtle, it doesn't jump out at you, but original enough to create an interesting characteristic that appears on the coat.
Photo Credit: Dolorès Lemoyne
The Nobis logo is situated on the shoulder without being overly obvious (I avoid having logos on my clothing, it's not original). The fur is found on the hood, which is detachable.
The coat is really versatile and adaptable to urban or sporty scenarios. The zips are arranged under the arms to ventilate the coat without allowing in the cold or lowering its temperature if it proves to be too hot, even if it is too cold to take off (especially if you're only wearing a simple t-shirt underneath).
Photo Credit: Dolorès Lemoyne
The multiple storage features are simply ingenious. It's so good to see that the coat can be useful in many different ways.
The fold is magnetic; it closes itself easily, without using delicate pop-buttons that have to be done with gloves, or Velcro, which plants and dirt sticks to.
The conclusion: my opinion on Nobis
To resume: the Parka is above all a protection against hostile environments, where the importance is to choose with what you're doing in mind. If you're intending on wearing it daily, start to look at the features you'll actually use; such as the number of pockets, protection against the wind, rain, effectiveness of the down, etc. The cut and the design are simply aesthetic accessories on a technical product, because above all it's about survival and comfort.
Choosing between stacking up thin layers (think of the layers in an onion) and a decent Parka filled with down, I prefer the Parka which is easier to take off, more practical and doesn't smother you.
On the Higgins model, I've noticed that a Parka that's too small, which doesn't cover the buttocks can be an error if you don't possess adequate equipment. The Parka must really cover your body well and possess, with preference, elastic bands, which prevent cold getting in, particularly on the sleeves and waistline.
In milder climates, the coat is equally as adaptable. The storage options, the comfort and the pleasing aesthetics are part of a product with strong added value. One can clearly say that you don't pay for a brand, rather a real effort on Nobis' part to create a item of clothing which responds to the expectations of the market and meets high expectations.
Note from Benoit: Nobis is a brand that I caught sight of really quickly, but I've never had the budget to buy one. But when I tested them in Montreal, I had such admiration for the notion of their clothing. Everything is well thought out, intelligent and contrary to Canada Goose, the fit is stylish and well integrated. Overall, a really great brand unfortunately is somewhat understated given its young age.
It had been a month since I saw all the possible coats in the world on people passing by, scrutinising each of the shops to discover new brands over here. I noticed that a well-conceived coat, which matched up design, comfort and convenience, doesn't end up anywhere else. I get the impression that this brand places itself at a crossroad between the expectations of the different consumers to eventually create an adaptable and versatile product, so that I won't stop repeating it.
The price is a little bit expensive, clearly, but it slots in the gap of Canada Goose / Woolrich, pricing between 700$ and 1000$ depending on the model.  It's a fat lump of money, but when you're dealing with this level of expertise, what you get is what you pay for. Don't forget to add the 20% customs onto the bill. It's a good investment.
Even if famous brands cast a shadow when we talk about Canada and their coats, I still stay analytical and impartial towards the other brands I've spoken about in this article. We've heard a lot said about Canada Goose, just as much good as bad.
We have the same perspective when we see kids who have got 800$ coats on their backs when it's 15 degrees in Paris, whilst this same brand was primarily designed as thermal wear for difficult conditions. Inevitably, the brand is more widely seen and worn as a distinctive sign of people who have money.
The brand has even sold an obscene amount of coats, worn by kids, just like the latest Longhamp bag or Lacoste bum-bag (depending on where you live). To avoid this topic, I've left it to Benoit to inform those who want more of an opinion on Canada Goose in this article that was published not that long ago.
As agreed, all future snow explorers are welcome to share their opinions and questions in the commentary below. I have a question for you, what is your favorite brand for winter coats ?
With this, I return to eat the Canadian speciality of fries, cheese and gravy, with my Parka Nobis. A really beautiful brand, I promise you.