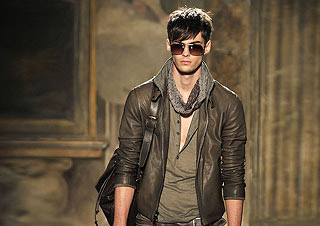 Kinowear Style Pick: Varvatos Spring Layering
Photo: Marcio Madeira / FirstView.com
This look from John Varvatos is perfect for those breezier days, when heavier sweaters and coats are too much but one layer just won't do.  Notice the styling of the pieces (particularly the pushed up sleeves of the leather jacket, folded pants, and sock-less shoes) and how it serves the two-fold purpose of making this rocker-dandy outfit pop while making it more appropriate for the warmer weather. The low cut, open henley styled with a summer scarf is another nice layering trick here. And take note of the army green hues for your wardrobe–it's a huge trend right now.
For more outfit inspirations from John Varvatos, check out the rest of his Spring '11 collection.
—
Looking for stylish trainers to complement your spring looks? This seasons Henri Lloyd mens trainers are available online from the Henri Lloyd Store, the 'Anzio' is a favorite of mine combining durability with style.