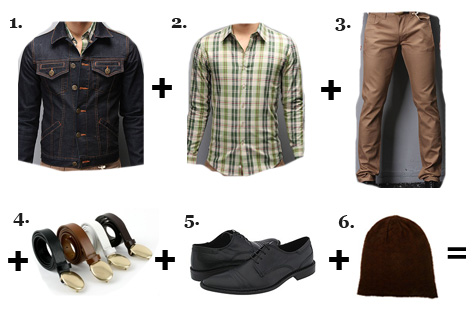 Kinowear Lookbook: #9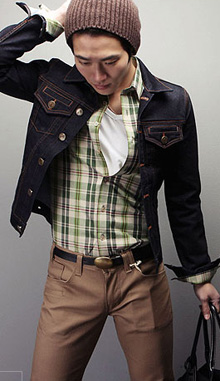 What you'll need to replicate this look:
1. White v-neck t-shirt
2. Green plaid shirt
3. Dark blue denim jacket
4. Straight-cut khaki pants
5. Gold Round buckle belt
6. Black dress shoes

7. Optional: Brown beanie

First impression:
Eye-catching casual style. Looks like a laid-back, confident guy who knows how to dress!
Breakdown:
Today's style inspiration will show you a great way to layer without getting too hot.
One of my favorite things to wear during sunny but cool weather is a denim jacket. It's great for layering because it's thick enough to keep you warm enough when it's breezy out, and thin enough to keep you cool when the sun is beating.
It's also a classic staple item that I think every guy should own. Personally, I love a dark wash denim jacket – like the one shown here – because it keeps a dressier look. That way you can wear something casual underneath and still look sharp.
I really like this green plaid shirt here because it adds a fresh spring color and pattern to the outfit. I love the way the shirt is used to dress down this outfit, by unbuttoning it down to the fourth button, also revealing a low-cut white v-neck. It makes the outfit so much more laid back and it's perfect for keeping you cooler during the hottest part of the day.
If you do this, make sure you tuck in the shirt as shown to maintain a dressed up look, otherwise you'll sloppy. The tucked in shirt here reveals the gold buckle belt that matches the gold buttons on the jacket. A necessary detail because silver would not look good here. Try to match gold with gold, and silver with silver.
I also have to mention how I love the way that he folded up his shirt cuffs to show some color. It's a stylish touch that reveals everything was deliberately done.
Khaki pants go exceptionally well with denim jackets. You get to keep the "jean" element which gives off that same laid-back vibe your favorite pair of jeans carry, but the khakis make you look a lot more classy.
A pair of slim dress shoes would go great with this outfit. I say slim (or pointier) because they look less like the shoes you wear to the office and more like a fashion piece. They also elongate your legs and make you look taller. Please stay away from box-toed shoes!
The dress shoes may make the outfit too dressy for some, but wearing a matching brown beanie keeps the balance between dressy and casual so it's not overdone. Otherwise, you can always opt for a fresh pair of sneakers!
What do you think of this look? Share your rating and comments below!
[ratings]
Shopping tip: Leather jackets never go out of fashion and you can find a cool stylish range of mens jackets online at www.superdry.com. This brand has a huge following due to the distinctive style of their clothing so be sure to check their collection!