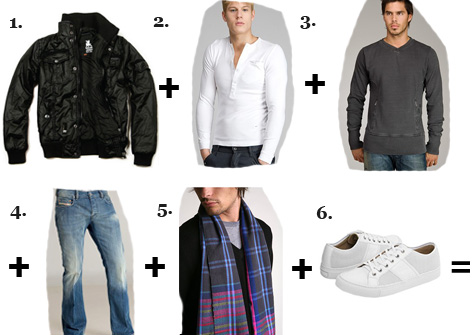 Kinowear Lookbook: #8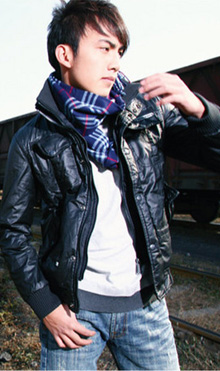 What you'll need to model this look:
1. Stand up collar snap front jacket
2. White henley
3. Gray long sleeve
4. Light blue jeans
5. Multi-color plaid scarf
First Impression:
Simple and clean street style.
Breakdown:
We wanted to give you guys something a little different for look #8. While I love the classier, black & white outfits from the previous two looks, it's refreshing to see a much more casual outfit with a bit of color.
This outfit is almost completely devoid of any classic dressy pieces (i.e. tie, dress shirt, dress pants, vest, pea coat) seen in the previous looks.  Instead, here we see dress-down pieces like a white henley, gray sweatshirt, snap front jacket, and light blue jeans to create a perfectly layered look that still turns heads.
The moral of the story here is that you don't need every piece in your outfit to be eye-catching, expensive pieces. With basic layering and the use of just one or two accent pieces, you can create a killer casual outfit. One of those accents is the multi-color scarf bringing that touch of class, with a playful pattern of colors.
For those looking for a sharper, dressier look, swap out the light blue jeans with dark raw denim and trade the white henley for a white button down.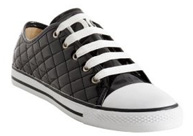 As for the shoes, we chose a pair of classic white sneakers from Lacoste to keep with the simple theme of the look, but if you want to go for something much bolder, try something like these quilted patent leather sneakers.
Hope you guys enjoyed this one! please share your rating below!
[ratings]