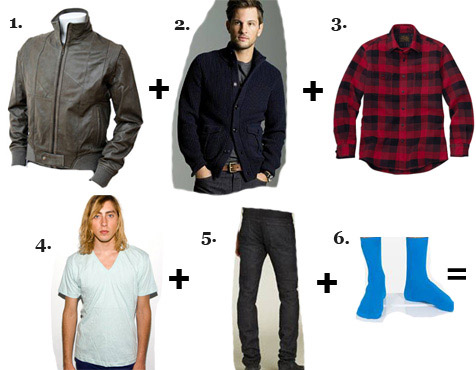 Kinowear Lookbook: #2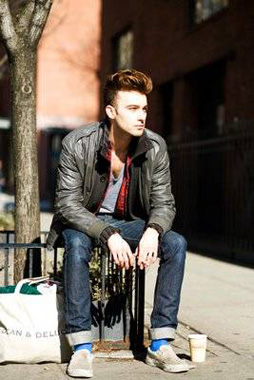 Here's what you'll need to replicate this look:
1. Gray leather bomber jacket
3. Red flannel shirt
5.Slim blue jeans

First impression:
This guy looks like a modern day James Dean. His look is laid-back and masculine, with an eye-catching touch of rebellion against the status quo.
The breakdown:
I love the way this look is put together. It grabs attention but isn't overly garish.
What caught my eyes were his socks. The bold accent of neon blue says a lot about his personality. It's loaded with a light-hearted confidence that isn't afraid to get noticed for something unconventional.
The way he cuffed his jeans not only reveals more of his socks, but draws your eyes toward them by framing them with a neutral color to accentuate the contrast.
He also has on a simple pair of shoes that do nothing but let the socks do their job: stand out as the boldest piece of the outfit.
I also love how he layered his clothes here. In cold weather, we're usually tempted to wear only a thick sweater and an even thicker jacket. But he takes many pieces and fuses them together which results in both warmth and style.
He has on a low-cut v-neck which gives him a laid-back vibe – showing some skin gives him an edge of sex appeal – and rather than a fashion misstep during cool weather it seems purposeful as he wears a warm flannel shirt that adds some color and pattern. The sweater-jacket's greatest contribution is the popped collar which works really well together with his leather jacket to complete that "James Dean" look.
Though every part of this look works very well together, the look is really all about the accentuating piece: the neon blue socks. To do this without them would really take away from this outfit. If you can't see yourself wearing colored socks, add bold colors to your outfit through other accessories such as a scarf, hat, or gloves.
I would love to hear your thoughts, opinions, and questions on this look in the comments!
Rate this look here :  [ratings]