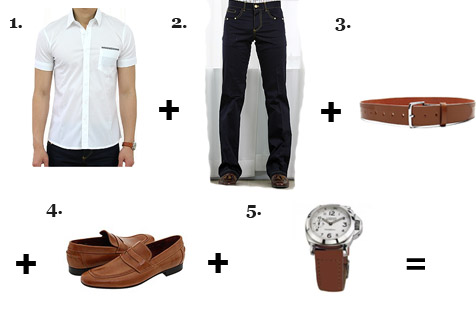 Kinowear Lookbook: #13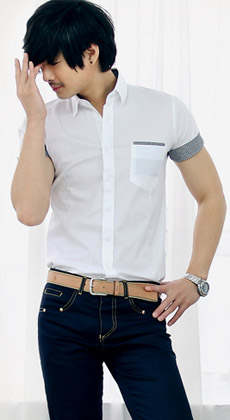 What you'll need to put together this look:
1. White trimmed shirt

2. Dark blue bootcut jeans
3. Tan leather belt

4. Tan dress shoes or loafers

5. optional pieces:  silver or leather band watch & black stud earrings
First impression:
Wearing designer labels from head to toe – or is he?
The breakdown:
Details are everything when it comes to phenomenal style.
This look is a perfect example of how to look designer for less. The model in the picture above isn't wearing any expensive designer labels, but you can't tell just by looking.
Here are some details that stand out to create this stylish look:
1. A perfectly tailored fit – It's rare that anything will fit you perfectly off the rack, so find the best fit you can, and get the excess fabric tailored. This one detail will always make you look a hundred times better.
2. Shirt details – The patterned detailing on his shirt sleeves and pocket take a normal dress shirt and make it look like a Gucci dress shirt.
3. Sharp stitching details – The jeans are taken to another level with noticeable stitching. The bright gold stitching make the jeans seem hand crafted rather than mass-produced by machines.
4. Matching colors – It's always a classy detail to match your belt with your shoes, but try opting for a tan belt instead of the standard black.
Also, take note that his silver watch matches the silver on his belt. A good rule of thumb is to keep all your jewelry the same color.
5. Some details alter the impression you make – His long hair and black stud earrings add an edge that balances out his very clean-cut, professional look.
Focusing on the details are the key to making your best impression. Whether you're dressing for business or women, your attention to details will not go unnoticed.
Hope you enjoyed #13! Share your rating below!
[ratings]