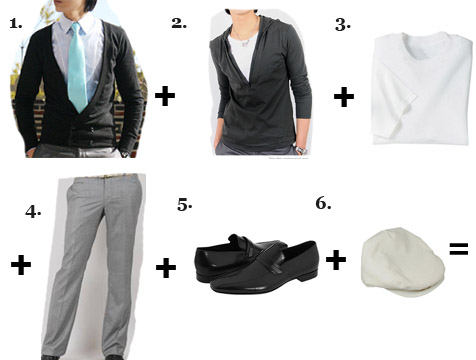 Kinowear Lookbook: #12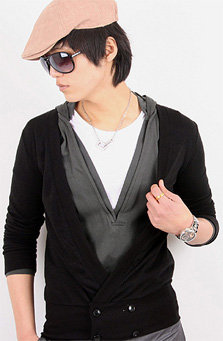 What you'll need to put together this look:
1. Black low v-neck cardigan
2. Gray hoodie
3. White t-shirt
4. Gray dress pants
5. Black dress shoes

6. optional: Newsboy cap
First Impression:
Layering master.
Breakdown:
After being in New York for way too long, Jae and I are touring Asia again for some fresh fashion inspiration. Our first stop is the stylish city of Seoul in South Korea for several months, followed by the ever eccentric Tokyo in Japan.
While in Seoul, the first thing we noticed is that the street fashion here is on another level. Nearly every businessman is dressed in tailor-fit suits, and the casual style here is simply inspiring.
One of the things that differentiates the guys here is just how well they layer their outfits.
A lot of guys in the States tend to write off layering to heavy, winter wear. However, this look is the perfect example of how you can layer for warmer weather with thinner pieces.
With effective layering there are a few things you want to remember:
Think about what will create a "complete" outfit – some guys will look for each individual piece to be fancy by itself, and put them all together in a overwhelming mess. If you're going to wear something stylish or interesting, keep the rest of the layers simple, e.g., a white undershirt, a thin hoodie, etc.
As a rule of thumb, try not to layer with more than three colors. Otherwise, it may look too busy
Wear some color on your outermost layer for an attractively bold look, and wear color on the inside as a chic way to add some accents to your outfit
In the spring/summer time, use accessories like hats, scarves, a skinny tie, necklace, or even sunglasses to create a more "layered" look without making yourself sweat
If you want to build your layering skills, keep coming back for our style inspiration articles.
Once you get the hang of it, you'll really begin to set yourself apart from everyone else. The times when I get the most compliments is when I've put together a complete outfit through layering pieces together such as the example above.
Hope you enjoyed #12! Share your rating and comments below!
[ratings]