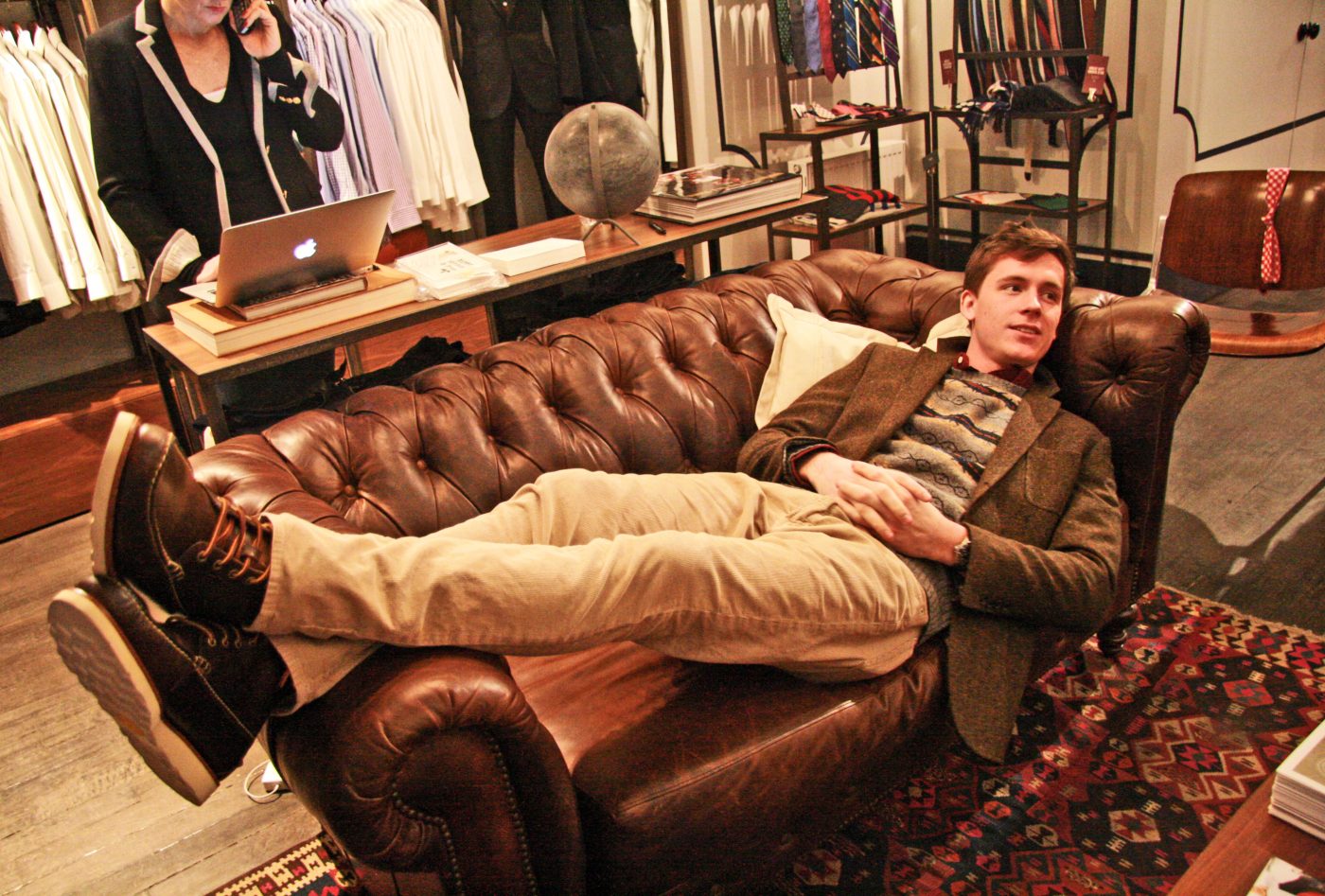 First Class Lounge: A Men's Casual Style Guide
Fade in. Single bedroom loft. Dim lighting barely illuminates the room, signs of struggle everywhere. A male body lies face down on the floor, a blood stain on his back and a sealed jar of pickles set beside him. Must have been an assassination. With pickles? An unusual weapon, but innovative. Let's see who the poor bloke is…
Oh wait, it's just you. And the blood stain is actually pizza sauce. On your back? How? And the jar of pickles? Right…explains the struggle. Come on buddy, let's get you off the… Good Lord what are you wearing?!?! Better yet, stay down. I'll get you some clean clothes. How long have you been wearing that shirt? Fifteen… as in minutes? Oh, you mean days…
Well, we've all been there — A long day at the office, mid-exam season, or embarking on a Breaking Bad marathon (Director's Cut, of course. What are we, animals?). These adversities are designed to eat away at your soul, to test your mettle until you relapse into your Cheetos-dusted t-shirt. Sure, it may be your most comfortable piece of clothing, but what if the guys come over for an impromptu night out? At the newest bar in town?
I don't believe Cheeto-dust shirts have broken through the high-fashion threshold as of yet. A surprise visit from the in-laws (it's always a surprise, isn't it…) could happen any time as well. Or if your next-door neighbour soul-mate asks to help them fix a broken faucet and wants you to do it shirtless. You can't take that chance.
As the official uniform of comfort, loungewear has become more than throwing on the nearest pair of pyjamas. Getting caught looking, subpar would be the same as getting caught naked, which is why there is an urgency for us here at Kinowear to teach you the ways of first class loungewear. Yes, we are teaching you how to wear sweats, because Rule #4 of the Gentleman's Code always applies: Even at your sloppiest, you have to look sharp.
Hey, this is your home. Your safe haven from the never-ending fashion shows out in the streets. Who are we to tell you what you should be comfortable wearing? However, there are still five vital rules to abide by in the world of loungewear:
Rule #1: Never, under any circumstances, wear socks with sandals.
Rules #2 to #5: Never, under any circumstances, wear socks with sandals. Ever.
Wearing socks with sandals in public is telling the world that you are a forty-year-old living in your parents' basement, who only steps outside to pay the pizza guy. Or that you aspire to be this gentleman: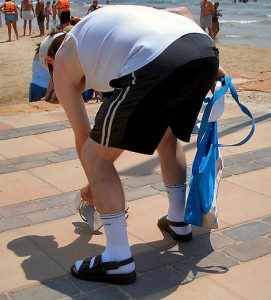 You know, shoelaces aren't that bad.
As always, we are merely offering you suggestions. Advice that can be tailored for a custom fit, because luxury is personal. But who should you look up to in the loungewear hierarchy? There are no certified experts in the field, thus university students have seized the opportunity as self-proclaimed Sultans of Sweatwear due to their over-reliance of loungewear during Finals. In truth, their style declines long before exam season, thus we have decided it's time for the gentlemen to show the kids how it's done.
The Class is in session.
Outfit Templates
Spontaneous Night Out (aka The George Clooney)
Henley: A t-shirt with buttons. Yep. That is basically the essence of a Henley. The buttons usually go down to the middle of the chest area and should have long sleeves with a contrast collar to stand out. The more you unbutton, the more daring the look.
Dress pants: If tailored properly with premium materials, dress pants can be the best pair of trousers you own. Read the label: the pants should be composed of only the finest wool and polyester material. Flat-front, slim-fitting and with a low rise hanging right at the waist, the modern dress pant should be comfortable enough for you to sleep in. Between us, no one will know you're wearing a pair of faux-PJs.
Sports watch: Not those plastic G-Shock things, you're not twelve. Those durable rubber watches are cool in their own right, but take them rock climbing where they serve their true purpose: To take a beating. Not to look awesome. We're talking about a real sports watch, with a leather strap and a brushed stainless steel face. Eye-catching but not an eye-sore like those other chunky-faced watches, it's a sharp look for the impulsive partygoer. George Clooney-Approved.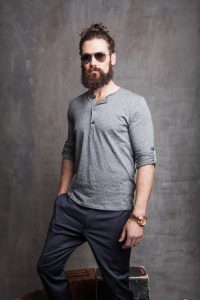 "Anyone want something from 7/11?"
Hoodie: As the foundation of the most comfortable outfit on the list, select a full-cotton build for optimal warmth and plush softness. Layer up with longer shirts underneath for a pop of colour. Both zip or no zip options are suitable, and graphics detailing is up to you. So much freedom, because that's what a sweater should be: A representation of you. Keep it simple or go all out, the hoodie is your canvas.
Beanie: No longer restricted to chilly nights, the beanie adds a hint of hip to any outfit. Let your artistic side flow as any design still looks pretty good on a knit cap. Go with a slouch beanie to up your street cred, or a mega-slouch beanie to look like one of the Seven Dwarves.
Cuffed sweatpants: Sweats are the first pick for optimal comfort. We highly recommend a pair with ribbed cuffs at the bottom. Keep it neat near the feet. You'll want to wear these at every opportunity, so maximise the versatility of the pants with dark colours: Black or charcoal grey.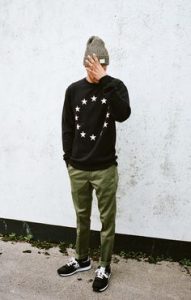 Casual Chic
V-neck shirt: Look for Pima cotton as it is one of the superior blends of cotton. The dip in the shirt shows bone definition at the collarbone and elongates the neck to give you a taller appearance. The V-shape also provides a slimmer look so if you're already rail thin or got a giraffe neck, go with a crewneck shirt. And please, no V's below the middle of your chest. There will never be a need for a Jersey Shore reboot.
Cardigan: The casual alternative to a blazer as well as a dressier option than a sweater. Go for the same colours as you would for blazers: Navy blue, light or dark grey, and black. The buttons should be glossed wood and the hems no lower than the hip. Merino wool blend is the best material for cardigans as the lightweight build reduces the would-be bulkiness of the material.
Chinos: The bedrock of this outfit as they provide a plain backdrop for the rest of the pieces to shine. The fit of the pants should as always be tapered to show the physique of your legs. That is, as long as you don't skip leg day. Never skip leg day.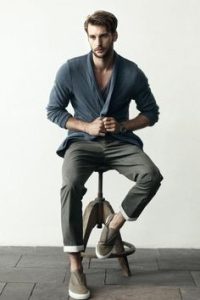 The Lovable Jock
Baseball shirt: No, not baseball jerseys. The shirts that have a white base colour in the torso area and coloured sleeves, usually three-quarter length. It has all the prerequisites for a good base layer: Comfortable, functional, and aesthetically reliable if called upon.
Varsity Jacket: The Big Man on Campus always has a varsity jacket on hand to keep him or his partner warm. The mark of a quality jacket is its bulkiness so don't layer too much underneath or you'll have to start walking through doors sideways. Look for the trademark contrast sleeves and that sharp, ribbed cuff finish. Forego the logo patches, let the bold colours and the clean-cut stripes do the talking.
Track pants: Composed primarily of polyester for a more athletic fit to allow for plenty of stretch. The pants should be tapered, ideally with bottom leg zippers to make them easily removable for, you know, activities.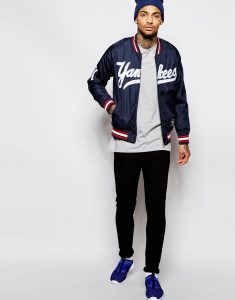 Conclusion
Single bedroom loft. Scribbled sheets of paper strewn across a desk lit by an overhanging lamp. Light classical music echoes off the room's ivory walls. A trail of clothes trickles from the front door to the living room couch, where your soulmate beckons you to rejoin them under the covers. You flash a sly grin from the still-unfixed kitchen sink as two chilled glasses of bourbon fog the marble countertop. Such a shame, you two couldn't even make it to the bedroom.
OK, so maybe our advice got you into some unclothed extracurriculars, but chances are you wouldn't be there if you didn't look First Class in your loungewear. Of course, you look good, but loungewear does not exist to get you in the sheets. It exists because even when you have the weight of the world on your shoulders, you will still be comfortable. Because even at your most vulnerable, you will still be strong. And because even at your sloppiest, you will still look sharp. Fade out.