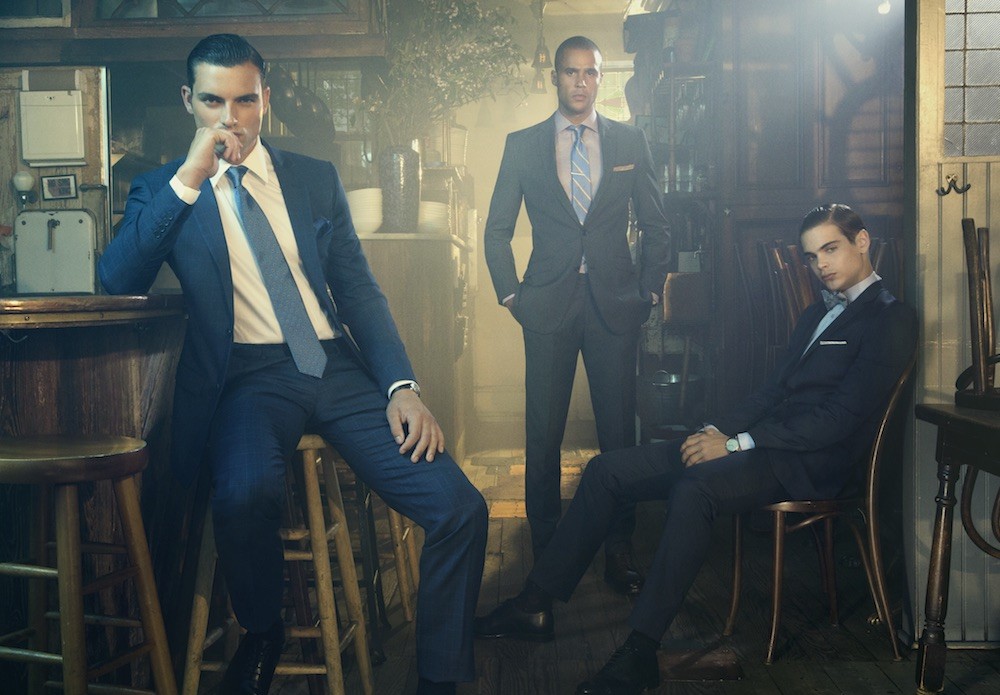 Combatant Gentlemen Review – The Best Price To Value Ratio Online?
Way back in 2014, the guys over at Combatant Gentlemen (no, they don't sell combat clothes) asked me to take a look at their clothes. When I first got to their website, I honestly thought the clothes would be low quality, because of their prices.
Boy, was I wrong 😉
Now unfortunately, they sent me the clothes just before my Dad passed away last year. And since they're very slim-fitted, I don't even fit in the damn things anymore!
(They've since added a tailoring service – so you can get access to some crazy deals regardless of your size/shape)
So I can't give you any "real-life" pictures.
Instead, I asked their founder to answer a few questions and share his secrets into why they've had such tremendous success with men.
Here's our interview…
Your prices are crazy cheap, yet you guys have an outstanding price/quality ratio. How were you able to find such a great balance?
The secret to how we're able to make things so affordable has a lot to do with my background in this business. We hold a lot of heritage and experience in product manufacturing.

We focus heavily on our materials, relationships and owning the entire operation altogether, and my co-founder Scott Raio has built a powerful software system that revolves entirely around our vertical supply chain.

We do everything ourselves, which makes for an easier process for us to design garments and offer unbeatable quality at unbeatable prices.
What are a few types of fabrics and patterns you offer and what scenarios would you recommend them for?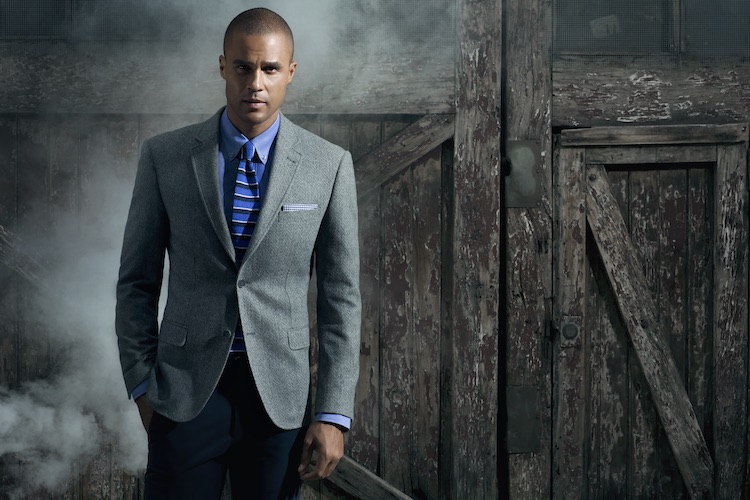 We have three tiers in our line. The first is dubbed Essentials, which are our flat fabrics that come in five different color ways — black, navy, charcoal, blue and grey–that are perfect for the daily grind; scenarios like work, meetings and general formal occasions.

Our second tier is the Mezzanine Collection, a step up from Essentials, which includes more complex fabrics and patterns like plaids, herringbones, pinstripes, windowpanes and all sorts of different, fun variations. This is where we offer power suits and key pieces to help guys get where they want to go–perfect for that black tie event and great for meetings or taking clients out to more formal dinners.

Our third tier is the Summit Collection, which recently went live. The types of fabrics and patterns in Summit are higher quality, sourced from designers in Italy. This collection will really be an ongoing collaboration between us and the designer mills to create suits and menswear pieces that aren't necessarily closet fillers, but more powerful statement pieces every man needs in his wardrobe.

You can get more info on the Summit Collection through this video…
You're known for your TRUE slim-fit cut. Where do you think other manufacturers go wrong in the way they're measuring their various cuts?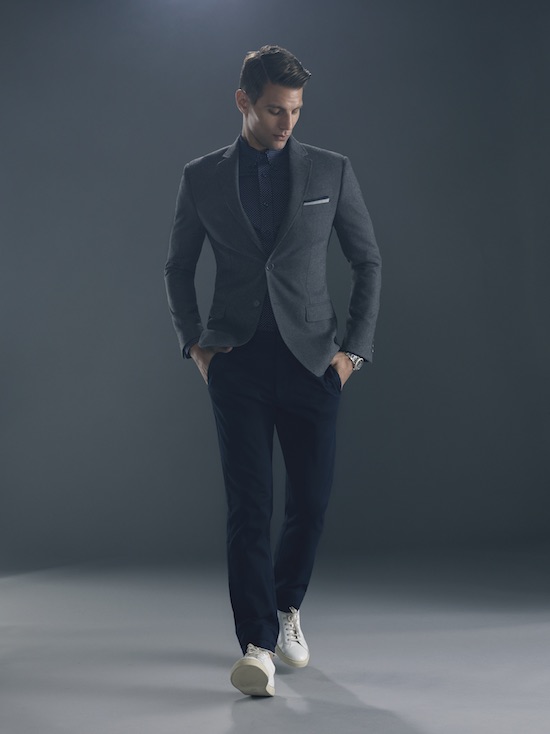 I think it really boils down to our customers. We get our fit pattern from them. We spend a lot of time talking and interacting with them, understanding their needs, and as a company, this is how we develop. I've also been making patterns for 15 years now, so we don't let factories create them. I actually make all our initial patterns by hand, so every original sample is made by me, then sent over to the factory to be reproduced.

I can't really speak for other brands. If anything, I see a lot of companies making stuff for the general public. Their goals may be to make as much clothing for as many people as possible. For many, it's about scale. For us, it's about making sure our customers are happy.
You recently released made-to-measure suits. Why did you decide to come out with that service?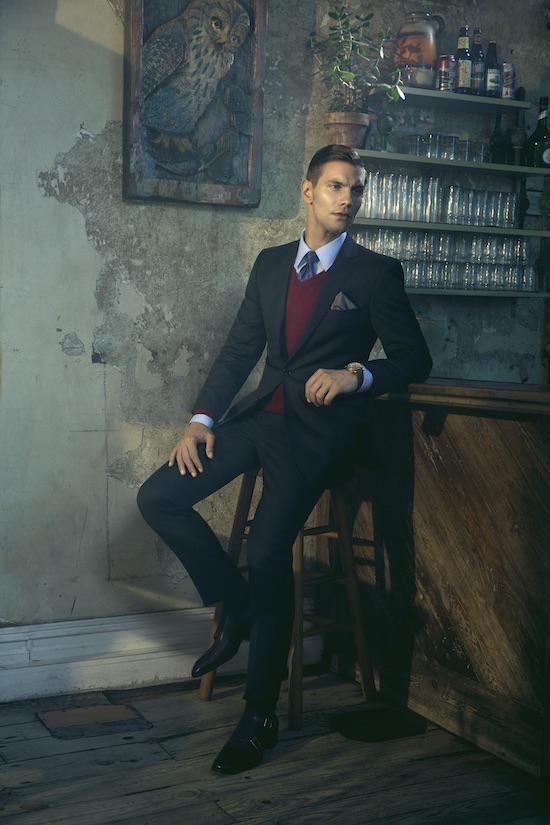 We decided we wanted to show guys, especially those interested in the Combatant Gentlemen brand, that there is one last level of suiting out there and we can be that destination. We don't believe in providing made-to-measure suits on our site. I think made-to-measure is a romantic process between you and your tailor, and there is this unparalleled sense of visibility and familiarity you experience when working directly with a tailor for a custom-fitted suit.

We don't expect made-to-measure to be a big part of our business, but we do expect to follow the line when we talk about heritage. It's very important to us that we offer a custom service because fine tailoring and craftsmanship is in our foundation, so we made Made-to-Measure for guys to have the opportunity to add their own personal touches all while maintaining the form of production, garment and cloth Combat Gent is known for.
As a follow-up to the last question, what happens if someone orders a made-to-measure suit and it doesn't come out quite right?
The made-to-measure service is done in several different stages. First is the consultation and second is the fitting. Before you leave with the suit, we make sure you're 100% happy. It not, we'll alter it appropriately and make sure all is well taken care of.

But because you're working with and getting measured by a tailor, the odds of error in the custom fit and size are very slim. Alterations usually happen with online orders of made-to-measure suits, which is something we don't provide.
Combatant Gentlemen Gets My Highest Recommendation
Combatant Gentlemen is PERFECT for the average guy looking for everyday clothes to dress more sharp. The price to value ratio is off the charts, and their sense of style is spot on.
Plus they offer a huge variety of clothes including…
Plus, they're an absolutely pleasure to work with and from what I can see, have fantastic customer support. Just a nice little bonus 😉