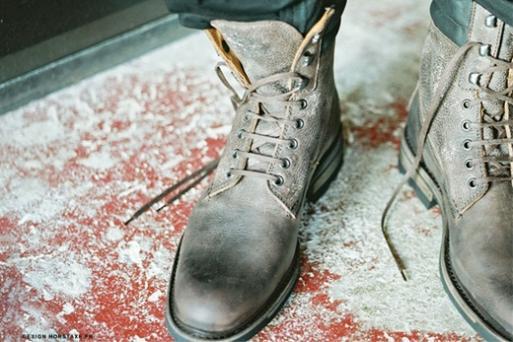 A short guide – combat boots for respectable people (½)
Volume One: Combat boots for walking through puddles
Combat boots have first and foremost been reserved for a solely military usage, favoring comfort and durability for a soldier in often harsh environments and climates. The first 'real' boots, the kind that we're talking about here – leather and laces – were made during the Second World War for specialist units (bomb disposal units, those in the trenches and the engineers) based on the standard service issue, to which they simply added a leather upper and fastenings to stop the mud from getting inside them.

It's a type of shoe that's characterised by its rising upper, its hard toe cap (reinforced with leather or steel level with the toes), its (generally) rubber sole and an eyelet lacing. On some designs, like the rangers, there are complete fastenings or zippers underneath the lacing panels.
Combat boots have become much more popular in recent times. Previously reserved for the goth or metal scenes, more and more designers, like Dirk Birkembergs and Martin Margiela, in putting feet onto their mannequins, have helped them step out into the streets, to the everyday men: us.
And, to put it more simply, I really like them because they're super comfortable, and with some semi-slim trousers tucked in, fairly long ones for a stacking effect, it's a big hit of masculinity for an outfit. But what would Kinowear be if we didn't give you a practical selection to wear, or at least appreciate? Let's go.

A small selection of laced mid-tops
Mid-top combat boots are raw, broad and very masculine shoes that come slightly above the ankle. They're ideal for wearing for a laid back feel, with some rough, slightly worn jeans – gray or indigo to go with the brown of these beasts, the upper eyelets left open with the laces undone. In general you'll find them in a shade of brown that 'lives' better in the long run than black, go with things more easily…and have fewer connotations.
 Wolverine 1000 Mile.
Wolverine (like the kind with blades for fingers, and who make shoes that will fit like a glove – so to speak) is an old American company that specialises in walking shoes and combat boots. In general, they look like hiking boots- comfortable but ugly – except for the 1000 Mile range, that brings the classics up to date. And most of the time, it's damn successful.



This has nothing in common with the slightly disturbed teacher in South Park of the same name. And in my opinion the nicest of the three, more refined with a tanned leather and a spit-shined toe cap.

The Doc Marten Jeffery
Doc Martens need no introduction. Footwear for punk protestors as much as for Sunday hikers, they have everyone in agreement about their aggressive prices, their incomparable durability (their 'lifetime guarantee') and their comfort (the Air Sole, with a thin layer of air between two layers 0f rubber, gives the feet more support). The Jeffery is one of their latest creations, in a Cognac color with a  particularly elegant and understated design.
They give the impression that they've seen all wars, from the trenches of Verdun to the Afghan caves. And frankly it suits them so much that we can't be annoyed at them for it.

Sunday by N.D.C. Made by Hand on Gravity Pope

A very nice, original design in leather with canvas panels and a zipper on the side. Fierce and sharp.

Six o Six convertible boot by John Varvatos
John Varvatos is an American designer, responsible for a range of high-end leather Converse, and who has had real successes with his careful designs (over time, as is the spirit of the designer). It goes without saying that it's the same story for his combat boots.


22 Replica by Maison Martin Margiela from a passed season
Martin Margiela, like Bikkembergs, is a designer from the Antwerp school of thought: refined lines and futuristic details on a completely classic, general form. What's particularly clear is this: a combat boot with a toe cap any more classic and you'd die, but also a zipper and the light patina finish at the end.
In the next article, I'm going to show you up and coming designs, but I'm also going to undercover THE selection that you won't find anywhere else.
Do you feel like you could pull one of these out ? Answer in the comments 🙂