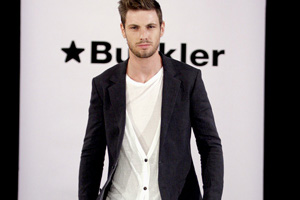 Kinowear Style Pick: Buckler SS 2011
Photo: Marcus Tondo / GoRunway.com
Love the low-cut white cardigan over the thin v-neck tee.
It's a refreshingly crisp look that you can steal this Spring. Worn here with a charcoal gray cotton suit, perfectly paired with Converse sneakers and classic black laces to match.
One of many dashing looks from the Buckler Spring 2011 Collection, check out the whole show here.
In association with our friends at Very: Check out the great range of menswear on offer at online retailer Very, whether you're looking for jeans, t-shirts, jackets or shoes you're sure to find something you like!