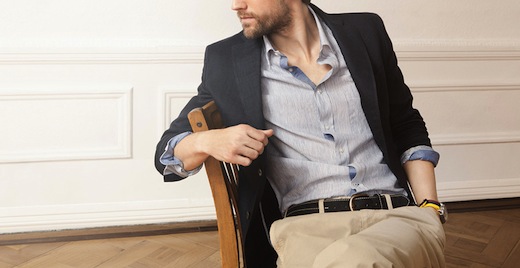 A New Era For Kinowear
Dear KinoWear readers,
This is the first post from the new team at Kinowear.com. If you liked this style blog, we have good news for you: KinoWear is back!  
Allow us to introduce ourselves. We're a group of French guys: Jeff, Ben, and Nicolas. Since 2007, we've been developing BonneGueule.fr, the biggest men's style website in France.
We've written books and created video courses that teach you how to develop your style in a simple way, . The book that was available on KinoWear was written by us. We  also run our own private clothing line in France, based on collaborations with contemporary designers.
More than just blogs, we believe that platforms like BonneGueule.fr and KinoWear.com are strong, active communities of guys who believe that fashion is about quality clothing, not soulless hype or advertising campaigns.
If you're willing to start working on your personal style, there's one thing you should do: stay tuned! We'll be uploading some really helpful content in the days to come.
You might also want to subscribe to our "style letter". You'll receive regular updates plus special offers  and advice on how to improve your style.
To sign up, enter your email address below:
And, just before we take over in a couple of days, we asked Jay and Ben (Kinowear's founders) to answer some questions that you might have in mind:
Why did you post so few in Kinowear this year?
Kinowear took a break from writing when two of its founders Jay and Ben joined Black Lapel (www.blacklapel.com), a company doing very exciting things in the world of men's luxury custom clothing.
For 5 years, we posted a lot of very unique content to help you improve your style, but we didn't have much time to do it this last year, working on a fast-growing company.
What happens now?
Last year we teamed up with Geoffrey and Benoit who run France's number 1 men's style blog, BonneGueule.fr. Similar to Kinowear, their website teaches men how to dress better and build confidence through their style. Through collaborating with them on the English version of their Ebook, we got to know the two of them really well. We realized they not only shared our passion for men's style, but had a knack for communicating it in a way that was practical and relevant. They're also two of the most stylish guys we know!
Will you still have a presence on Kinowear?
In 2012, Ben and I wanted the legacy of Kinowear to live on and made the decision to pass on the responsibility of writing to two guys who we trusted would continue to deliver high caliber style content while building a resource that all men would trust and love. While Geoffrey and Benoit will be taking Kinowear to new heights, we'll be sure to drop in to write from time to time.
Why did you chose Benoit and Geoffrey to continue Kinowear's legacy?
Not only are Geoffrey and Benoit two of the most stylish and knowledgable guys we know, but they share the same core values of helping guys not only discover their best image, but do so authentically and in a way that is timeless. Not to mention, get more success with women and in their careers!