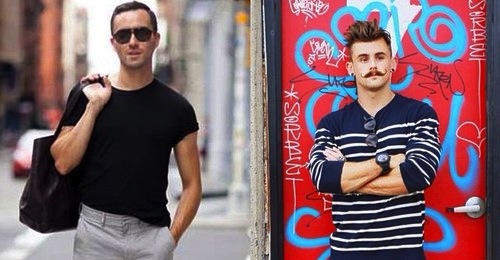 5 Tips to Spice Up an Outfit
In this post you're going to learn 5 easy ways to spice up an outfit.
By now you'll have understood: dressing well (carefull there are a bunch of link in there!) is about details and the way you wear your clothes. It's precisely what differentiates between the person at the top of the class, the Saturday night clubber…and you.
We'll take the example of a sweater and a shirt. Let's say the three characters have exactly the same items.
The first will wear his shirt/sweater combo without shape or form, with the collar buttoned up (American) and tucked into the collar of his sweater
The second will stick up the collar of his shirt…with the Dracula effect that we all know…
And you, yes you…will wear the combo in a more intelligent way. And since it's the example I chose, let's start with…
1. How to wear a sweater and shirt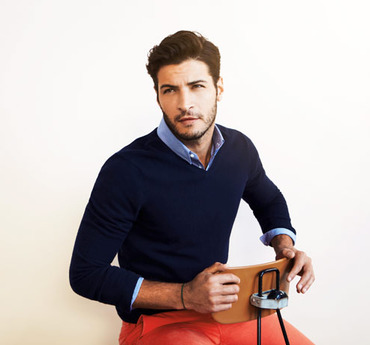 The best way to be classy and casual with no effort
The basic idea is to obtain a laidback elegance. Let's just say you know how to choose a decent sweater: the cut is fitted (without clinging to you), it's good…
…but don't forget the depth of the V-neck collar: go for a deep V-neck collar. It's much sexier than an unimpressive V-neck collar; people always think they're going to see a bit of your body. More generally, you should always go for a V-neck rather than a round neck on sweaters and basic T-shirts.
OK, right now you can put on your shirt and sweater and roll up the sleeves of your shirt over those of your sweater and bring that up to your elbows. Be careful because the quality of the sleeves is really important…and be careful to avoid the 'winged sleeves' effect at the wrists (see the photo below).
And there you have a nice linking up of colors between your sleeves and collar. When it comes to colors, if in doubt, go for a white shirt under a dark sweater to play things safe. No go areas: thick sweaters in a kind of Irish fisherman style, sweaters with horizontal stripes that overwhelm an outfit, and shapeless sweaters like this one: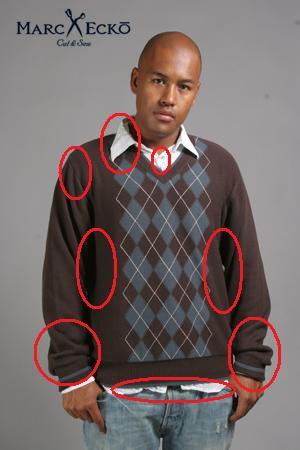 Oh, the pain! it hurts!
2. The visible belt
At Kinowear, we often repeat: let your sweaters come down to your belt and no further! (at a push, your T-shirts, if your jeans are really low-rise). There's no need for an original buckle that costs a fortune (bad taste is an easy mistake with this kind of item): so go for a belt with a good masculine and understated buckle for a very simple manly touch: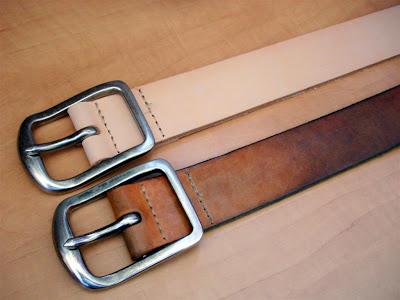 Naked & Famous belt: yes!
3. The knot in the tie
You've decided to wear a slim tie? Great. But there's no reason to wear it like a bad insurance broker: undo the top button on your shirt, loosen up the Windsor knot in your tie, take a deep breath… and make the most of the sun and your laidback elegance!
In case you wear a tie each day you should read this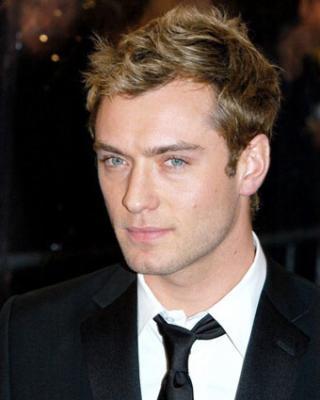 The knot in the tie
4. Mixing up types of clothing
(advanced level)
Don't be afraid to mix up:
A leather jacket and a shirt
A trench or long coat with sneakers
Or even trousers that aren't jeans with sneakers!
You can even try a hoodie with a shirt if the collar of the hoodie isn't too round. That gives character to your outfit and an elegance that is youthful and laidback, which is priceless. One drawback: you need to be careful when choosing colors and the quality of the items: if you don't, the effect of the product could ruin your efforts and the God of Too Much will torment you for the rest of your days.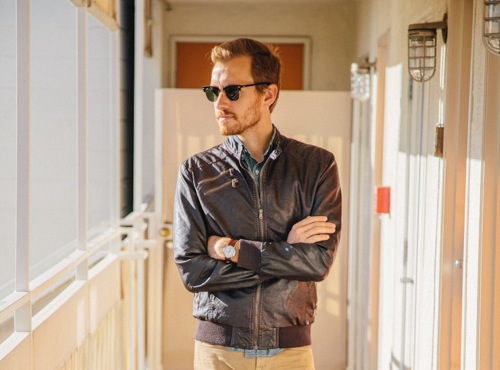 5. Trousers tucked into boots
(advanced level)
More selective, more difficult and more dangerous, too…only go there if you know your stuff and it's best if you're tall and thin. Obviously, don't even bother trying this with Converses…
On the other hand, this brings a hell of a lot of character to an outfit, sending out the message 'I don't give a shit' and has an interesting and original touch to it…if you're willing to sacrifice elegance for a bit of eccentricity.
If it sounds a bit too much for you, rolling up the hem has the same effect, putting emphasis on your shoes, but it's less bold and therefore easier to take on.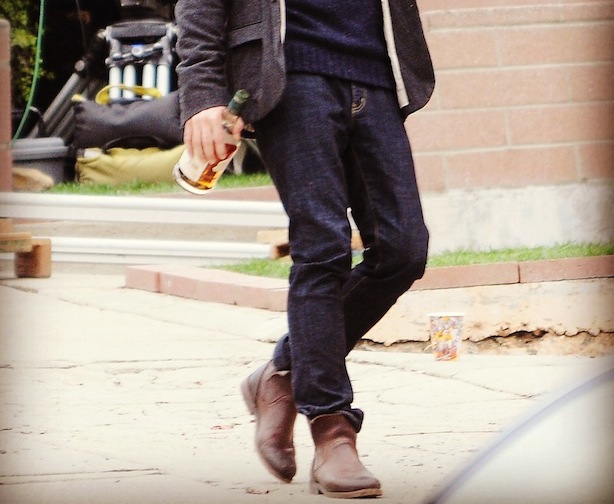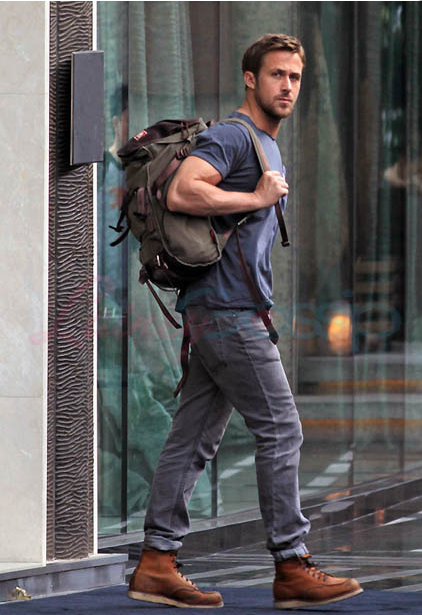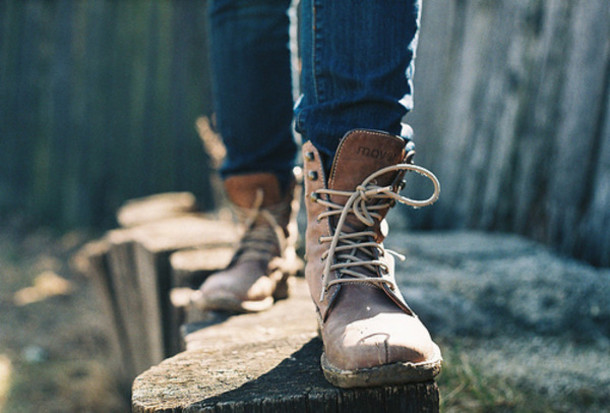 That's it for the 5 tips =) I hope you liked it, if so share with you friends.
Do you ever feel like you put your together your clothes in a to simple manner ?
How do you usually spice things up ?
Which of this tips would you use ?
Your comments after the author box…